Picture credit: US Weekly
New Year's Rockin' Eve hosts Ryan Seacrest and Jenny McCarthy said that Mariah Carey is called again to perform at ABC's Dick Clark's New Year's Rockin' Eve With Ryan Seacrest.
Did Mariah compensate last year's disappointment?
Mariah Last Year's Performance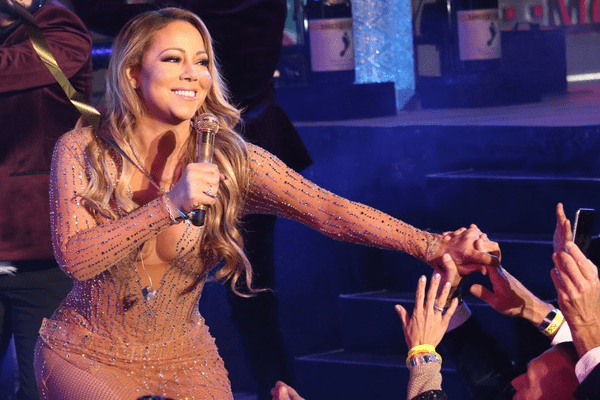 Mariah was all set to rock the stage at last year New Year's Rockin' Eve. In the meantime, her soundtrack equipment stopped working. Mariah couldn't sync the lips and sing properly. She continued the show with the help from the audiences and her back up dancers.
Carey had initiated her performance with her 1991 hit song "Emotions," but when the music was turned on, only her pre-recorded voices could be heard.
She told the audiences, "Happy new year everyone. We can't hear." "I'll just get through the moment, okay?"
Mariah Rehearses  For 2018 New Year's Rockin' Eve 
Not to repeat the last year mistake, Mariah was full on rehearsing mood. And this year comeback is really flawless.
Hours before her performance at New Year's Rockin' Eve, the shining big-voiced singer was caught by fan Dyana (and shared by Erica0808m) practicing for tonight's show in Times Square.
She posted a picture of her rehearsal on Instagram.
On Sunday show, no any technical issues affected Maria flawless performance. She started her performance by singing,  "Vision of Love." But then she was disappointed about the sip of tea.
She complained saying, "I just want to grab a sip of hot tea if they'll let me — they said there would be a tea. Oh, Isn't it a disaster. Okay, let's just rough it. I'll be like everybody else with no hot tea and continue the show."
And Maria gave her best performance in freezing cold. Backed up by musicians wearing heavy coats her dress made you think like how hot Carey must be.
Musically she gave the flawless performance but what about her attitude?
Also read: Is Mariah Carey in a relationship again? This time with dancer boy toy Bryan Tanaka!