The Japanese-American actress and dancer, Mandie Taketa was born on March 3, 1976, in Hawaii, United States of America. Her father, Ronald Taketa was the head of Hawai'i Carpenters. Born and raised in Hawaii, the beautiful actress, Taketa was lucky enough to have her father by her side. She learned both dancing and acting from her father at a very young age.
Mandie Taketa finished her education till high school in Hawaii. After she completed her education, she decided to pursue her dance and acting career in Los Angeles, California, although she had full dance scholarship in the University of Hawaii.
Mandie was married to a television personality, Wayne Brady in 1999. However, the marriage relationship could not last long, and the couple got separated in 2008. Mandie and Brady had a daughter named Maile Masako Brady who is now living with her father.
Mandie Taketa's Career
Mandie Adell Taketa is an American actress, a fitness model, yoga instructor, and a martial artist. Her father has been a great influencer for her as her father trained her. Ronald Taketa, her father, taught her dancing, acting, and martial arts from a very young age. Although she received a full dance scholarship in the University of Hawaii, she chose to move to Los Angeles and pursue her career in acting and dancing there. The beautiful actress made her acting debut in the comedy movie, Manband! The Movie.
View this post on Instagram
She also did participate in many competitions of dancing, bodybuilding, and acrobatics. Other than that, she is a prominent entrepreneur who owns three different companies, a movie production house that focuses on wedding movies; Anything Everything Productions, Adell Body Works, and This Lifetime.
Marriage and Divorce
The talented and beautiful actress, Mandie Taketa was married to Wayne Brady. Wayne is an American actor, comedian, singer, and a TV personality, who is best known for his shows like Whose Line Is It Anyway?, The Wayne Brady Show, Don't Forget the Lyrics, and Let's Make A Deal. Wayne Brady has also been involved in numerous movies and has done voice-overs in movies like Milo Murphy's Law (2016) and The Loud House (2016).
The couple met each other during the preparations of a musical show in Hawaii. Gradually, they began dating, and both moved to  Los Angeles.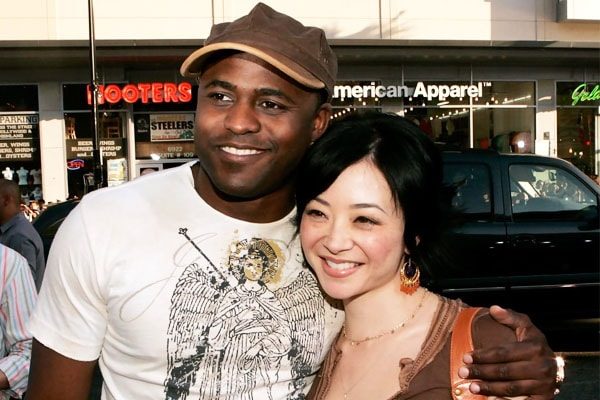 Mandie Taketa and Wayne Brady broke up in 2008. Image Source: Zimbio
Mandie and Wayne got married in 1999. The couple had a good relationship and shared a daughter, Maile Masako Brady. She was born on February 3, 2003. The couple failed to give a good end to their marriage and eventually; they got separated after three years. Their divorce was finalized by  April 2008 according to irreconcilable differences act.
View this post on Instagram
Unlike other couples, Mandie and Wayne are still in contact and are good friends. Their daughter, Maile, lives with her father, Wayne. To provide proper parenting to their daughter, Mandie even bought a house in Wayne's neighborhood. The divorced couple remains committed to co-parenting their daughter so that she can have an experience of living in the same house.
Wayne Brady's Health Issues
Wayne Brady secretly battled depression for years. It became worse on his 42nd birthday, and even got worst and suffered a  complete breakdown after he heard about the death of his close friend, Robin Williams who committed suicide after the long-time depression. But a massive credit to Wayne's ex-wife, Mandie who helped him a lot on the road to recovery, still after their divorce.
For more News and Entertainment: SuperbHub