As with the countless little-known facts about the notorious rockstar celebrity LFMAO singer Redfoo, he has a girlfriend named Jasmine Alkouri. According to him, his partner inspired him to turn vegan.
Stefan Kendal Gordy aka Redfoo has disappeared from the music industry limelight for the better part of the decade. While news of Redfoo's whereabouts might be unknown to the public, the Party Rock singer has been spending a lot of time lately with his gorgeous brunette girlfriend, Jasmine Alkouri.
Who Is Redfoo's Girlfriend Jasmine Alkouri?
Redfoo's beau Jasmine Alkouri works as a chef and is a road manager for music events. As of today, Jasmine lives with Redfoo in their multi-million dollar mansion.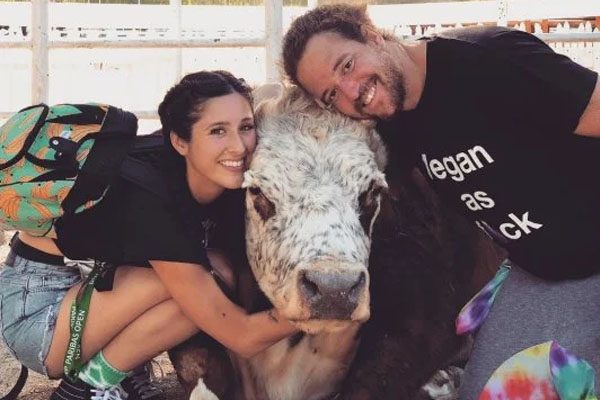 Redfoo enjoying his time with his girlfriend Jasmine Alkouri. Image Source: Redfoo's Instagram.
It is a well-known fact that Redfoo's ex-girlfriend, Victoria Azarenka, was a professional tennis player. Well, the past is the past. Redfoo seems to have since moved on since the disastrous breakup which left a hole in his heart bigger than a tennis ball.
Social media posts by both Jasmine and her boyfriend Redfoo suggest that the duo has been spending time playing a lot of tennis and touring around Europe.
In her recent Instagram posts, Redfoo's girlfriend is seen partaking with him in various recreational activities, such as chilling with the Saudi prince or posing for pictures with a kid goat.
View this post on Instagram
We can only assume that Jasmine is having the time of her life with the eccentric LMFAO singer, who she seems grateful to have as a soulmate. As we already mentioned, Redfoo also credits his newfound love for a vegan lifestyle to his tall and brunette girlfriend.
Redfoo met his girlfriend while he was on his year off on a personal vacation and they immediately bonded as romantic partners.

The future looks bright for Jasmine Alkouri and her boyfriend Redfoo. They are having the time of their life. Redfoo's girlfriend is a nice catch for any man. Sit tight and keep your ears open for any news of their possible future marriage.
SuperbHub for more News and Entertainment.