Although humans are born to be loved and love, they tend to get bored pretty soon. Feelings are like fluid that flows, and until and unless one finds their soulmate, the passion continues to flow, relationships ends, and marriage leads to divorces.
Likewise, Leeza Gibbons, an American talk show host, sought for her perfect match until she found her current partner Steve Fenton as the beautiful blonde is married to the writer and producer. Let's look into Leeza Gibbons' husbands and her past relationships.
Who Is Leeza Gibbons's Present Husband?
Finding a person, trusting the person, falling in love again, and settling down in a relationship look like a lot of hard work. But the American talk show host, Leeza Gibbons, is all about the hard work and potentially why she has been happily married to Steve Fenton since 2011.
Leeza Gibbons's husband, Steve Fenton, is a writer and producer known for Where a Man Stands, Good Advice, and One Step Beyond. He graduated from Beverly Hills High School in 1988. Likewise, he was nominated as the Beverly Hills Board of Education in November 2007.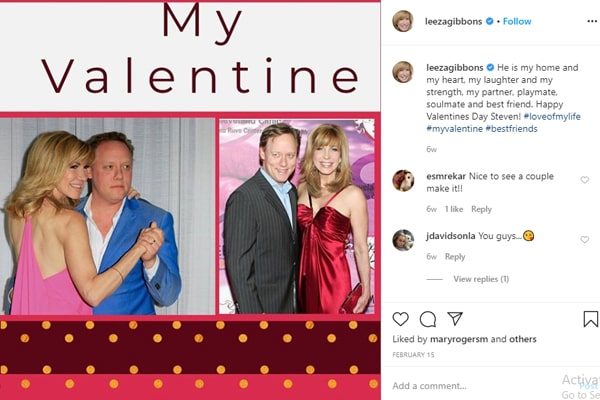 Leeza Gibbons' husband, Steve Fenton, is a fortunate man. Image Source: Leeza Gibbons' Instagram. 
The couple married on April 20, 2011, at midnight on the rooftop of the Montage Hotel in Beverly Hills. Furthermore, the intimate ceremony was held in front of a fire and white roses. The bride looked gorgeous in a long, embroidered cream dress by Sue Wong.
Leeza Gibbons' Blissful Marriage With Steve
Leeza Gibbons' husband is 13 years younger than her. During their first date, Steve was 38, and she was 51. According to People, Gibbons exclusively told that the couple was living in a fairy tale. Gibbons' soul mate adds that she is the kindest person he's ever witnessed. The couple looked utterly in love with one another then, and even after may years of being together, they share the same bond.
Despite being together for pretty long, the couple does not have children. However, Steve Fenton is a stepfather to Leeza Gibbons' children from her previous marriage.
Although Steve and Gibbons look pretty good together, they individually had to go through broken marriages. Leeza Gibbons's spouse, Steve Fenton, was previously married to Gail O'Grady. The former couple was married on August 12, 1995. Unfortunately, the couple failed to hold on more than a year and divorced in 1996.
Who Are Leeza Gibbons' Ex-Husbands?
Leeza Gibbons had to try three times to find someone she can unload herself with. Loving someone is pretty tricky when you're young and vulnerable, but once you figure it out, and with the right person, the hell feels tolerable.
However, the former host, Gibbons, did not give up on chances and might not regret any of the relationships she had been into. Before Steve, she was married thrice. Leeza Gibbons' first husband was John Hicks with whom she got married in 1980. Sadly, the relationship did not last more, and thus they separated in 1982.
Hopeful Leeza decided to give love another chance and married British actor, Christopher Quinten on December 10, 1988. The couple met a charity fund-raiser in New Zealand. Unfortunately, the couple did not last either despite having a daughter, Jordan Alexandra (Lexi) Gibbons, and parted ways in 1991.
View this post on Instagram
Furthermore, Leeza Gibbons was married to actor and architect Stephen Meadows from 1991 to 2005. The couple shares two children, Troy Daniel, and Nathan Daniel. Gibbons's ex-husband, Stephen Meadows, filed for divorce on February 11, 2005, citing  "irreconcilable differences." He also sought joint custody of their sons, as well as spousal support.
Although she had experienced multiple failed marriages, she continued to have an open heart and fell for former Beverly Hills' mayor, Frank M. Fenton's son, Steve Fenton.
Today, Leeza Gibbons' life is full of joyous moments with her husband, Fenton. Let's hope the blissfulness continues until the end of their presence in this universe.
Don't Miss To Follow SuperbHub For More Updates On Celebrity Entertainment, Biography, and News.