Cara Maria Sorbello or simply Cara Maria is a reality star known for MTV's game show The Challenge. Two times winner Cara won the show in 2016, the 27th season of The Challenge: Battle of the Bloodiness. Again, in 2018 she won the 31st season 'The Challenge: Vendettas' bagging the cash prize of $602,250.
Along with the success of Cara Maria in the reality TV shows, she is collecting lots of fans. Cara's fans are eager to know about the personal life of this daring and active lady. Here are some personal facts of Cara Maria which we collected from her social pages.
Cara Maria is a fitness lover
The viewers of the reality TV show The Challenge clearly knows that it needs a strong physique and mind to compete in the show. And Cara Maria has it. She has a fit and attractive figure as well as a sharp mind too.
View this post on Instagram

Cara Maria keeps on posting vlogs and photos of her daily workouts and performance in shows on her Instagram and Twitter. Her posts clearly depict her love for fitness and attractive figure.
Cara Maria hangs up more with fellow star Johnny Bananas
The reality TV star Cara Maria hangs up more with her fellow The Challenge star Johnny Bananas. It seems there is something more than friendship between them. Johnny has made a lot of appearance in Cara Maria's Instagram page.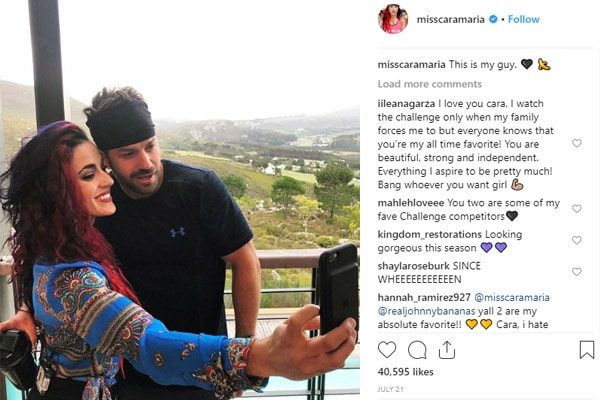 Cara Maria posted a photo with Johnny Bananas on her Instagram Page.
Maria had captioned Johnny Bananas as her guy in one of her recent Instagram post. It clearly shows that there is more than friendship between these two actors.
It's also said that Cara Maria is dating Final Reckoning's, Paul Calafiore. So it cannot be confirmed that Cara might be in a rush to star new love life with Johnny Bananas.
Cara Maria is an Avid horse rider
The bold and beautiful Cara Maria loves horse riding. In her Twitter as well as Instagram page, she has mentioned her love for horses, Crossfit, and Kickboxing.
Cara Maria often uploads photos with her horse in her social pages. She even donates a certain amount to the foundations working for needy horses.
View this post on Instagram

Cara tolerates what people say to her, but she can't tolerate if someone speaks badly about her horse. When Amanda from The Challenge: Final Reckoning said that she hopes Cara's horse Garnett dies. Maria did not response anything at that time. But later she donated some money to the Equis Save foundation in Amanda's name. Impressive!
The talented and animal lover Cara Maria Sorbello frequently contributes in the people magazine. She keeps on writing about the events that happen on The Challenge Show in the magazine.
Visit SuperbHub for other Celebrity Entertainment.