Leanza Cornett was a massive television personality and Miss America 1993. She not only won the world with her beauty but was impressed with exceptional talent and kind heart. 
Sadly, the beautiful soul was taken away from the world too soon. She died on October 28, 2020, amidst family. Leanza Cornett's death saddened the world. Besides beauty and glamor, Leanza was a mother of two beautiful sons with former husband, Mark Steines. 
Here, we will be tailing Leanza Cornett's sons and their whereabouts. 
Two Kids With Ex-Husband Mark Steines 
Aforementioned, beauty pageant titleholder Leanza Cornett welcomed two sons with former partner, Mark Steines. 
The gorgeous Cornett married broadcast journalist Mark Steines on July 22, 1995. The pair welcomed their first child, Kai Harper Steines, on February 19, 2002. Cornett's son was born healthy and weighed 7.3 lbs at the time of birth.  
Likewise, Cornett's second child, Avery James Steines, was born on November 4, 2003. The family of four was briefly happy as the former love-birds decided to part ways after over a decade-long marriage. 
Their divorce was finalized in 2013 after 18 years of marriage. Despite parting ways, Mark and Leanza made sure that their divorce didn't affect their babies in any way. 
As of now, both Leanza Cornett's sons have grown up to become fine men. Additionally, her oldest son, Kai, even graduated and has an interest in music. 
Leanza Cornett's Son Is A Musician. 
As mentioned previously, Leanza Cornett's son, Kai Steines, has picked up an interest in music. 
Born in 2002, the 18-year-old Kai's Instagram is filled with his musical creation. Furthermore, Steines' Instagram leads to his Spotify account. 
Additionally, Leanza Cornett's baby boy released his single, Once Upon A Time At The End Of The World, on Spotify, and promised a speedy release on YouTube since August 2020. 
Furthermore, Kai is pretty close to his father and his stepsister, Parker Rose Steines. Kai Steines' father, Mark, often posts his pictures and boasts about his achievements.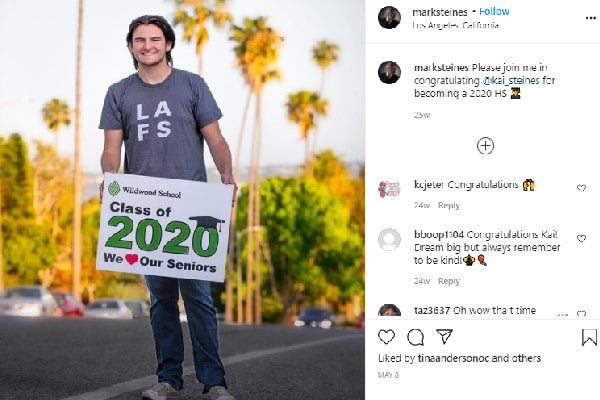 Leanza Cornett's son, Kai Steines graduated in 2020. Image Source: Mark's Instagram.
The most recent achievements Cornett's ex-husband posted was about his graduation. Likewise, Mark praised Kai's vocal improvements and creativity. Well, Leanza Cornett's son, Kai, is talented indeed. 
Let's hope to hear more of Kai Steines' music in mainstream media as well. 
Avery James Steines Is Only 16 Years old. 
Unlike Kai Steines, his sibling, Avery, stays away from social media. He is private, and the need for privacy is evident from his personal Instagram. 
However, he, too, is a frequent face on Mark's Instagram. Avery's father extends his wishes via Instagram posts with over 25.9k admirers. 
Additionally, he seems interested in punk music as his name suggests 'Sunken Punk.' Likewise, in a social media announcement, Leanza Cornett's son, Kai, hinted at Avery's participation in creating Kai's album. 
View this post on Instagram
Despite staying away from the media, both Leanza Cornett's sons are doing okay in life. Therefore, let's hope to see them outshine her host mother and a journalist father. 
However, today, Kai and Avery are mourning their mother's death in Jacksonville. 
Kai And Avery's Mother Died From Head Injury 
Losing a mother is one of the most painful feelings to experience. In that case, Kai and Avery seem unfortunate when it comes to being with mother as the world lost Leanza Cornett on October 20, 2020, due to a head injury from a fall. 
Kai and Avery balanced their time between their parents and were pretty friendly even after the divorce. Moreover, Mark extended his condolences via social media, praising her as the best guardian angel watching over their sons as they navigate life's path.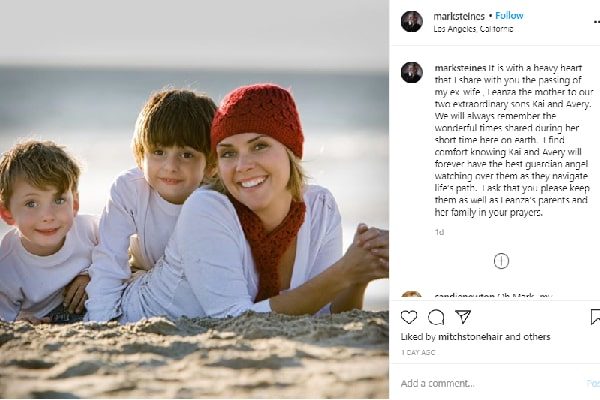 Leanza Cornett's ex-husband, Mark shared his condolences via Instagram. Image Source: Mark's Instagram.
Although Leanza's time on earth was brief, she touched several people and gave life to two amazing kids. Let's hope her kids and family finds solace in her memories and continue to make her proud. 
 Don't Miss To Follow SuperbHub For More Updates On Celebrity Entertainment, Biography, and News.