Late Nipsey Hussle's wife Lauren London has got several tattoos on her body. Recently Lauren got a portrait of her late partner Nipsey Hussle on her arm who was shot multiple times and murdered.
Besides being an American television personality, Lauren London is also best known for being the partner of late rapper Nipsey Hussle. Here are some facts about her tattoos and the meaning behind it.
Nipsey Hussle's Tattoo
Just one day after the tribute of rapper Nipsey Hussle, Lauren London inked the face of her late partner Nipsey Hussle on her forearm. She has inked the portrait of Nipsey with the words 'God will rise' written underneath.
If you were a fan of late Nipsey Hussle, then you'd know that the same phrase was tattooed next to the right eye of Nipsey.
View this post on Instagram
Lauren London has got the tattoo in the memory of boyfriend Nipsey Hussle. She posted the picture of her Tattoo on Instagram and wrote "Real love never dies. When you will see me, you will see him." Lauren also has a son named Kross Asghedom with her late beau Nipsey.
Beside the portrait of Nipsey, Lauren has also got other tattooed inked on her body parts.
Art And Soul
Lauren London has got at least six tattoos on her body. Among them, she has the word 'Art and Soul' on her upper back. The word is written in Cursive. She always believes that there is always a connection between art and soul.
Om Symbol on Chest
Lauren London has got the 'Om' symbol tattooed on the left side of her chest. Om also written as Aum is one of the most sacred symbols in Hinduism. However, London is not a Hindu. There is no exact meaning behind this tattoo in her body but it is reported that she is a peace lover and always had an interest in eastern religion.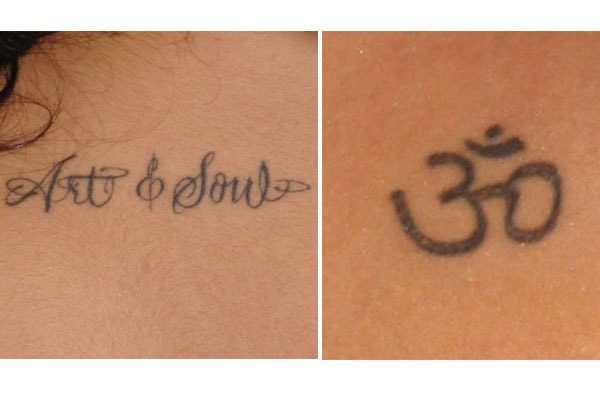 Lauren London's tattoos on her upper back and left side of the chest. Picture source: Steal her Style. 
To The End And Roman Numeral
Lauren London has also tattooed the phrase 'TO THE END' just below her right elbow. She hasn't revealed the exact meaning behind the tattoo as well.
Lauren also has a Roman numeral tattoo on her left ankle. The Roman numbers on her left ankle represent her son's birth date. She also has got a tattoo on the back of her right. Looking at Lauren London's tattoos, we can surely presume that it doesn't fall on the list of celebrity with weird tattoos.
Keep Connected with SuperbHub for more News, Entertainment and Biography