Latvian-Canadian actress Ksenia Solo net worth is estimated to be in millions. And why not? She became a celebrity at the age of 21 with her famous role, Mackenzie Kenzi Malikov on 'Lost Girl'- The popular TV series which ran for 6 years from 2010 to 2016.
She has also received her third Gemini Award for her supporting role in the very series. Moreover, she needed to continue to grow as an artist and Solo did with her other projects, Amc's thriller Turn: Washington's Spies and Orphan Black.  
Net Worth: Earnings from acting career
Solo was only ten years old when she made her first appearance in the Canadian TV series 'I Was A Sixth Grade Alien' along with Canadian actor Michael Cera. She was only eighteen when she received two consecutive Gemini Awards in 2005 and 2006. A great achievement indeed in such early age!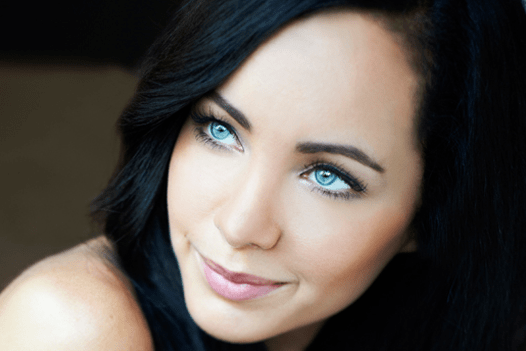 Ksenia Solo's beautiful eyes mesmerized everyone and so did her performances in her shows and movies. Source:  I am Entertainment
Solo has also made her major roles in Television series including Adventure INC. of 2002, Missing of 2004, Renegadepress.com from 2004 to 2008, The cleaner of 2009 and the rest. Indeed, acting has played the main role to increase her Net Worth.
Also See: Ksenia Solo's Boyfriend
Solo was also nominated for first-ever Canadian Screen Awards for her role in TV series 'Lost Girl'. And everyone loved Kenzi so much that the show collaborated with Solo to bring her back in season 5, even after her death in the season 4.

Along with great career, and die-hard fans, Ksenia Solo net worth includes her friends in the show. She had said so in her interview with Huffington Post that,
"The show, Lost Girl, has brought so many relationships into my life; I have met many people who have become my friends and, I love them very much. That's the priceless thing the show has given me."
In 2010, Solo made her appearance in the movie 'The Black Swan' directed by the renowned Darren Aronofsky.
The movie was made under the budget of $13 million and made box office collection of $106,954,678 according to the Box Office Mojo. And Nylon Magazine listed Ksenia Solo as one of the 55 faces of the future in Hollywood.
Ksenia Solo net worth increased with her involvement in other projects with and after Lost Girl. She was also seen in the horror movie Locke & Key of 2011 playing the role of Dodge. The movie was directed by Mark Romanek and executively produced by Steven Spielberg.
Though it is said that Canadian actors are getting less paid than the US actors, Stars like Solo are making substantial amount.
Solo has also done film In Search of Fellini of 2017 opposite the famous American actress Maria Bello whose Net Worth is $8 million according to the Celebrity Net Worth.
The box office collection of the movie was $12,772, however, the making budget of the movie has not be disclosed by the Box Office Mojo.
She did a great work at the show and was also awarded as a best actress for her outstanding performance in the movie.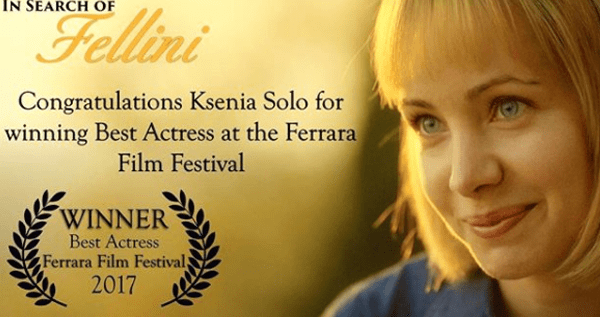 Ksenia Solo won best actress at Ferrara Film Festival for her film, In search of Fellini. Source: Ksenia Solo's Instagram
Solo has also worked with actor Dominic Monaghan in the psychological thriller movie PET of 2016. However, the film made a domestic gross of only C$8004.
And also became a part of a special film by Oscar winning Director Mike Van Diem, Tulipani, Love, Honour and a Bicycle. Certainly Ksenia Solo net worth is sure to increase with her increasing popularity and outstanding performances.
And besides acting, Solo had shown her talent behind the camera. Solo had her directional debut and she directed a music video for Canadian artist Craig Stickland.

Personal Life
Stunning actress Solo loves to keep her private life private and spends her time at home with her pups.
Ksenia Solo was born on 8th October 1987 in Riga, Latvian SSR, Soviet Union. Solo was studying Ballet until her back injury stopped made her discontinue dancing. Solo's mother is also a one-time ballerina-turned-actress.
However, Ksenia was much interested in acting than dancing. For her, Ballet taught more of discipline and patience. Though she was bullied a lot being tiny and shy, her bully friends now call her saying they saw her on TV, which makes her proud.
If we talk about her relationships, Ksenia Solo was in a relationship with the Canadian Actor Nolan Gerard Funk between 2010 and 2015. She is also rumored to have linked up with Canadian actor Kris Holden-Ried according to Who Dated Who.
For more Entertainment, stay updated with SuperbHub