If we talk about Philly artist, we cannot exclude DJ King Britt. Britt was one of the super talented artists who was a super fan of songs from a very early age. From the age of 7, he started to collect music from all over the world. King got inspired and influenced by Sun Ra at a very tender age.
His passion and drive on music are undeniable. When he was just a small kid when King's father co-owned a barbershop where he got familiar to the Funk and Soul. Such many incidents are co-related to King's life that made him the super rock artist.
King Brit: King of Trip Hop
King Britt started music collection at the early age of 7. In his childhood, he used to collect all sort of music which made him a geek. Maybe, this strange habit of King gave him undeniable knowledge on the music of all over the world. King Britt also won the prestigious Pew Fellowship in the art for his extra-jubilant composition.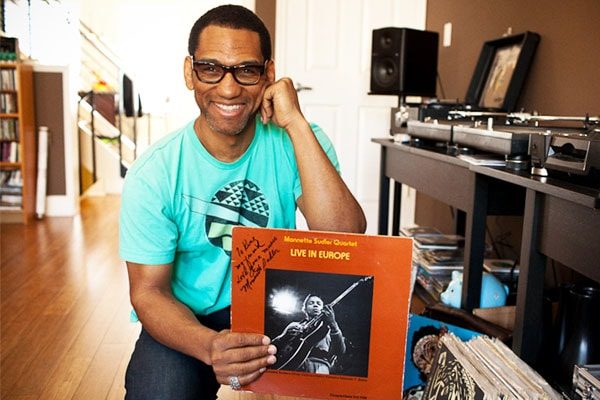 A royal collection of King's free Jazz, fusion and Sci-fi soundtracks.
Image Source: dustandgrooves
King Britt saw the local rap scene of the legend Philly rappers like Schooly D, Three Times Dope, Steady B, DJ Cash Money, DJ Jazzy Zeff and Fresh Prince. King was raised in a house filled with James Brown to Duke Ellington pieces of music. Some of his songs are Uzoamaka, Seasons Change, Now, The Reason, Buttamilk, etc.
Musical Career and Inspirations
King Britt began his first DJ residency in silk City and revival who is credited as the foundation for King's DJ career. In 1990, he also produced his own commercial release "Tribal Confusion" in label Strictly Rhythm. King took his inspirations from many singers.

Temple graduate King collaborated with partner Josh Wink to produce classic music, their partnership continued till 2001. In 1992, King started his worldwide tour with a group Digable Planets. Digable Planet is a Grammy Award-winning hip-hop trio which he resigned in 2001.
King collaborated with singer-poet Ursula Rucker in Supernatural. In 1998 King released neo-Soul album The Funk Hits the Fan on Ovum/Columbia Records which was sold 500,000 copies worldwide.
In 2009 King began his project Saturn Never Sleeps with fellow artist Rucyl. Some of his albums are King Britt Presents, The Intricate Beauty, Baby Loves Disco, etc. His album Intricate Beauty was released in 2010. Almost everyone loved his versatile musical composition.
SuperbHub for Exclusives News and Entertainment.