Picture credit: US Weekly
Keeping Up with the Kardashians star Khloe Kardashian is so excited about her pregnancy that she cannot stop sharing the good news. It's not been more than a week that Khloe officially announced her pregnancy, she tweets she is six months pregnant. Khloe pregnancy is all over net.
Katie tweeted to Khole asking on which month of pregnancy Khole is in. And in reply Khole retweeted, she will be six months next week.
Katie is so happy about Khloe pregnancy that her twitter is filled with tweets about Khole pregnancy.
Katie has been showing her excitement even on Instagram.
Khloe made an announcement about her pregnancy really late. On the eve of Christmas, Khloe posted a series of Snapchat videos that show off her small baby bump while doing some fitness exercises. These kinds of posts were not seen over past few months as Khloe kept her pregnancy under the curtains.
In a selfie video, Khloe said,"I am loving these Snaps and I can finally snap my workouts again." She's seen working out in a black hoodie and a matching legging.  "A very Merry Christmas to all my fans and followers and more workouts yet to come."
As she already confronted her bump is 6 months old, she may have a baby in the Spring the Coming year.
She was dressed in a silver jumpsuit for night Christmas Eve party. And the guests in the party rubbed her baby bump and congratulated her.
She shared a photo of Christmas Eve party and captioned it as. "A very Merry Christmas!! May all of us sparkle and shine this festive season, may all the wishes and dreams turn true. I pray that this happiness remains with us for the whole year. God bless you!
Well, Khloe pregnancy excites everyone and Khloe herself is taking it seriously; doing her best to keep her healthy. Along with good diet, she is also doing necessary workouts at gym and of course, shares that with all her fans!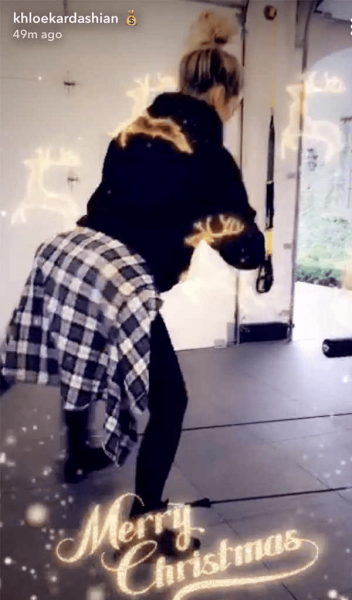 Image source:E!Online