The pitch perfect star, Kelley Jakle has been in a relationship with boyfriend Mark Hapka ever since her famous break up with Adam Devine. Through the recent activities, Kelley seems to be in so much love with her boyfriend. It seems as though Kelley is signaling that she is ready to get married with her boyfriend! Is the couple ready to tie the knot? Let us find out more.
How is their dating affair going ?
The American actress, singer and songwriter, Kelley Jakle has had a triumphant professional career. Her personal life has not been as successful but recently, it seems that Kelley is falling back on track in regards to her personal life.
Kelley Jakle was in a secret affair with Adam until she confirmed her affair. The couple then officially began dating in 2012. After two years of public hugs and kisses, the cute couple separated in 2014. While Adam found his new girlfriend, Chloe Bridges, so did Kelley!
Kelley who was keeping things hidden, came out of the hood last December and posted a picture of herself celebrating Christmas eve with her boyfriend! Who could he be? None other than the very handsome and charming Mark Hapka who is known best for his appearance on Days of Our Lives!
Is the couple planning to get married?
The 27 years old, Kelley Jakle seems to be opting to get married. On Valentines this February, Kelley posted a cute Instagram picture of herself with boyfriend, Mark who was wrapping her closely while she could not stop giving a wide and immaculate smile. In both of their palms was written sweet words such as "# LOVE IS LOUDER". Furthermore, Kelley captioned it, "Sending love to everyone this Valentine's Day (and a little extra to this guy!) ☺", which seemed very cute.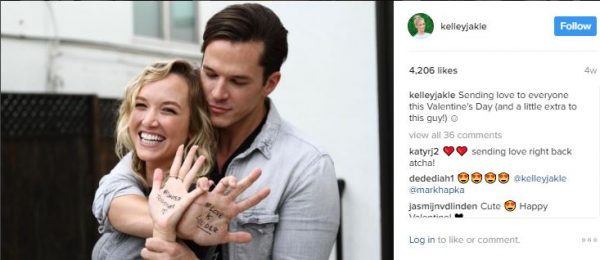 Also, the couple has been frequently seen together out in public holding hands. Although, Kelley and Mark have not made an official announcement but the couple is too close to getting married. They look absolutely in love and are adorable together.
Kelley who seems to be slowly dropping off hints of their love has also been focusing on her professional career as well. Both Mark and Kelley have been taking their personal and professional life seriously and smoothly. We wish the best for this power couple!