Michael Anthony Strahan has involved in multiple relationships so far. He has married two times and also divorced twice. Currently, he is dating Kayla Quick who is much younger than him. Someone has well said, age is just a number if you love someone.
Michael Strahan was a football defensive end at National Football League for 15 seasons. He was titled twice as NFC Defensive Player of the Year. The has also hosted the show Live! With Kelly and Michael with Kelly Ripa for four years. 
Michael and Kayla relationship
Michael is in a relationship with Kayla since 2015 and their love is still fresh. The couple share bond and even after three years of their relationship, they are often seen spending time together. Michael and Kayla were having a romantic time in the beach.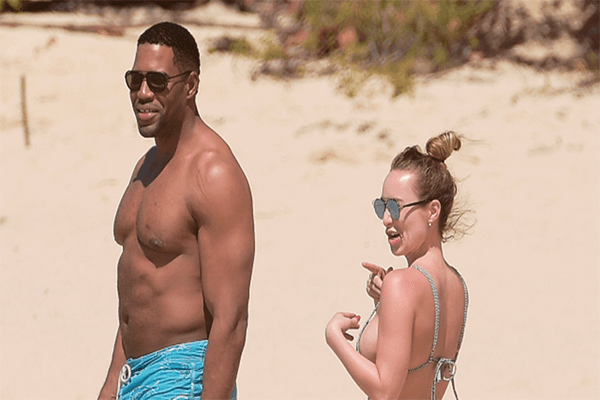 Michael and Kayla spending quality time on the beach in St. Barts.
Image source:  9News
Both were again spotted sharing dinner with his co-host Kelly and her husband Mark Consuelos at the Polo Bar in New York City.
Like a true lover, Michael has accepted Kayla's criminal history. Michael was enjoying the summer with his new girlfriend. Both were busy making love to each other.
Kayla's criminal past
Like most of us, Kayla also has a bad of chapter of her life which she doesn't want to read aloud. She was working as a waitress a Thee Doll House at Tampa strip club.
Kayla was arrested for stealing jewelry worth $6,000 of her own grandmother in 2005 when she was just 18 years old. Kayla and her ex-lover planed a theft when her grandmother was out for treating her illness. However, they were caught when Kayla's got back to the home where she found her jewelry was gone.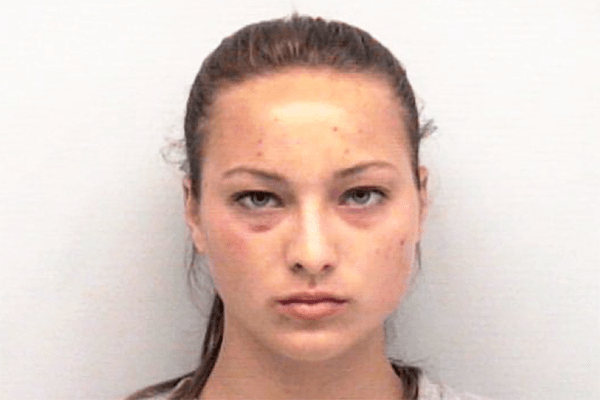 Kayla Quick arrested for stealing.
Image source: Page Six
After Kayla's grandmother heard Kayla and Justin went inside her home in her absence, she demanded press charges. Next day, Kayla was called to confess her crime. The criminal charge was taken to juvenile court, but, it is not mentioned whether they were punished for their crime or not.
Justin Hundley's ex-lover Justin Kayla was a good girl before she stepped on her teenage. By the time when she turned to 14, she had fought at her home in Port Charlotte, Florida according to Daily Mail.
Also Read: Kayla Quick's net worth | Worked as a Stripper in Florida Strip Club Thee Doll
Michael Strahan ex-wives
Michael was married to two women. His first wife is Wanda Hutchins and has two kids Tanita and Michael Jr. with her. Their marriage life was running fine until his wife filed a divorce in 1996. Obviously, it was a very bad experience for Michael.
Michael was wedded to Jean Muggli in 1999. The couple met at the spa center. Michael was blessed with twin daughters Sophia and Isabella from his second wife.
Again, the history was repeated in Michael's life, he ended his second marriage because he was accused by Jean for beating her where he was divorced by Jean in 2006. But, this time he had to pay $15.3 million for his divorce and monthly $18,000 for child support.
Michael is the father of four  Daughters and son and very close to them and loves spending quality time with them. Michael says, his children taught him live life the fullest.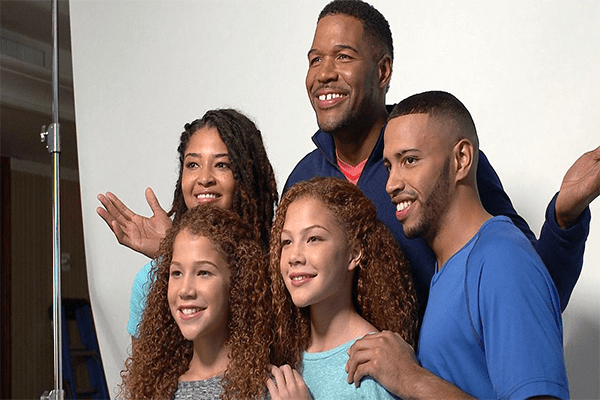 Michael Strahan with his three beautiful daughters and Michael Jr.
Michael continued his relationship with Nicole Murphy and both were engaged in 2009. However, their engagement was broken because of their busy schedule.
From 2015, Michael is dating Kayla Quick.
Stay updated with SuperbHub for more Entertainment.