The glamorous model Katie Price's net worth is estimated to be $40 million. She has lived her life in the spotlight for 20 years and now is on huge financial trouble. One of Britain's most famous celebrity has blown her $45 million fortune in a ditch.
The recent reports have flashed out which shows Katie's financial owes. She has spent $1 million for a farm,$10,000 for a monthly mortgage and $25000 for heating. The expensive plastic surgery and holidays have finally dragged Katie into the troubled days ahead.
What is the net worth of Katie Price?
According to the report Katie Price has an estimated net worth of $40 million. The model has accumulated much of her wealth from her modelling career. Recently the news flashed she is failing to fill her heavy mortgage. The year 2018 has been a tough year for Katie Price.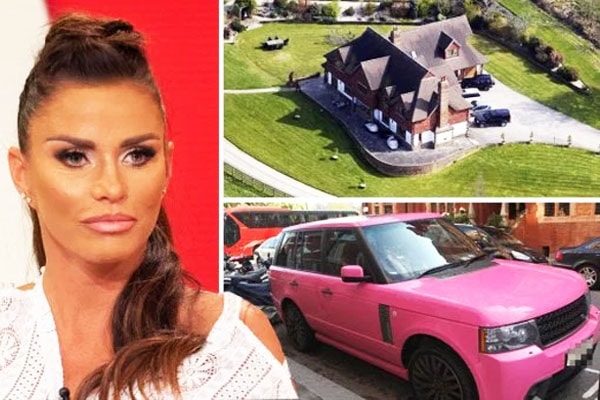 Glamorous model Katie price has an estimated net worth of $40 million. Image Source: Metro.
Katie has a £1 million ($1,275,909) mortgage on her Sussex mansion which needs repair and her heating bill could be up to £25,000 ($31,897.72) a year as the star Katie is known to hate cold. As the star is always in the spotlight for her troubled past, now her financial issues have been the major headlines in the media.
Katie blew $45 Million Fortune Overnight with Empty Hand
In the year 2018, the controversial model Katie has blown huge money into her failed business and is now seeking for settlement. The mother of 5 is now bearing her monthly mortgage and settlement issues. Speaking of children, Katie has a son named Harvey Price with her baby father Dwight Yorke. The actress who was living a lavish life is now seeking for settlement.
FArm
Katie owned a farm worth $1 million which she had bought for her ex-husband Kieran Hylar. In the farm, she bought a milking machine costing £40,000 ($51,036), a tractor at £80,000($102,072), and a customised Land Rover worth £70,000 ($89,313).
View this post on Instagram
The Sun flashed out the news how the star was selling off her animals in a bid to raise funds. It's just one of Katie's many failed business ventures, which have dragged her on the verge of bankruptcy. Now let's see what steps shall Katie take next.
SuperbHub for Exclusive News and Entertainment.