Published Date 30th Jan. 2018, 17:53 pm Update Date: September 21st, 2018 12:40 pm
American singer Kash Doll's Net Worth is estimated to be $1 million which is amassed from her profession as a Rapper. For everybody Singer, Doll previously worked as a strip-dancer and earned up to $26,000 in a night. Currently living in Detroit City, Doll has been active in music since 2015 and released her debut mixtape titled  "K.R.E.A.M".
Kash Doll's Net Worth is estimated to be $1 million with an annual salary of $125 to $250 thousand. Doll is involved in her enterprise Kasha De Doll Beauty and is also an owner of application KDmoji. Kash Doll's Net worth will plummet accordingly to her aspiring career.
Kash Doll's Net Worth | Kash has lots of Cash 
Recently, Kash Doll posted a video on Insta where she is retrieving money from Microwave and other kitchen accessories. She took out $5000 cash bundles one by one. There was $25,000 inside the microwave. The count didn't stop there. Slowly it reached around $60,000. Looks like Kash has lots of cash!
The hilarious video was, however, made 3 years ago.
Though the video was funny and made no sense at all. We know that she has earned a lot.
Doll never fails to flaunt her Expensive Accessories
She often flaunts her property and accessories in social media. Doll clicked the picture of Her Engraved Diamond watch and Gold Bracelet with added diamonds. That might have cost fortune!
Similarly, she also posted on Twitter, showing Gadget, iPhone X. iPhone X that costs around $999 to $1,149.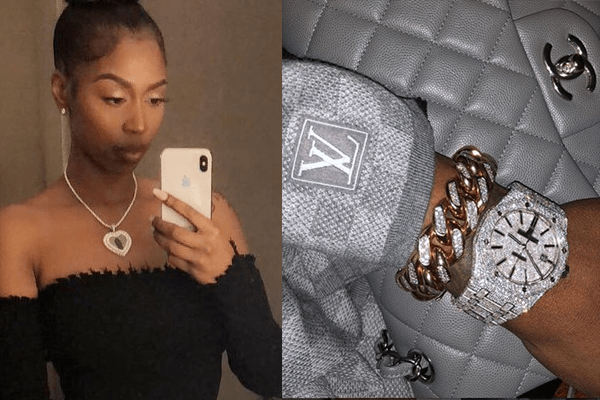 Kash Doll's engraved Diamond Watch and Gold Bracelet with added Diamond and iPhone X. Image Source- Kash Doll's Twitter/ Instagram
Along with her unique dresses and accessories, she also seems to be a fan of designer shoes. She loves to collect them and place them nicely in her shoe closet. Kash is really a diva and divine is her choice. She has a great fashion sense indeed.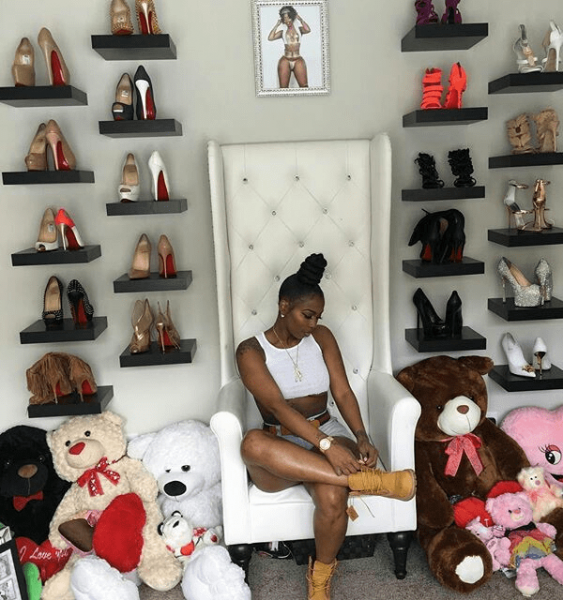 Kash Doll's expensive designer Shoe Collection.
Image Source: Pinterest (Yachta)
Cars and Houses
Interestingly, Doll is an owner of Five Cars, two exotic cars, two luxury cars, and one sports car. Previously, she had Benz, BMW and Maserati cars.  Doll stated that very soon she is going to buy a Bently car. Kash Doll mentioned about her cars in an interview.
Moreover, each car is of high cost and adding to Kash Doll's Net worth.
Here is the Instagram post from Kash Doll, posing in front of her house in Southfield, Michigan, USA. Before, she used to live in Detroit city in her parent's house with her mother, stepfather and 5 siblings.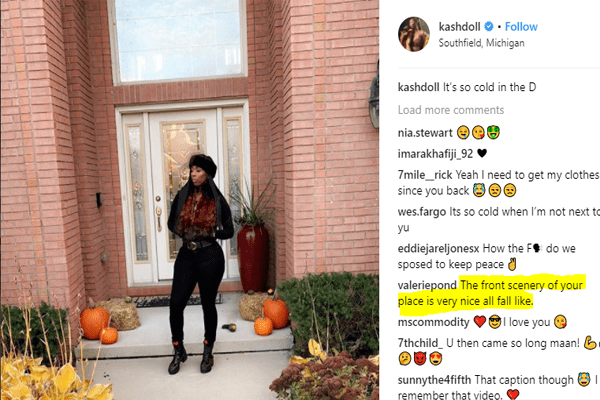 Kash Doll is posing in front of her house at Southfield, Michigan. 
So, how does she afford such accessories and assets? 
Earnings from Kash Doll's Music Career
This American rapper has accumulated a good amount of money from her music career. In 2014, she remixed Tinashe's 2 on that gave her a new break. Later, she got the booking, collaborations, appearances and hosting deals that earned some money and tons of experience as well.
| Kash Doll Songs | Released Date |
| --- | --- |
| Da Baddest | 2018 |
| Fastest Route | 2018 |
| Serious | 2018 |
| For Everybody | 2017 |
| Poppin' | 2017 |
| Upgrade You | 2017 |
Afterward, in 2015, she released the first mixtape Keisha vs. Kash Doll that reached 600k downloads in just two days of release. Similarly, her greatest two hits in 2017 For Everybody and a cover Run Me My Money, gained more than 750,000 views. And this was just in the first 5 months.
Eventually, her hard work paid off, when Drake personally called her to perform in the Detroit, summer sixteen date. This definitely was a huge exposure and continuously, Kash Doll's net worth is increasing.
Kash Doll is also a Businesswoman
Along with musical career, Cash has also started a business of her own. Cash Doll Collection says, she has Kasa De Doll Beauty boutique in Detriot, Michigan, and Bar with the same name in Columbus, Ohio. Surely, income from Kasa De Doll Beauty enterprises sums a lot to Kash Doll's Net worth.
She also recently released the emoji application known as KDmoji. This emoji application exposes her and American Black women's lifestyle.
Apparently, this emoji listed in top ten application in the Apple App store.
Quick Facts on Kash Doll
Kash Doll's net worth in 2017 is $400,000 and seems increasing rapidly. Probably, she will be a millionaire at the end of 2018.
Doll is a fascinating personality and enjoys a luxurious lifestyle at her residence.
Approximately, Doll earns $125-$250 thousand of annual salary.
She often exposes her expensive accessories and gadgets in social media.
Tragically, her father died when she was a year old.
Her music video For Everybody has more than 9 million views.
Kash is the owner of Five Cars, two exotic cars, two luxury cars and one sports car. She also had a lot previously and is going to buy a new one. She is a caraholic!
Finally, have a look at the video where Kash Doll is enjoying in her car.

For more Entertainment news stay with SuperbHub.