Kailah Casillas is an MTV's reality show star. She has earned lots of revere and million fans by appearing on the MTV's 31st season of The Real World: go big or go Home, Dirty 30 and The Challenge Vendettas. Casillas beauty and perfect figure make lots of young guys crazy about her.
Then her popularity was sought out by Suicide Girls, and her eye-catching photos led her on Set Of The Day twice in 2015. The photos not only attracted the suicide girls, but also hundreds of handsome hunk were in the line.
But she is crazy for someone else. And Kailah Casillas' boyfriend is Mikey P. Mikey is a recording artist in Las Vegas and have recorded numerous songs including his recent, Wake up.
The beginning of the Relationship
The exact date, when they began seeing and dating each other is not confirmed, but their social media post suggest that they have been dating since January 2017. The couple seems to in a serious relationship and also looking promising.
Also See: Kailah Casillas Net Worth
Here is the first post of Casillas with her boyfriend posted on Instagram. And the duo is posing quite close.
The answer for How they fell in love is still unknown, but for sure they are going great together for more than a year now. Kailah Casillas' boyfriend, Mikey P also seems desperate about her girlfriend.
For Instance, Casillas and sweetheart Mikey were invited by Boxing star, Floyd Mayweather in his 40th birthday. And these two fully enjoyed the occasion, and they were drunk as well as she denoted hangover in the caption. The chemistry between these two is incredible.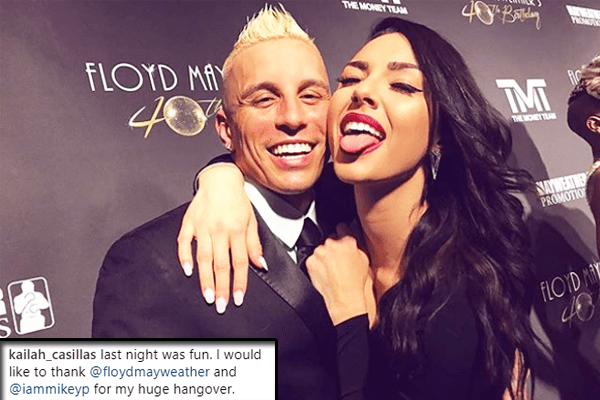 Caption- Kailah Casillas and Boyfriend, Mikey attended in the party of Floyd Mayweather's 40th birthday, and these two were looking adorable.
Image Source- Instagram
Afterward, the couple was seen together a Night Club, Hyde Bellagio in Las Vegas. Both posed for the camera with a smile with Mikey's hand on her shoulder. And Casillas captioned Vegas Nights with this green haired guy with a revolving heart emoji.

The power-couple is unstoppable in terms of having fun. They go for the party so often, visits different places and goes on vacations as well. This cute and Romantic couple never makes their fans upset and post regularly to update their daily life.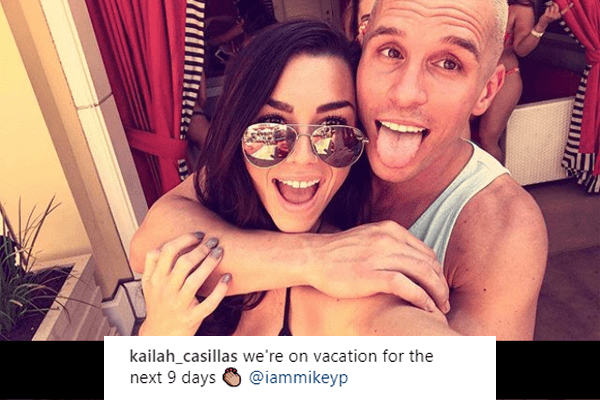 Kailah Casillas' boyfriend, Mikey, and Casillas were on vacation.
Image Source- Instagram
The Couple Drinks Together
As mentioned, the couple has perfect Chemistry and are supportive as well. Mikey's darling loves to hang out with him, and he too doesn't frustrate her. Here is another post from Instagram where these two are having a Cold Spell whiskey together.
Celebrated Valentines Day Together
The lovebird seems promising about their future relationship. Not to mention, Kailah Casillas' boyfriend and perhaps a future husband, Mikey celebrated the 2018 valentine with his beloved, Casillas.  As we know, Valentine Day is a special day for a lover, and it was for these two as well.
Casillas and Mikey celebrated the Valentine day full of joy and happiness. As Mentioned, she never upset their fans. So, she posted the picture with her boyfriend on that day. She captioned Mikey as her Valentine, best friend, travel buddy, and her love.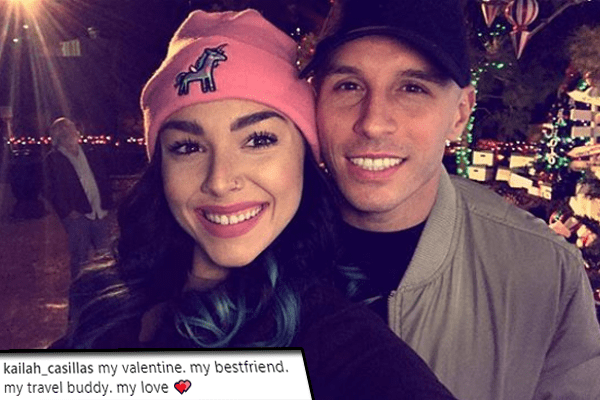 The couple together looks a perfect match as on the Valentine 2018.
Image Source- Instagram
Till date,  Casillas and Mikey are going good together. And we can wish that we will see them in a wedding dress and taking wedding vows. Also, we believe that Kailah Casillas' boyfriend is a perfect life partner for her.
Stay Tuned to SuperbHub for more Entertainment News.