Josh Holloway and Yessica Kumala got married on October 1, 2004. The American actor was in a long term relationship with his girlfriend turned wife Yessica. The couple has a happy married life. Josh and Yessica have two children, Java Kumala Holloway, and Hunter Lee Holloway. 
Let's find out the secret behind their happy life.
Josh Holloway's Marriage With Yessica Kumala
The handsome actor Josh Holloway is happily married to Yessica Kumala. Josh proposed his long term girlfriend after completing the shoot of the Lost. The adorable couple tied the knot on October 1, 2004, and has been married for over a decade.
Josh and Yessica met in a bar. The charming star noticed a hot group of girls while he was having a great time with his friends. No doubt that Yessica was a part of the group.
When Josh tried to approach the ladies, Yessica slapped him on his shoulders. Without uttering a single word, Yessica asked Josh to give her his number before she left.
Josh was confused as his future wife laughed at him. The Colony star didn't pay much attention to give his number. The second time the couple met, Yessica asked Josh to give her his number again. The only difference was that she was carrying a cell phone.
Yessica didn't know Josh's name. She named him Sunset four on her cell phone. The charming actor was enchanted on the first slap.
The couple has two children. In 2009, their first child, Java Kumala was born. The couple had their second child Hunter Lee in 2014.

Yessica and Josh enjoy spending time together. They are often spotted enjoying family time.
Who is Josh Holloway's Wife Yessica Kumala?
Yessica Kumala is an Indonesian beauty who is best known as Josh Holloway's wife. Josh is a famous model, actor, and producer. He is famous for his role in Lost, Colony, and CSI: Crime Scene Investigation.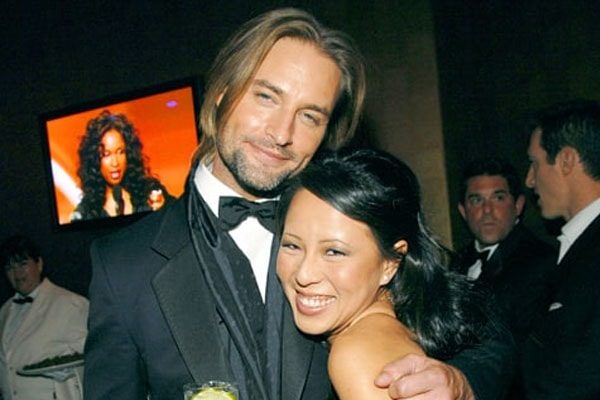 American actor Josh Holloway is happily married to his wife Yessica Kumala. Image Source: Getty Images. 
Yessica Kumala grew up in Indonesia. She was born to Chinese parents. Later, she moved to the United States. Personal information about Indonesian beauty is not disclosed.
The wife of Josh Holloway has not mentioned about her parents, siblings and early life. Yessica Kumala was a night club worker in Los Angeles before she met Josh. She met her husband in a night club.
For more News and Celebrity Entertainment visit SuperbHub.