The famous American lawyer and medical marijuana advocate, John Morgan, has an estimated Net worth of $730 million.  John has amassed the huge sum from his profession as personal injury/class action/ injury lawyer.
John lives a lavish lifestyle and has an expensive taste in everything. The wealthy Orlando attorney is the president of Florida Blue Key. Besides that, the attorney an author.
John has released various books. The titles of the books are- "You Can't Teach Hungry…Creating the Multimillion Dollar Law Firm," and "You Can't Teach Vision…The Twenty-First Century Law Firm". Moreover, the lawyer lectures in his books.
John Morgan's Net Worth and Earnings
John Morgan is an expensive lawyer with an extravagant taste in a lavish lifestyle. The primary source of Morgan's income is his law firm. John has founded Morgan & Morgan representing the people, not the powerful ones.
Through John's ideology, Morgan & Morgan firm has founded multiple locations in Florida, including:
Orlando,
Tampa,
Fort Myers,
Fort Lauderdale,
Winter Haven,
Daytona,
Kissimmee,
Saint Petersburg,
Naples,
Tavares,
Jacksonville,
Melbourne,
The Villages,
Pensacola,
Tallahassee,
Miami,
Big Pine Key
Moreover, the rich lawyer has a wealthy family. Although the lawyer outwardly states that he's not for the powerful, the social media of John's son paints a different story. The deeper insights into the lawyer's son, Matt and Daniel's Instagram account, gives viewers a glimpse into their luxurious life.
Millionaire John Morgan and his family live a life of private jets, trips to Paris, fancy hotel rooms and so on. Likewise, there are regular meetings with Barack Obama.
Besides that, the family is seen enjoying private performances by Jimmy Buffett at the Morgan's 18,000 square foot mansion.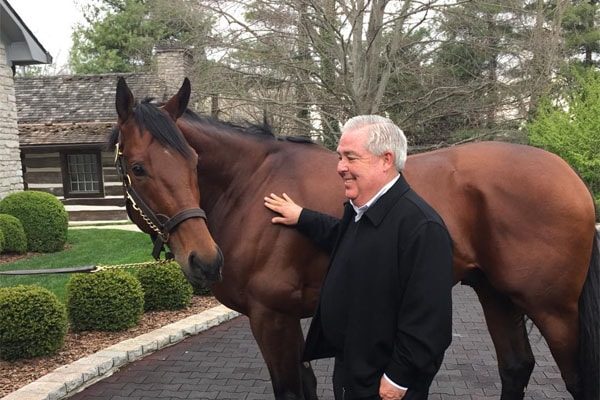 John Morgan with American Pharoah in Lexington Ky.
Image Source: Instagram/John Morgan
On the philanthropy side, the couple gave a two million dollar donation to the Second Harvest Food Bank of Central Florida. Likewise, Morgan has also donated to Hillary Clinton's presidential campaign in 2016.
Investing in Medical Marijuana
In 2017, Morgan spent more than $7 million pushing two statewide ballot initiatives. According to Morgan, that is just a drop in the bucket comparing to what the wealthy attorney is preparing to invest. Likewise, he has the idea to expand medical marijuana throughout Florida.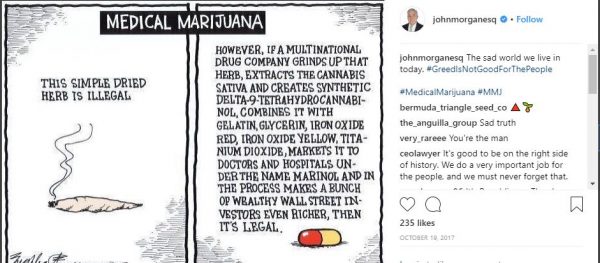 Likewise, he spent about $6.8 million on the United States for Care campaigns to pass a constitutional cannabis amendment in 2014 and 2016. The possible gubernatorial candidate has been among the loudest voices advocating for medical marijuana.
According to the information from Miami Herald, John intends to plunge up to $100 million into "the right opportunities." Also, according to Morgan, he has an interest in owning a stake in a state-licensed dispensing organization.
SuperbHub for News and Entertainment.