Joseph William Namath, nicknamed "Broadway Joe" was married to Deborah May who later changed her name to Tatiana May Namath, she was 19 years younger than him in 1984. But later in 2000 after 14 years of married life, and having two daughters the two got divorced.
Joe Namath lived his life in bachelorhood after being divorced with Tatania, an aspiring actress and spent his later life raising his two daughters  Olivia Namath and Jessica Namath. He continued his career in football and contributed fifty years in football.
Divorced with Tatiana
Joe and Tatiana's marital relationship was going well till Joe found out that his wife Tatania was in an affair and dating plastic surgeon Brian Novack. After knowing that his wife was bored with him, Joe filed a divorce in Broward County Council along with asking the judge to make him primary residential parent of his children.
After being divorced Tatiana left Joe along with her two daughters behind and married the plastic Surgeon Brian who was quite similar in her age whereas Broadway Joe planned not to marry and rather stay bachelor raising his daughters.
Namath didn't even have any girlfriend neither he had an affair after his divorce.
Joe Namath with his daughters Jessica Namath(Right) and Olivia (Left). Image Source: Gossip Extra
The reason why Tatiana aka Deborah May was bored and divorced with her ex-husband Joe was that Joe used to drink a lot and she got attracted to Brian as Brian was sensitive and more responsible than her then-husband Joe.
After marriage and having children Joe had stopped drinking and gave his best to his family but after being divorced from Tatiana he again started being an alcoholic. After an incident of saying some worst lines of his life to a lady reporter on December 20, 2003, Joe entered into an outpatient alcoholism treatment program to leave his habit.
A broken man behind a strong player
Joe went through hard and heartbreaking phases in his life which might have forced him to be addicted to alcohol. Joe, Tatiana's ex-husband hadn't married for so long before meeting Tatiana as he didn't want to do the same thing his father John had done to his mother Rose. His Father left his mother for another woman.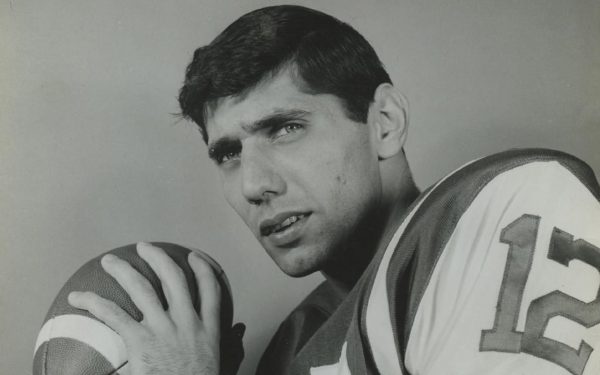 Joe Namath in his youth. Image credit: NY Sports Day
But in his case, his ex-wife Tatiana aka Deborah divorced him for another man which left him heartbroken and lonely. There's a quote "Behind a person's smile there are many pains other's never understand" which can be seen in Joe Namath's life.
Visit Superbhub for more celebrity News and Entertainment.