Former Vice President Joe Biden was previously married to his late wife, Neilia Hunter. The first wife of Former Senator Joe was killed in a fatal car accident.
During the car accident, Joe Biden lost his wife as well as daughter Naomi Christina Biden. As of now, Joe Biden is married to Dr. Jill Biden.
Joe Biden and His Late Wife, Neilia Hunter
Joe Biden and Neilia Hunter got married on 27th August of in 1966. Biden was still a law student when he tied the knot with the gorgeous Neilia Hunter. They together had three children Beau Biden, Hunter Biden, and Naomi Biden.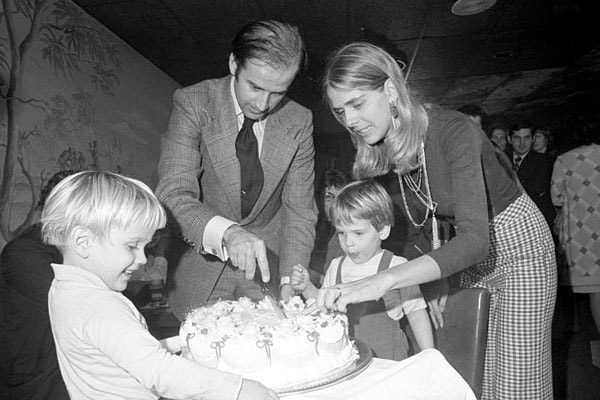 Joe Biden along with the first wife Neilia hunter and children. Picture Source: Grave a Yards. 
Joe Biden's Wife Neilia Hunter overcame her parents' initial reluctance for her to wed Joe Biden who was a Roman Catholic. The Wedding ceremony was held on a Catholic church in Skaneateles. They were living happily until the day of the tragic incident occurred.
On 18th December of 1972, Neilia along with three children were returning home with a Christmas tree. A tractor-trailer struck their car. She passed away along with her only daughter Naomi Christina Biden. Beau and Hunter were seriously injured but survived.
Neilia and Naomi are buried in Saint Joseph On the Brandywine Cemetery. Joe Biden doesn't work on December 18th as an anniversary of the fatal accident.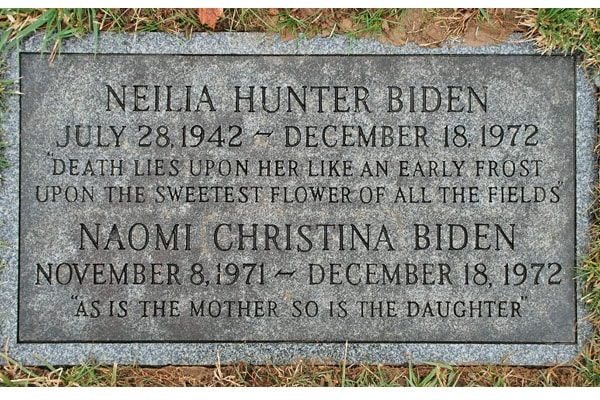 Joe Biden's wife Neilia Hunter and daughter Naomi Christina Hunter's graveyard. Picture source: Grave a yard. 
Joe Biden's Elder Son's Death
After the tragic loss of his wife Neilia and daughter Naomi, Joe Biden again suffered from another loss. His son Beau Biden passed away in 2015 at the age of 46 from brain cancer.
Beau Biden told his father that he must be ok to look after the wife and children that Beau Left behind. However, as of now Beau's younger brother Hunter divorced his estranged wife Kathleen and started dating his widowed wife, Hallie Biden.
 Joe Biden and Dr. Jill Biden
Joe Biden got married for the second time to Dr. Jill Biden in 1974. They together have a daughter named Ashley Blazer.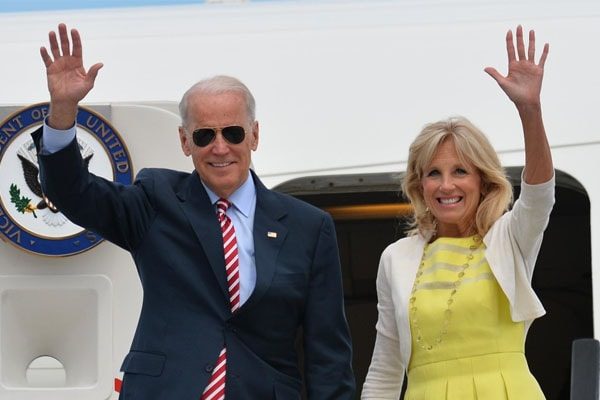 Joe Biden along with, his second wife, Jill Biden. Picture source: Politico. 
As of now, they are living happily together in Washington. Former Vice President Joe Biden's net worth is $1 million. Sometimes, Joe visits Greenville where his wife Cemetery is located.
Besides enjoying a happy marital life with wife Jill, he is now set to make history as the 46th President from January 2021. He has already secured enough electoral votes to defeat current president Donald Trump.
Furthermore, the entire nation is rejoicing this election while Biden's companion and the US's first female vice-president-elect, Kamala Harris told that the election is so much more than Biden or her succeeding Trump.
SuperbHub for more News and Entertainment.