Jimmy Kimmel, an American television host is blessed with two daughters Katie Kimmel & Jane Kimmel and two sons William "Billy" Kimmel &  Kevin Kimmel whom he loves very much. Jimmy's children are very fortunate to have a celebrity dad.
Katie and Kevin Kimmel are the children of  Jimmy Kimmel with his ex-wife Gina Kimmel, William and Jane are with his second wife Molly McNearney. Jimmy's children from his ex-wife are close to him despite living far.
Jimmy's Children
Jimmy Kimmel is happy to be a father of four children Katie, Kevin, William, and Jane who are very dear to him.
Oldest Daughter: Katie Kimmel
Katie Kimmel was born in 1991 as a first child to Jimmy Kimmel and his ex-wife Gina Kimmel. The daughter of comedian Jimmy has grown up to be a beautiful actress as well as a talented artist who has her self-named website, Katie Kimmel where she posts her artistic works.

Jimmy's oldest daughter Katie keeps herself busy in artistic works. Katie had performed an important role in The Man Show of 1999 and Crank Yankers of 2002.
Oldest Son: Kevin Kimmel
Right after two years of birth of Katie Kimmel, Jimmy Kimmel was blessed with a son Kevin Kimmel on September 19, 1993, with Gina Kimmel. Kevin is famous for his performance in The Meltdown with Jonah and Kumali in 2014 and Last Comic Standing in 2003.

Kevin has grown up to be just like his dad Jimmy Kimmel and has appeared along with his dad at many red carpet events.
Second Daughter: Jane Kimmel
After divorcing Gina Maddy Kimmel, Jimmy got married to Molly Mcnearney with whom he was blessed with another daughter Jane Kimmel on 2014.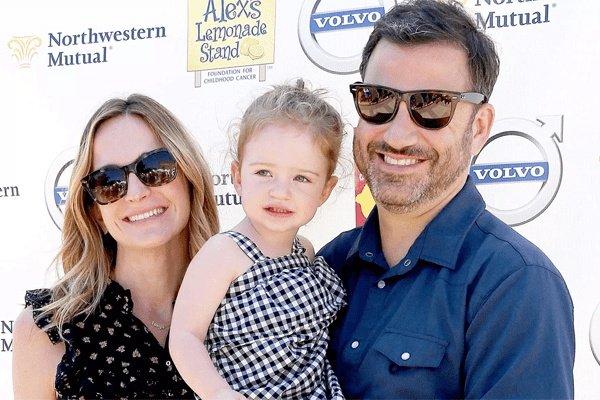 Jane Kimmel with her dad Jimmy Kimmel and mom Molly McNearney. Image Credit: Heavy
Jane is frequently seen with her dad Jimmy and mom Molly in the red carpet. Jimmy keeps on posting photos with his daughter Jane on his social pages.
Second Son: William "Billy" Kimmel
William aka Billy was born to Jimmy Kimmel and his second wife Molly McNearney on April 2017 as the youngest son of Jimmy. Billy was born with an issue in his heart and underwent two heart surgeries before even reaching one year after birth.

Jimmy had taken leave from his work when his son was in the hospital and never left his side until he was doing well which proves that Jimmy loves and cares about his children a lot.
Visit SuperBhub for more celebrity News, Entertainment, and Biography.