Personal trainer and Fitness guru Jillian Michaels is best known for her appearance on NBC, The Biggest Loser and Talk Show, The Doctors. Engaged to her long-time girlfriend, Heidi Rhoades on March 8, 2016, Jillian Michaels with her future wife is already raising two kids; son Phoenix and daughter Lukensia.
Let's have a look at how their relationship blossomed so quickly and how the reality TV couple is co-parenting their two adorable kids.
Jillian Michaels wife To Be, Heidi Rhoades: Romantic Engagement
March 8, 2016, was the day when Jillian Michaels gave a heartwarming surprise and romantic proposal to love of her life, Heidi Rhoades. It was the season finale of her reality show, 'Just Jillian.'
She had planned for the day and made a cute proposal video making not just Heidi's but the entire people present in the show's day memorable.
In the video, she had included all the best moments the couple had spent together, from dating to going on events, dinner, vacation, adventures, the moment when Heidi was pregnant when they adopted their daughter and the final question of Will You Marry me? Everyone's eyes were filled with tears of happiness.
Watch out the most romantic proposal video below made by Jillian to her sweetheart.

After the video ended, Jillian bent down in her knees and asked the same question in front of everyone present in the show and of course on the TV. However, she gave a surprising twist to her proposal because she put a big diamond engagement ring on her own finger.
Yes, because she had already given a big diamond ring to Heidi in 2012. This time, she gave her love a stunning diamond band to pair with one she wears. Well, Jillian Michaels net worth is in millions and she would love to spend some for her love.
Jillian started dating her girlfriend since the year 2009. The pair knew each other through their mutual friend as mentioned in Jillian's interview with People Magazine.
This duo shared their love forever by uploading pictures on their social media. The lesbian couple had never been afraid of any judgmental comments and criticisms regarding their relationship and they loved each other dearly.
In a November 2015 interview with Health, Michaels freely revealed that the couple hadn't married then but were domestic partners. She further, stated that she had been in a healthy love with her woman.
" I have fallen in love with a woman, that's awesome. If I fall in love with a man, that's awesome. Since I fall in love with Rhoades-it's like organic food but I only eat healthy food, and I only want healthy love!"
Furthermore, the couple is living on a frame outside of Malibu with their children and are eagerly waiting for their marriage to exchange vows. Heidi is looking forward to be Jillian Michaels wife soon.
Michaels and fiancee Rhoades's Kids: A son and a daughter
Not just lovers, they are already parents to two beautiful children. Jillian Michaels partner Rhoades became pregnant and gave birth to a cute son whom they named Phoenix in 2012. The pair featured in People after they ended up having a biological child.
In an interview with Rich Valenza, founder and C. E. O of Raise A Child, Jillian had said that it was Heidi who always wanted kids, While Jillian herself was not sure. But when they visited an orphanage with school supplies, while on a trip to Africa, she said that moment opened their eyes. Seeing those children, they decided to be the parents of a child who had no family.
The next two years went on studying and researching about the adoption. And another waiting period started after they applied for Haiti's Children in Waiting site. It was then Jillian Michaels wife to be Roades, decided to get pregnant.
Jillian Michaels wife(future) Heidi pregnant with a baby bump. The couple, Jillian and Heidi look really happy.
Michaels was beside her at the time of her delivery day and said:
"The whole thing about Phoenix being born was hard," as watching her was awful. "You can't relieve the person as you can't do it for them. "You just have to stand there and watch quietly."
On May 3, 2012, the couple welcomed their 9 lb, 22-inch son Phoenix. Four days after his birth, Jillian went to Haiti to bring their daughter Lukensia home. Yes, the couple was so excited when they got the letter that they are legally ready to adopt and parent Lukensia.
Their daughter Lukensia was born in 2010 and was adopted by them in 2012.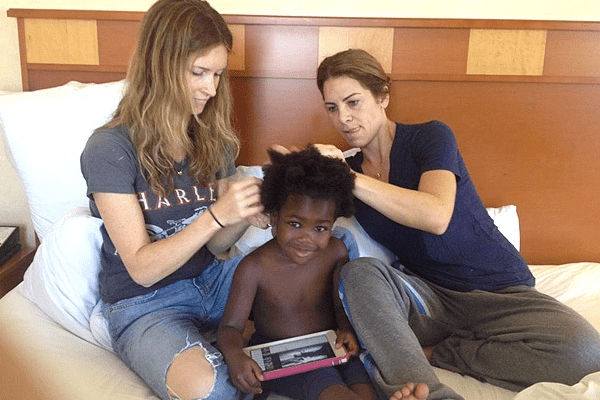 The ideal couple, Jillian and Heidi combing and styling their daughter Lukensia's hair.
Source: People
Jillian and Rhoades look like they are the most in love when they are with their totally adorable children. Michaels love to pack her kids' lunch and the duo love to go with their children on vacation, have food, brunch on restaurants, workout and take selfies.
Also See: Heidi Rhoades Net Worth
Jillian Michaels's kids are all grown up now.
Heidi and Jillian in an interview said that Lukensia is very loving, empathetic, sensitive and kindhearted girl. They always say her that she was first born in their hearts and flew to a wonderful woman in Haiti who kept her safe in her tummy.
The most admired and loved reality couple shared that they just hope their children to be happy and do work that makes them happy. Jillian always wants her kids to be world's good and responsible citizens. She wants her son and daughter to follow their hearts and live the life they want, not what the society tells them to do.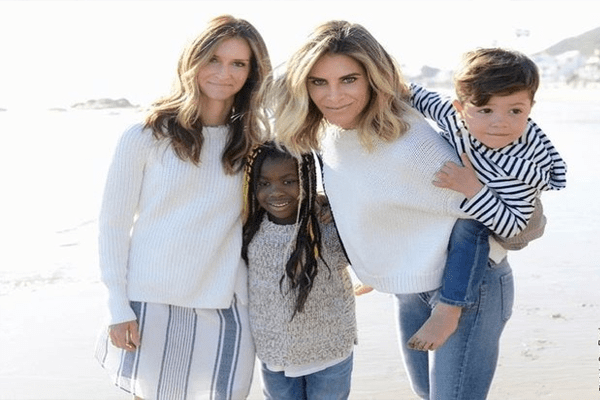 Jillian Michaels And Heidi Rhoades with their beautiful family, son Phoenix and daughter Lukensia.
Source: Huffington Post
Known for her diets, weight loss tips, yogas and exercises, Jillian Michaels children is everything to her and she has raised voice with an appeal to everyone to adopt kids. She said that over 120,000 kids in the foster system need a loving home who can love and protect them with open arms. The couple's many close friends have also chosen to adopt kids after seeing them adopt daughter Lukensia from Haiti.
Jillian appeals,
The families come in many shapes, sizes, and colors. If you have means, please consider opening up your home to the needy children.
For more update regarding Celebrities Entertainment, be tuned with SuperbHub.