The YouTube power couple Jess & Gabriel Conte tied the knot earlier in fall 2016. Jessica Conte and Gabriel are one of the most loved YouTube couples who got hitched just a few months after they got engaged. Their wedding was perfect in Sydney weather.
Jess & Gabriel Conte who manage their collaborated channel, "Jess&Gabriel"  has amassed 2.3 million subscribers. The Duo got married in one of the most beautiful cities in the world, Sydney, Australia on December 18th, 2016.
How did Jess & Gabriel meet?
The 22year old Bauer-Conte, originally messaged her now-husband Gabriel, in December 2015. Jess and Gabriel began talking after Jess's trip to LA in January of 2016 and Conte showing her churches around in LA because the Aussie youtube star didn't want to miss church days even though she was away from home.
The pair hung out while Bauer was in LA and really got to know each other. After a couple of months of talking led them to realize how much they liked one another.
Jess and Gabriel decided they wanted to try out long-distance for which their luck in their favor because of what they did for work.
A couple of dates back and forth between the couple, the YouTube comic Gabriel decided that it was his time to pop the "Marry Me" balloon to which Beauty Guru/Musician Jessica said YES!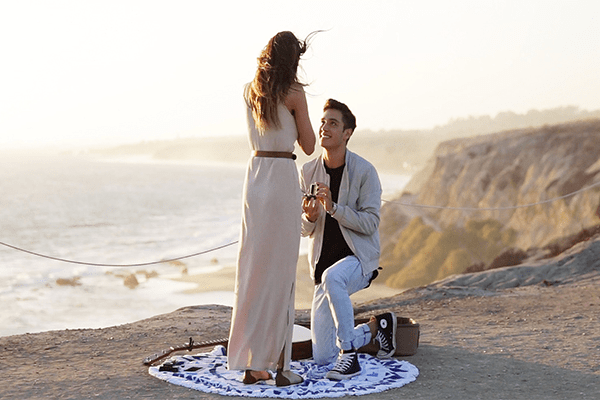 Gabriel Conte proposing Jess Conte for marriage showing the diamond ring.
Image Source: Youtube/Jess and Gabriel
The Dream Wedding
The Conte Couple had their wedding in Sydney, Australia along with both Jessica & Gabriel's family and friends. The bride had a beautiful halter white ball gown wedding dress and the groom stuck by the traditional suit in grey.
With the presence of their loved ones, Jess& Gabriel said their "I do's" and wedding vows back on December 18th of 2016. The lovebirds revealed their wedding status via social media sites like Twitter, Instagram, and a VLOG video.
Watch Video of Jess& Gabriel's Dream Wedding: 

The J&S's loved ones didn't leave anything behind either, much like the couple, they were also overjoyed and excited about the wedding.
The Jess& Gabriel's Best friends Jacko Brazier posted a quick Instagram post that said how he thought the two were a perfect couple and were happy made the fans' hearts melt.
The Jessriel Couple had their wedding day in Weddings at Tiffany's in Maleny, Queensland which is a destination wedding that's also available to the general public. They updated their fans with their wedding by posting a wedding video on youtube a week after they got married that has views of over 12 million.

The video itself starts with the sneak peek of the beautiful place they got married followed by Gabriel and Jessica reading out their wedding vows and parts of their family and friends saying words of love to the couple.
Regardless of what phase they are in their relationship whether it's the honeymoon phase or just the whole bond itself, we wish the couple a very happy married life & life-long happiness!
For more entertaining Celeb updates & News, visit SuperbHub