Amazon's CEO Jeff Bezos and his wife, MacKenzie Bezos are to divorce after 25 years. The pair tweeted on Wednesday stating that after a long period of loving exploration and trial separation, bcoth have decided to divorce and continue their shared lives as a friend.
The World's richest person Jeff Bezos has been dating Lauren Sanchez, a former TV anchor and the wife of American talent agent Patrick Whitesell.
Bezos' Divorce Could Impact Amazon
Jeff and MacKenzie are in planning to file a divorce as Jeff announced through Twitter. It is unclear about their exact cause of separation. It is also unclear that what terms of the agreement will be, but Jeff Bezos will find out a way to retain voting power of MacKenzie at Amazon.
Jeff Bezos is best known as the founder of Amazon, and he is the largest shareholder owning 16.3 percent of Amazon's shares according to the company. It seems if they couldn't make good bond after the divorce it will affect company directly. The company may need to find a new structure to ensure that Jeff Bezos still owns enough voting power.
What Terms Of Agreement Will Be Done?
It is still unclear that what terms of the agreement will be done. But the lawyer of Jeff mentioned that MacKenzie wouldn't be the part of the voting power of Amazon anymore.
Jeff Bezos And MacKinzie's divorce will probably be the highest net worth divorce case till date. There is no set rule in Washington law as with what agreement pair should split. So there is still unclear on what and how much MacKenzie will get after divorcing from the world's richest person.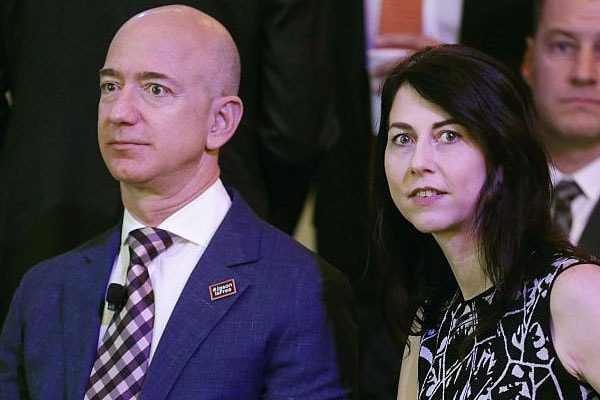 Jeff Bezos and MacKenzie are ready to file a divorce. Picture source: Business Insider. 
Some sources assume that MacKenzie will get a significant amount of shares in the Amazon. Because  Bezos' wealth is linked directly with Amazon, if MacKenzie receives 50% of the shares from the Bezos' $136 billion, she would still be one of the wealthiest people in the world landing both MacKenzie and Bezos in the fifth position with $68 billion each. And MacKenzie will probably be the world's richest woman.
Jeff Bezos is the father to four children, three sons, and one daughter adopted from China. Who will take the children's custody after divorce is also one of the questions? It will be clear on the day of trial.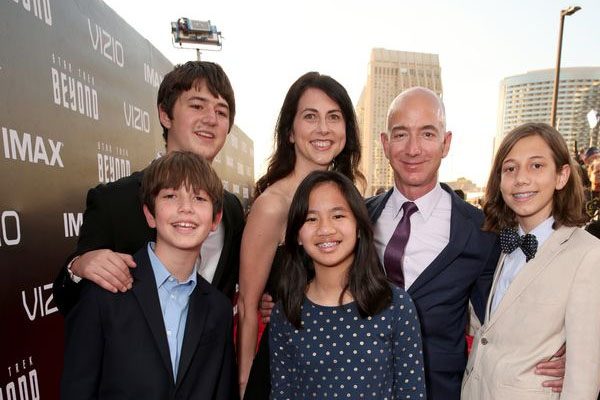 Jeff Besoz along with estranged wife and children. Picture source: Mirror UK
Jeff Bezos And Lauren Sanchez  Dating
As mention above Bezos has been dating Lauren Sanchez. Some sources claim that by late October of last year, Bezos was seen together with Lauren Sanchez at the private Casa Tua club. After Sanchez and Whitesell separated(still not divorced), they became closer.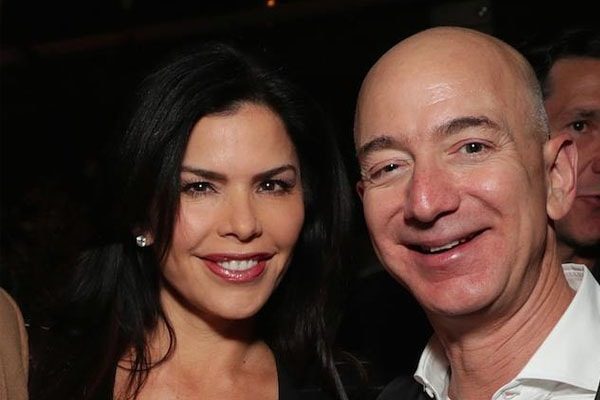 Jeff Bezos and Lauren Sanchez are dating. Picture source: Complex.
A source close to Bezos said Jeff and MacKenzie tried very hard to work things but couldn't and separated last year, and after that Jeff started dating Lauren. Lauren was with Jeff at the Golden Globe award too.
---
SuperbHub for more News and Entertainment.