On November of 2017, owner of the Dallas Cowboys, Jerry Jones threatened to sue NFL to block Roger Goodell's Contract. Jerry had escalated a feud with Goodell. At the time many fans of Goodell along with his wife Jane Skinner had supported him directly and indirectly.
Jane Skinner, the wife of Roger Goodell, is a TV personality. She is a former daytime news anchor who had worked for FOX News. Jane tied the knot with present NFL commissioner Roger Goodell on 25th October 1997. The couple is blessed with two lovely twin daughters who were born in 2001.
Jane Skinner, Supportive wife of Roger Goodell
There is always a woman behind every successful man which is applicable in the case of NFL commissioner Roger Goodell. His wife Jane Skinner has been supporting him in his every up and down.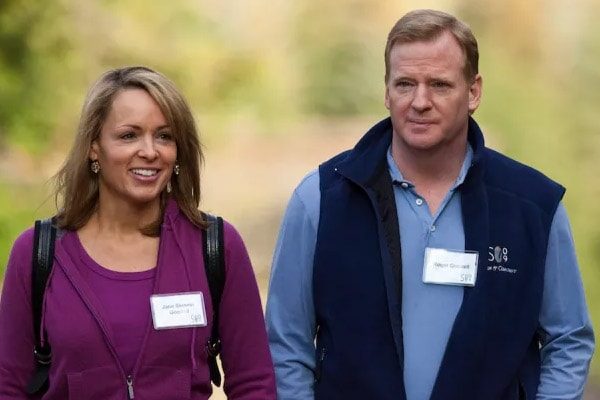 Roger Goodell is lucky to have a wife who supports him in his every hard time. Image Source: Dead Spin
Jane proved her concern for her husband's career when Roger was in conflict with Jerry Jones. She created a couple of secret twitter accounts and defended her husband during the period of the feud.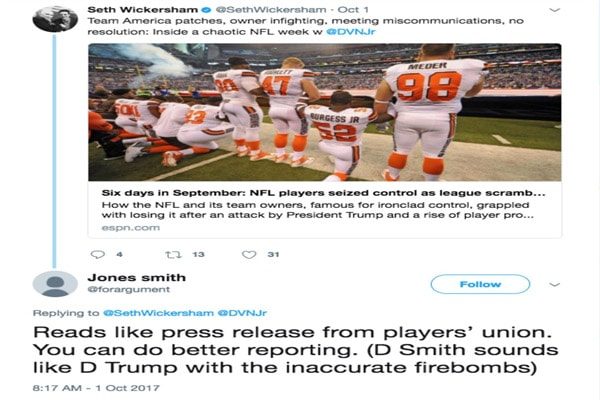 Jane had created a twitter account named @forargument under the name Jones Smith to defend her husband Roger. Image Source: Twitter, Jonesmith
Not only in NFL career, but Jane has also been supporting her husband Roger in his hard times. She has always been supporting the love of her life and hardworking husband. Whenever she finds any criticisms of her husband published in the news, she is always ready as a shield maiden for her husband.
Jane Skinner – Short Biography
Jane Skinner, the supportive wife of Roger Goodell, was born on 12th February 1967 in Chicago, Illinois. She completed her bachelor and degree from Northwestern University. Jake is a former correspondent for KBJR in Duluth, Minnesota.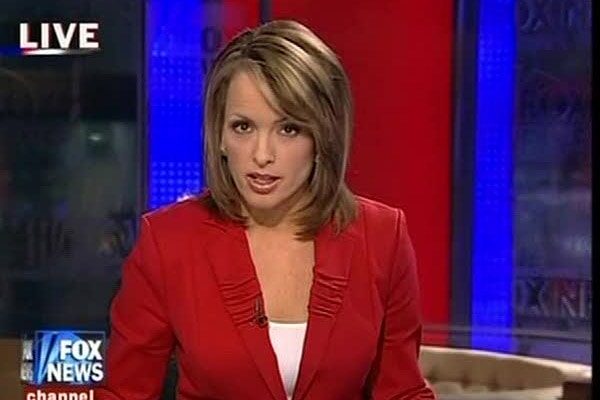 Jane Skinner, former news anchor of FOX News. Photo Source: Bobs Blitz
Later, she joined as a general reporter from WNBC-TV in New York City. Before entering the Happening Now show, she hosted the 2 pm ET edition of FOX News live. The mother of twin daughters, Jane was also featured on The Big Story with John Gibson.
Currently, Jane has left her job as a news anchor in Fox News and stays home taking care of her family. Jane encourages her husband in his NFL career along with helping her kids to pursue their dream. The family of Roger Goodell lives in Westchester, New York.
For more Entertainment and Articles, Visit SuperbHub.