J.K. Simmons' net worth is estimated to be at $10 million dollars. Simmons is an American actor best known for his spectacular performances in movies as well as the television screen. His portrayal of psychiatrist Dr. Emil Skoda in the popular NBC police procedural drama Law & Order earned him much fame and recognition. Similarly, Oscar-winning performance in the movie Whiplash contributed a lot to J.K. Simmons' net worth.
J.K. Simmons lives a relaxing life with his beautiful wife Michelle Schumacher and two kids, son Joe Simmons and daughter Olivia Simmons. The Whiplash actor is a veteran in the film industry. After coming to the limelight once again for Whiplash, for which he won an Academy Award for Best Supporting Actor, Simmons was paid a large sum of money for his role in the movie.
Net Worth and Earnings
As stated above, J.K. Simmon's net worth is estimated at $10 million. His net value is credit due to his phenomenal performances in movies and television over the last couple of decades. He first started accumulating money through his performance in HBO's police drama Oz.
Later, the former singer starred in the hit NBC drama Law & Order. Simmons was paid millions of dollars for playing a strict jazz instructor in the 2014 movie Whiplash.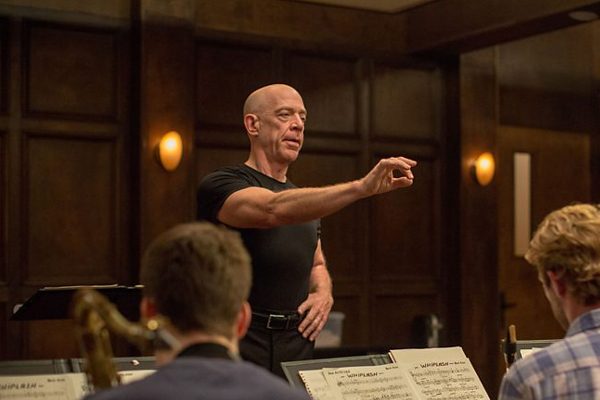 J.K. Simmons plays an abusive jazz instructor in Whiplash. Image Source: BBC.
With over 30 years of experience on both the big and small screen, J.K. Simmons also has an impressive record when it comes to his movies' box office collections. He has starred in critically-acclaimed movies over the years. Here are some of J.K. Simmons' movies and their respective box office earnings in reference to Box Office Mojo:
Juno ($231.4 million worldwide)
Whiplash ($48.98 million worldwide)
Zootopia ($1.02 billion worldwide)
Spider-Man Franchise ($2.49 billion worldwide)
Justice League ($657.92 million worldwide
Such fabulous earnings of his movies have established Simmons as one of the highest grossing actors in Hollywood. He's an actor who is not afraid to take risks. Luckily, Simmons' risks have paid off by making him immensely rich.
In 2009, J.K. Simmons listed his Hollywood home on the market at a whopping $1,795,000. The Spider-Man actor had bought the property in 2003.
Earnings From Advertisements and Brand Endorsements
J.K. Simmons has taken upon advertising deals with Farmers Insurance Group for which he receives a hefty sum of money. The Whiplash actor has also made deals with the clothing line Prada for which he is reportedly paid millions. Surely, Mr. Simmons is a smart man who knows how to build up his net worth in the industry.
Simmons is also a fan of the American football team Detroit Angels. Maybe someday he might buy the team for his own enjoyment.
Follow SuperbHub for Celebrity Biography, News and Entertainment.