What's more romantic than a head-chef marrying a co-owner of a restaurant? Caky Lovers Christina Tosi and Will Guidara are happily married. United as life partners, their pair is like the match made in the foodie heaven. Chef Christina Tosi's wedding was the most exciting and refreshing one!
Chef Christina Tosi's Wedding: Adventurous and Cool
Chef and the owner of Milk Bar Store Christina Tosi and restaurateur Will Guidara, owner of Make It Nice tied their knots on August 30, 2016. The rustic, camp-themed wedding took place at Cedar Lakes Estate in Port Jervis.
Have a look at the bride and groom. Aren't they the coolest newlyweds ever!

The wedding venue was really simple at first. But then it turned into a fun-filled weekend. Just before the couple exchanged the vows in front of friends and the families, Chef Cristina Tosi's wedding turned out to be a rainy theme.
To add more fun and adventure to the wedding, the guests were provided with colored ponchos to wear.
The wedding weekend theme was named: "Camp Moose is Loose." And it consisted garden lunch, relay races, a game of tug of war, poolside cocktails, and different water activities.
Karlie Kloss shared a video on her Instagram enjoying the on and off of Belly-flop.
 The food was equally appetizing with the menu made and prepared by Chef Daniel Humm, co-owner of  Eleven Madison Park and the NoMad with Guidara.
Big and wonderful wedding cakes are the perk of almost all wedding. How would these foodie lovers not celebrate their wedding with a royal cake? This is how the biggest milkbar cake must look like.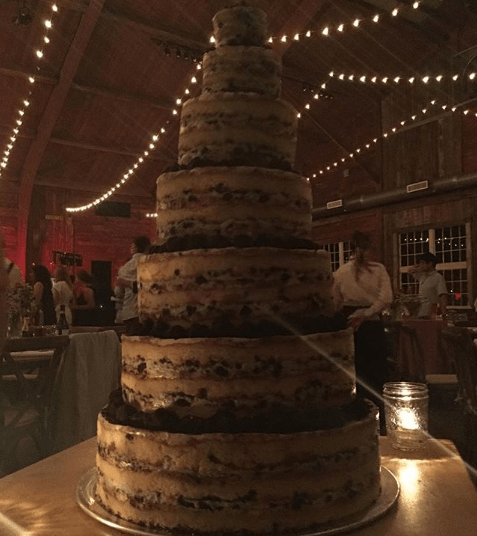 Chef Christina Tosi's wedding special: Biggest Milkbar cake
Source: Tosi's Instagram
The party looks awesome with such a grand cake, isn't it? What a great effort put by the team for the cake lovers.
Apart from this, marrying on ponchos might be the most memorable day of the lovely pair's married life. The bride and the groom look super cool and refreshing! This must be the coolest moment of the newlywed's life.
Tosi's plans on having Kids
It has already been more than a year that they have tied the knot.Is Chef Christina having any thoughts to extend her family? Well, not yet. Because there is no any official announcement. We hope that their friends and family will be getting news about their parenting soon.
Quick Facts: Chef Christina Tosi
Christina Tosi is the chef, co-founder and also the owner of Momofuku Milk Bar.
She has published two food books: Momofuku Milk Bar and Milk Bar Life.
In 2012, Tosi won the James Beard Rising Star Chef Award.
She was a finalist for the Outstanding Pastry James Beard Award for Rising Star Chefs in 2014.
She appeared as the judge in reality TV show MasterChef in the year 2015.
After four years of dating, Christina Tosi married Will Guidara in July of 2016.
Her net worth is over $1 million as of 2017 according to Celebrity Net Worth
Chef Christina Tosi's wedding theme was named Camp Moose is Loose with a lot of water activities.
 Tosi's husband Will Guidara is the owner of the restaurant Make It Nice.