The era has changed, and the maturity that teenagers come to experience is pretty praiseworthy. Like is the attitude of Late Caleb Logan LeBlanc's sister, Annie LeBlanc. The 15-year-old young girl has achieved massive success at a very young age.
The internet sensations, singer, and former gymnast, Annie has grown up to be a fine woman. Idealizing her mother, Katie LeBlanc, Annie has found her love interest at a young age. However, the maturity in the relationship is praiseworthy.
Let's look into Annie LeBlanc's relationship with social media stars, Asher Angel, in detail.
Who Is Annie LeBlanc's Boyfriend, Asher Angel?
Annie LeBlanc's boyfriend, Asher Angel, is an American actor who started his career as a child actor. His debut as a child actor was the 2008 film, Joelene starring Jessica Chastain. Furthermore, he is also known for his role in the 2017 Disney series Andi Mack. Likewise, he also portrayed Billy Batson in the 2019 film Shazam!. 
Leblanc's sweetheart, Asher Angel, was born on September 6, 2002, in Phoenix, Arizona, the U.S. At a very young age, Angel has managed to bag Young Entertainer Award for Andi Mack in 2019. Similarly, Asher also released his debut single, 'One Thought Away' featuring Wiz Khalifa on June 6, 2019.
View this post on Instagram
Both Asher and Annie are aspiring actors and even worked together. So, this might be the perfect timing for youngsters to experience young love.
How Did Annie LeBlanc And Asher Angel Meet?
So, Annie and Asher's fate intertwined on the set of Asher's 'Chemistry' music video, which was filmed in June 2018.  It turns out Annie had initially wanted Angel to be in her music video but because he was busy with Shazam! he could not make it. However, Annie's compliment was on his mind, and thus they made the video together.
Although the couple never met before, they made a quick connection and spent the whole day hanging out together. In an interview, Annie deduced that she began talking to Asher since November 2018.
In the same interview, LeBlanc revealed that the couple talked for three months. After knowing one another better, Annie and Asher marked their relationship 'official' since February 2019. It was wise of the two young individuals to take baby steps before quoting their relationship.
Are Annie Leblanc and Asher Angel Still Together?
Loving someone comes with a significant load of responsibility. Seeing Annie and Asher work through all the extra baggage together is heartwarming. And to answer the question, yes, Annie LeBlanc and Asher Angel are still together and profoundly in love with one another.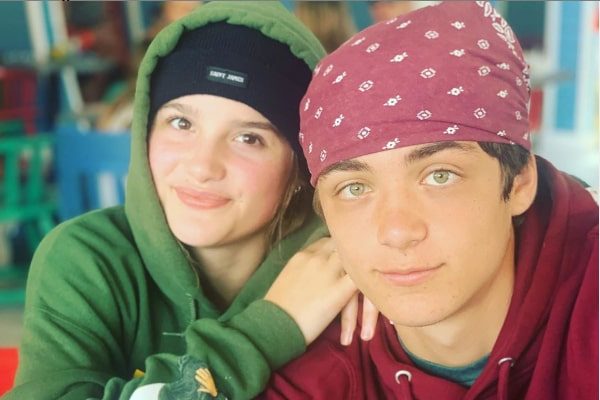 Annie and Asher's relationship is very heartwarming. Image Source: Asher's Instagram.
Annie LeBlanc's boyfriend, Asher, does not refrain from gushing about his girlfriend in interviews. The couple is openly and unapologetically in love with one another, making adults envious of their understanding.
To add a cherry on top, Asher Angel and Annie LeBlanc even went on a vacation to Cabo along with his family. Asher even made a video where he showed off all the fun they had there.
Furthermore, LeBlanc's boyfriend surprised her with a ginormous 'a' made out of roses which refer to their names. Asher says that his girlfriend is the best, is very supportive of him, and deserves all the happiness in the world. Now that is a couple's goal. The sweetness does not end here. Asher admitted that his song, One Thought Away, was written for his adorable girlfriend.
Furthermore, Annie also wrote and released her song, 'Utopia', and stated that it was all inspired by her beau. The sweetness is beyond coherent, but the bond is limitless. Let's hope the couple lives sharing hearts for as long as they exist.
Don't Miss To Follow SuperbHub For More Updates On Celebrity Entertainment, Biography, and News.