Life is fragile, vulnerable, and sweet, while death is robust and resilient. The pain when losing someone is unfathomable. However, to understand that the lost life was a story we all got to be a part of and let go of it is awareness. One of the most incalculable feelings is when a parent loses their child in their youth.
Such misery occurred in LeBlanc's family in 2012 when they lost their eldest son, Caleb Logan LeBlanc. An American Internet personality, Annie LeBlanc's brother, Caleb, gained his popularity as a YouTuber at a young age of 13. The loss made the entire world question his sudden death and mourn for him.
Let's learn further about the young charmer, Caleb Logan LeBlanc, in this article.
Caleb Logan LeBlanc's Childhood
Although the small dynamite is gone, Caleb Logan Leblanc has touched half of the world with his cherry personality. Born on in Georgia, the USA as the oldest son to Billy LeBlanc and Katie LeBlanc. Caleb was not the only child in the LeBlanc family. He grew up alongside his sisters, Annie LeBlanc and Hayley LeBlanc.
Annie LeBlanc's brother was a caring young boy who loved his sisters dearly. Image Source: iamabakedpotato's Instagram.
Caleb and his sisters were homeschooled. Therefore, they were always around to upload the videos on the family channel, The Bratayleys. Caleb, aka Caleb Logan Bratayley, had a great passion for video games and baseball. Furthermore, he loved to play Mario Cart, especially with his mother, Katie.
The jolly soul had touched a lot of lives during his short period in the universe and affected people in positive ways. Caleb was an avid animal lover and a total softie.
Rise As A YouTuber
Caleb Logan LeBlanc was a likable person and was a very kind individual. LeBlanc's short yet wondrous journey on YouTube led him to fame as a YouTube sensation. He was a tremendous part of the family vlog channel, 'Bratayley,' which was initiated for his sister, Hayley. However, the channel starred him along with his two sisters.
The family vlog channel, Bratayley, is the middle-class Kardashian family. The channel consists of everyday activities like baking, baseball games, etc. The most-watched video of the family channel 'I'm Never Going At The Park Again' has shelved up to 23 million views. Likewise, Bratayley's catchy titles made it relatable to millions of views and aided in multiplying their fan base in several social sites, including Instagram, Facebook, etc.
The witty boy, Calen LeBlanc, also ran his channel, 'Blazenoutlaws,' where he uploaded his Minecraft videos. Similarly, he had launched a collaborating channel called 'OMMYGOSHTV' and was featured in channels like 'FlimsyArrow.'
Annie LeBlanc's brother Caleb Logan LeBlanc had his prominence on Instagram as well. Running his account under the name 'iamabakedpotato,' he made the world know his presence with his single, 'I am a Baked Potato.' The last video of Logan was uploaded a day after his demise, which was titled 'Dear Future Self.'
The video featured Caleb answering fans' questions and signed off by saying 'See You Guys Tomorrow.' Ish! The sentiment hits hard here as death is unannounced and inevitable.
Caleb Logan LeBlanc's Death
Caleb Logan LeBlanc, aka Baked Potato, left the world on Oct 1, 2015, at the age of 13. The loss of the pleasant soul had left the world speechless and has left an important lesson to let people know that they are loved and that their presence is cherished.
View this post on Instagram
The 13-year-old YouTube star lost his life to an undetected heart condition called Hypertrophic cardiomyopathy. Caleb did not exhibit any symptoms and left abruptly. Shortly after Caleb's demise, the couple confirmed the family history of Hypertrophic cardiomyopathy.
Caleb Logan LeBlanc's death in Maryland reminisced at a memorial service was live-streamed and watched by approximately half a million of his fans online.
Although the young lad left the world with his memory, Caleb is always survived by his parents and sisters. His exemplary personality motivates people to be good humans, even today. Although Caleb rests in a better place, he will be missed dearly.
Caleb Logan LeBlanc's Siblings
Caleb was the eldest son of the LeBlanc family. He had two sisters whom he was very fond of. Caleb Logan LeBlanc's sister, Annie LeBlanc, is an internet persona, actress, singer, and former gymnast. She has appeared in online videos since she was four alongside her younger sister, Hayley, and brother Caleb.
Interestingly, Caleb Logan's sister, Annie's birth name is Julianna Grace LeBlanc. Furthermore, she was also called one of the 'most famous teens in the world' by Business Insider in December 2018. Along with starring in her family vlog, Annie has starred in the YouTube Brat show called A Girl Named Jo. Likewise, she is also seen in the YouTube Red Originals series We Are Savvy from 2016 to 2018.
Annie LeBlanc started dating social media star, Asher Angel, since 2019. The couple met in 2018 and had worked on a few projects together. After spending time, the pair decided to go on a date, and they are in love now. While Annie is exclusive to the world, Hayley, also an athlete, is enjoying her life learning and growing up steadily.
Late Caleb Logan LeBlanc's Parents Divorce
Caleb Logan LeBlanc's parents were pretty cool, enjoying their youth and raising their family together. Caleb's father, Billy, is a fantastic man who proposed his to-be wife Katie LeBlanc while working at Blockbuster video. The couple had been through a lot throughout their marriage, but one of the most heart-rendering incidents was their son's loss.
Throughout the time, the couple had endured and loved one another. However, Billy and Katie's marriage came to an end in 2019, four years later of Caleb Logan LeBlanc's death. There were numerous speculations of their separation to which Caleb's mother addressed via Instagram post.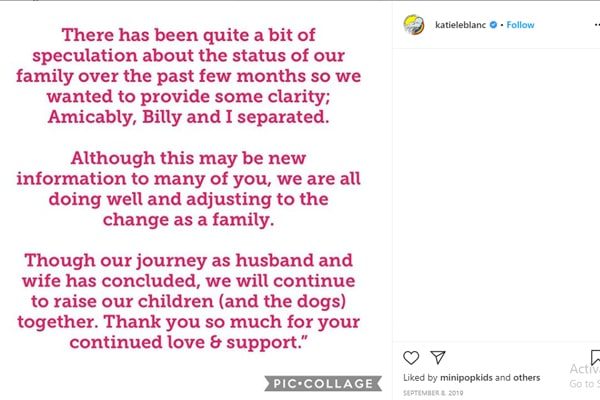 The LeBlanc couple's divorce came as a shocker both to their fans and their children. Image Source: Katie LeBlanc's Instagram. 
In the post, she mentioned although she and Billy had parted their ways, they will continue to raise their children mutually. Though it's sad news, sometimes, separating can be the right choice.
Let's hope late Calen Logan LeBlanc's family is doing well these days while he rests in peace.
Don't Miss To Follow SuperbHub For More Updates On Celebrity Entertainment, Biography, and News.