American Actress Heather Locklear renowned for her role as Amanda Woodward on the primetime soap opera Melrose Place. Locklear had started her acting journey since 1980 and has received four consecutive Golden Globe nominations for Best Actress in Melrose Place and further two Golden Globe nominations for Best Actress in Spin City.
Gazing at Locklear's personal life, she was married to Motley Crue's drummer Tommy Lee from May 10, 1986, to 1993. Following the divorce, actress Heather married Bon Jovi's guitarist Richie Sambora on December 17, 1997, their marriage produced one child, daughter Ava Elizabeth Sambora on October 4, 1997.
However, Locklear filed for divorce and custody of their daughter in February 2006. Heather's engagement to fellow "Melrose Place" star Jack Wagner fell apart in 2011.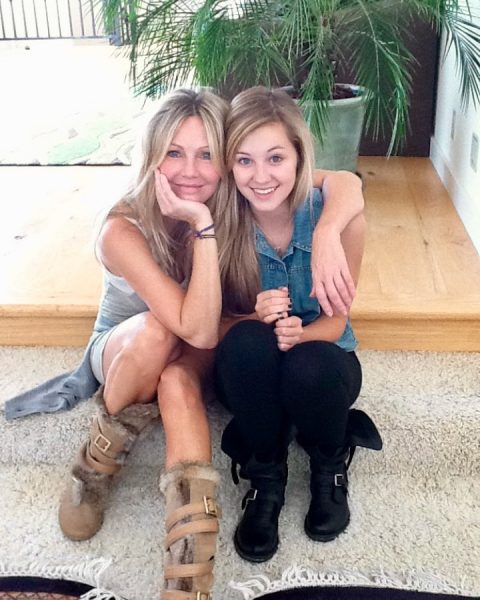 Heather Locklear and her daughter Ava Elizabeth Sambora born on October 4, 1997, Bon Jovi Guitarist Richi Sambora's biological daughter.
Image Source: Heather Locklear Instagram
Also Read: Heather Locklear Biography  
Subsequent to Heather Locklear's two failed marriages and tiring divorce procedures, she rekindled with her High School boyfriend Chris Heisser. Heather Locklear's Boyfriend is former AMA Motocross racer and also a contractor. Since Chris and Heather had moved on their own path with different partners after high school and met to fall in love again after 40 years.
Some People might call this Destiny and the two were meant to be with each other despite such long years of being away with each other. Heather mentions Chris as her favorite person on earth after 40 years on an Instagram post of September 2017.
Heather was arrested in 2018 for Domestic Assault.
In 2018, Locklear was arrested for investigation of alleged domestic violence and accusations of three counts of battery against a sheriff's deputy at her home in Los Angeles on 26 February 2018.
Heather Locklear arrested for alleged domestic battery against sheriff's deputy.
Image Source: Ventura County Sheriffs office

The "Melrose Place" actress Heather's brother had called 911 after he witnessed the fight between Heather and her boyfriend Chris at their residence in Thousand Oaks, California. According to SGT Buschow of Ventura County Sheriff's office Heather Locklear, 56 was extremely hostile. Further backup had to be called as Heather was physically resisting the arrest.
Heather Locklear's Boyfriend Chris had suffered a physical injury but denied any medical treatment. Locklear had practically bit the top off of Chris's nose. Heather's 20-year-old daughter and brother were inside the house during the fight and had witnessed the whole thing.
Actress Heather was taken to Ventura County Jail and was released after she paid $20,000(£14,300) worth of bail. Heather is due to appear in court on March 13 in Ventura, California. Heather Locklear's Boyfriend Heisser was later arrested for DUI after he drove his Mercedez southbound on the 101 Freeway in Ventura County at an unusually slow speed, his breath sample had shown .19% blood alcohol. Heather Locklear's Boyfriend Heisser was released shortly and is due to appear on the court for April.
Heather Locklear's Boyfriend Chocked her on the Night of the arrest
Locklear's sister had told the cops that the night of the arrest Heather Locklear's Boyfriend Chris had tried to choke and kill her upon an argument. According to a search warrant, Heather was at a point she couldn't breathe.
As the police had walked into the room they had found Heather Locklear's Boyfriend on the side of the bed leaning and holding on Locklear's wrist. Chris had redness on his chest and was bleeding from his nose, he reported Heather had gone crazy, wild and angry.
Police had raided the home of the actress and obtained a handgun, .38 Smith and Wesson revolver registered in Heather's name.  According to the search warrant, Locklear had reported the police that Chris had choked her 20-30 minutes which led to stopping her from breathing. Heather Locklear's Boyfriend, however, told the deputy that he did not touch her.
On March 28, 2018,  Fox News reported, Heather had returned home and is back together with her boyfriend Heisser. A source close to Locklear had told they were like oil and water, fighting nonstop.
Locklear's Previous Arrests and Cases
Heather was previously arrested in 2008 on suspicion of DUI but the charges were later dismissed. She was sentenced three years of informal probation and was ordered to pay $700 fine and take driver safety class.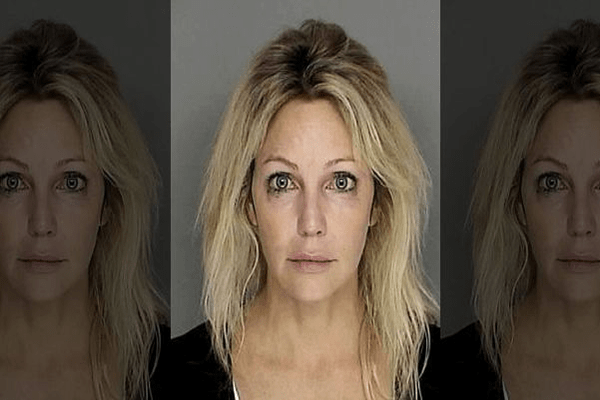 2008; Heather Locklear mugshot Santa Barbara County Sheriff's Department after the arrest of DUI
Image Source: Fox News  
The same year authorities had stepped in Locklear's home after a call from her doctor who had feared she overdosed the prescribed medication which turned out to be a false alarm.
In 2010 Heather was arrested for hit and run into a no-parking sign and was hospitalized the same year for taking a mix of prescribed drugs and alcohol. Heather was reportedly back in rehab for the fifth time.
For More Celebrity News and Entertainment: SuperbHub.