Love is a pure paradox in today's scenario. Humans are the water that flows continuously in search of love and value. Thus, marriage and divorce were born. Connecting the blabber with WWE star, Dave Bautista, he has been searching for that "eternal love" since the 90s.
Dave Bautista's heart had fluttered in the same manner and had two failed marriages. His third marriage with Sarah Jade is a talk of the town since 2015, and Bautista's controversial tweets are indicating their split. If you're as curious as the rest of us, let's dig deep.
Dave Bautista's Wife Or Ex-Wife?
The Guardians of the Galaxy and Avengers star Dave Bautista is a humble man and woos women effortlessly. Former WWE star has been into multiple serious relationships and has walked down the aisle thrice. Bautista again shared vows with his partner, Sarah Jade, on October 7th, 2015.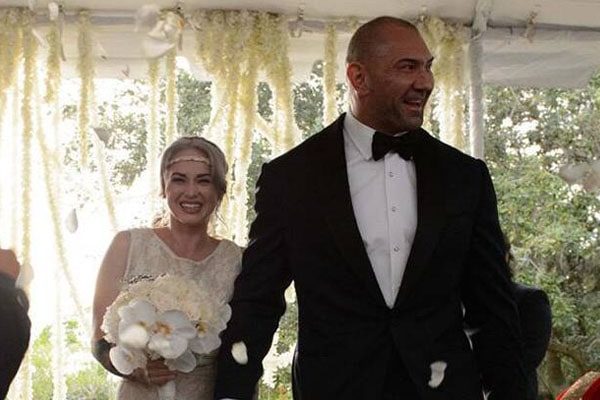 Dave Bautista's marriage with athletic, Sarah Jade was beautiful. Image Source: Pinterest. 
Dave Bautista's wife, Sarah Jade, is a phenomenal pole dancer and an avid dog lover. Jade has her personality besides her fame as Bautista's spouse. She describes herself as a "classic-style pole dancer." Furthermore, she managed to secure second place in the USPDF Amateur Nationals in 2012 and hosts her dancing workshops.
As Bautista and Jade started dating, they managed to raise many eyebrows. Mostly because of their vast age difference. "Love is blind, and age is just a number." Cannot argue, but 20 years could be concerning. However, that did not bother the couple, and they had a beautiful outdoor wedding attended by WWE stars Chris Jericho, MVP, and William Regal.
View this post on Instagram
The wedding was gorgeous, and the couple looked beautiful together. Dave Bautista shared the good news through his Twitter post, which is non-existent today. This action has led to speculations about the split between the couple.
Likewise, Sarah Jade's Instagram is also a barren land if the couple is still together. Does this make Sarah Jade, Dave Bautista's wife, or ex-wife?
Former WWE star, Dave Bautista, has the reputation of "not holding back" on twitter. Aforementioned, Dave took Twitter to announce his wedding, but the tweet seems to be non-existent. Similarly, he even tweeted about being single in late 2019.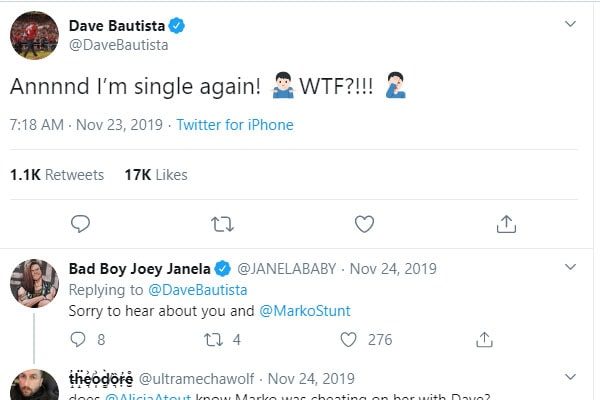 Dave Bautista announced he was single again in 2019 via his Twitter. Image Source: Bautista's Twitter. 
Few WWE stars, including Blake Murphy, commented on the tweets sympathizing with the sentiment. Furthermore, there's zero visibility of Sarah Jade in Dave's social accounts.
Likewise, according to The Tampa Bay Times, it mentions that the former WWE star had separated from his third wife. Additionally, Dave Bautista's ex-wife had custody of his pet dogs, and he realized how great of a bond is between a pet and the owner.
Furthermore, in an interview with Kjersti Flaa, Bautista reveals that he went through the divorce and hence got a tattoo to start a new life.
Similarly, his twitter-flirts are extremely famous as he decided to play along with a fan who wanted to have a baby with Dave. Bautista's reply was hilarious. Unlike Dave, Sarah's presence on her social accounts boasts her love for dogs and passion for dance. Other than that, there is very minimum information hinting that the couple moved on.
Dave Bautista's Failed Marriage
Before Sarah, Dave Bautista was also married twice. Dave Bautista was married to Glenda Bautista from 1990 to 1998. Dave has two daughters, Keilani Bautista and Athena Bautista, with Glenda.
Similarly, Dave Bautista's second marriage with Angie Bautista failed after eight years of being together. Angie is a cancer survivor and had a baby boy, Oliver Bautista, after a year of their divorce. Although their marriage ended, Dave and Angie are still very good friends.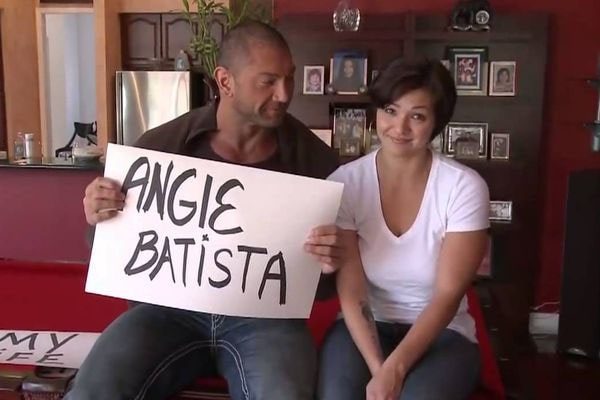 Dave Bautista's ex-partner, Angie Bautista, is a warrior. Image Source: Pinterest. 
Letting all the plans and dreams disappear in a mere second of separation is not easy, but if it's inevitable, there's nothing anyone can do except to accept and move on.
Therefore let's hope Dave Bautista and Sarah Jade moved on with their lives and are enjoying as an individual.
Don't Miss To Follow SuperbHub For More Updates On Celebrity News, Entertainment, and Biography.