The former model and deputy sheriff, Gena O'Kelly is the wife of actor Chuck Norris. The Delta Force actor Chuck's wife, Gena got desperately ill in the year 2013. After a dozen scans, a medical clinic in Nevada recognized gadolinium toxicity which was used during her MRI scans.
Despite being extremely sick and bedridden for over five months, Gena is successful in handling her family and health issues with the support of her husband, Norris. Besides that, supportive husband, Chuck is taking action and lawsuit against a number of drug companies that make linear contrast agents.
Gena O'Kelley Husband and Family
Gena O'Kelley is the second wife of the famous martial art professional and the Walker, Texas Ranger actor, Chuck Norris.  Former Deputy sheriff, Gena, and her loving husband met for the first time in Dallas in 1997. The former friends started dating and eventually married on 28 November 1998.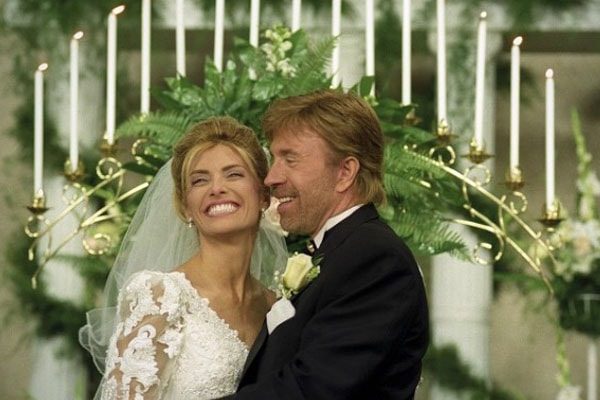 Chuck Norris and his wife, Gena married in the year 2008 after dating for a year.
Image source: Pinterest
Despite their 23 years of the age difference, the relationship between the lovebirds is crazy and are happily married and living happily with the blended families. The soulmates share several luxurious houses in the South, including a ranch close to Houston.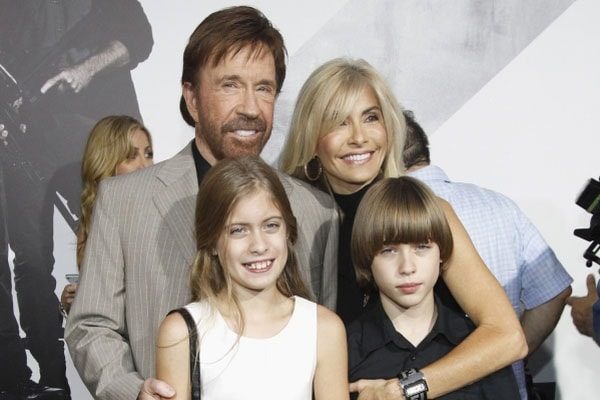 The former model, Gena O'Kelly and her husband, Norris share two adorable children.
Image source: Variety
The blissfully married pair, Gena and Norris are parents of a set of twins– Dakota Alan and Danilee Kelly Norris. Besides that, Gena has two kids from her previous marriage-Tim and Kelly. Likewise, Chuck has three other children- two from ex-wife, Dianne Holechek and one from an extramarital affair.
Tackling Health Issues With Husband's Support
The Hannity actress Gena took three MRI scan within eight days for investigations for rheumatoid arthritis in the spring of the year 2013. The doctors used an injection before MRI for better scan results. However, in Gena's case, the injection caused Gadolinium infection causing the former model to be extremely ill.
Gena laid in bed for five months with excruciating rib pain, breathing difficulties, full-body tremors, muscle weakness, and joint pain. The clueless doctors of her condition tested O'Kelly for cancer, Parkinson's, amyotrophic later sclerosis and many more.

In the difficult phase in Gena's life, 77-year-old husband Norris has been fully supporting his poisoned wife. Moreover, the successful Lone Wolf Mcquade actor bade goodbye to the film industry to fully concentrate and take care of his physically sick wife. Besides that, Chuck has filed a lawsuit in California of $10 million against 11 pharmaceutical manufacturers for the physical and financial loss.
The romantic pair, Gena and Chuck now raise awareness against the risk involved in contrasting agents like Gadolinium in MRI scans.
SuperHub for News and Entertainment.