Freeda Foreman, daughter of American boxer George Foreman, has died at the age of 42. The former athlete cum homemaker was found unconscious in her Houston, Texas on Saturday, March 9. A family member had found her body.
News of her sudden unexpected death shocked her close friends and fans on social media. Furthermore, media speculations began as to the reason behind her death and many believe it to be a suicide.
Let's go into some more details about her personal life, boxing career, and the cause of her death.
Freeda Foreman Died by Suicide? Medical Reports Confirm
One of the richest boxer George Foreman's daughter Freeda Foreman's body was sent for examination at a Texas hospital. Postmortem reports of her body's examination came out on Tuesday, March 12, three days after her death.
The report confirmed that she died as a result of "asphyxia by compression to the neck", which is the medical term for suicide by hanging.
Father George Mourns Daughter
Shortly after her death, Freeda's family took to their social media to wave a final goodbye to the late boxer. In a heartfelt Twitter post, Foreman's father George posted: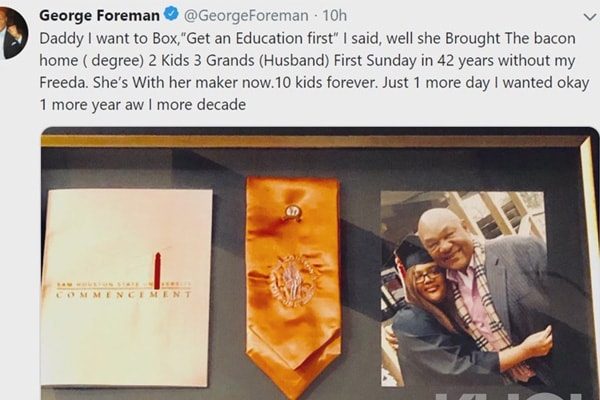 George Foreman mourns daughter on his Twitter. Image Source: Twitter, @GeorgeForeman

Freeda is survived by her loving husband, 2 daughters, 3 grandchildren, 11 siblings, and her parents George Foreman and mother Andrea Skeete, who is George's ex-wife. Freeda is one of George's seven daughters.
She has a large family. Freeda's father George and his current spouse Mary Joan Martelly,  George's ex-wife Andrea Skeete, Andrea Skeete, as well as her beautiful daughters, siblings, and grandchildren. Her uncle is Roy Foreman and her grandparents are Leroy Moorehad (grandfather) and Nancy Foreman (grandmother).
Freeda Foreman's husband and his name is not known as the family has not disclosed the husband's name. Her husband left her shortly after the birth of her children. The daughter of the boxing legend is also kept secret from the public.
Sisters:
Georgetta Foreman
Leola Foreman
Natalia Foreman
Isabella Brenda Liljia
Michi Foreman
Courtney Isaac
Brothers:
George Foreman III
George Foreman IV
George Foreman V
George Foreman VI
George Foreman Jr.
Like Father, Like Daughter
Following the footsteps of her world champion father George Freedman, Freeda herself became a professional boxer in 2000. She nabbed a 5-1  boxing record in the middleweight class, losing only once in her short-lived career. Here's a video of Freeda in the boxing ring:
George Foreman's daughter Freeda Foreman gave up the sport and retired in 2001 to focus on raising a family and instead work as a boxing promoter. Foreman also practiced advocacy for positive judicial reform in America, as her current Twitter bio states.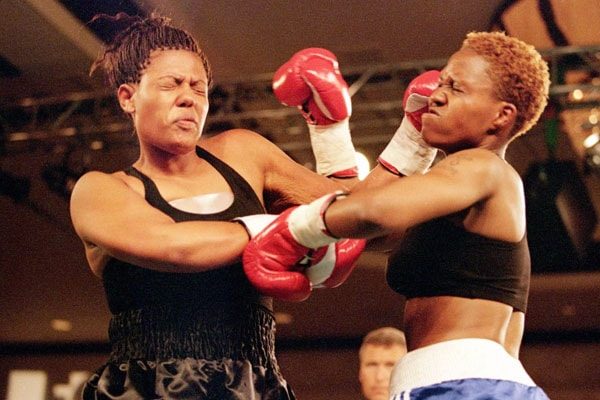 Freeda Foreman in the boxing ring. Image Source: Heavy

One of the little known facts about Freeda Foreman is that, when she wanted to be a boxer, her father heavily protested and offered her money to make her chose a career other than boxing.
Nevertheless, we hope Freeda Foreman is happy and may her soul rest in peace.
SuperbHub for more News and Entertainment.