Mark Wahlberg's brother, Robert Wahlberg, is a gentleman with a great personality and career. Having a brother is fun, but having a famous brother is fantastic. All of the Wahlberg brothers are involved in the entertainment industry in some ways and have a successful alternative career.
Hence, let's learn about Robert Wahlberg, an American actor who has appeared in movies like The Departure.
Robert Wahlberg's On-Screen Career
Robert Wahlberg is an American actor who started his acting career in 1984. He made his big-screen debut in 1998 as Davey Quinn in the flick 'Southie.' Since then, he enjoyed his career successfully appearing in commercially successful movies such as The Exchange, Orphan, Scenes of the Crime, Moonlight Mile, and others.
Furthermore, Mark Wahlberg's brother, Robert Wahlberg, was also offered a role for the movie Mystic River. However, he is wildly known for his performance in the 2006 film, The Departed. Robert Wahlberg's movie credits also include On Broadway, Gone Baby Gone, Don McKay, Contraband, and The Equalizer.
Beside film-projects, Robert also appeared in the 2019 television series, City on a Hill.  The intelligent man has made a good impression and made a great name for himself in the entertainment industry. The decade-long acting career has aided in Robert Wahlberg's net worth of $3 million greatly.
Is A Family Man
The talented Robert Wahlberg is a family man. He is a very fond person to be around with and loves his family very much. The family-guy is married to his sweetheart, Gina Santangelo, and has two adorable children together.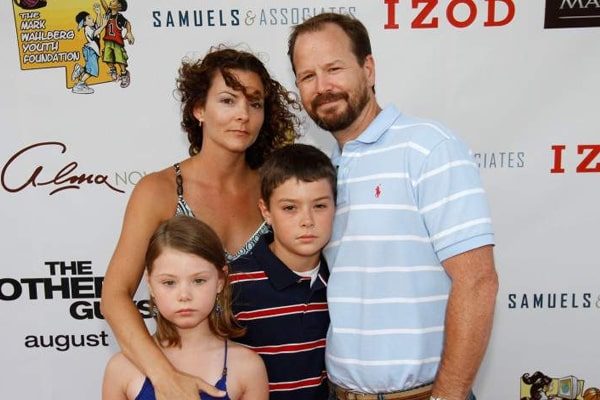 Robert Wahlberg is a family man and spends his free time with his family. Image Source: Getty Images.
The couple has been married for nearly two decades and has been sharing ever-fresh love and passion for one another. Despite continuing his career as an actor and working in a local power company, Robert's foremost priority is his family. He loves to spend his day off with his kids, Oscar Wahlberg and Charlie Wahlberg.
The family shares love for baseball and thus plays around with them. Robert Wahlberg encourages and supports his children to try all types of sports activities so that they could discover their passion.
Well, Robert is a man of secrecy and doesn't like revealing much about his personal life. However, there are many sites that suggest that the married couple has divorced. Though no reliable sites have claimed it yet.
Robert Wahlberg's Son, Oscar Wahlberg Is An Actor
Well, Wahlberg's son has decided to follow his father's and his uncle's footsteps as he has appeared in many movies at a young age. The young man is seen in many movies like Slender Man, Daddy's Home 2, Manchester by the Sea, What Doesn't Kill You, On Broadway, etc. Likewise, Mark Wahlberg's nephew has also appeared in television series such as NOS4A2, Louie, etc.
Let's hope Oscar Wahlberg owns up to his name and make it big like his father and uncles, Mark and Donnie Wahlberg.
Robert Wahlberg Worked As a Producer
The Fighter star, Mark Wahlberg's brother, Robert Wahlberg, is not only concerned with his acting career but also has collected his experience as a producer too.
Robert Wahlberg produced the show called Boston Metal that narrates the happenings of the Morrisey family's business, ECO Recycling Systems Inc., in 2012. The shop is the family-owned business and operated scrap metal business based in Brockton.
According to the ECO's website, the company offers permanent and temporary roll-off containers to construction and demolition sites for metals. Bob's reality show came after his younger brother, Mark's 'Teamsters.' National Geographic aired Wahlberg's show in 2012.
Robert Wahlberg's Childhood
Wahlberg is a fantastic person who has enjoyed his life out of the limelight. He was born on in Dorchester, Massachusetts, USA as Robert G. Wahlberg. Robert, aka Bob, is the elder brother Mark Wahlberg, and Donnie Wahlberg, and is the seventh child of nine in the family.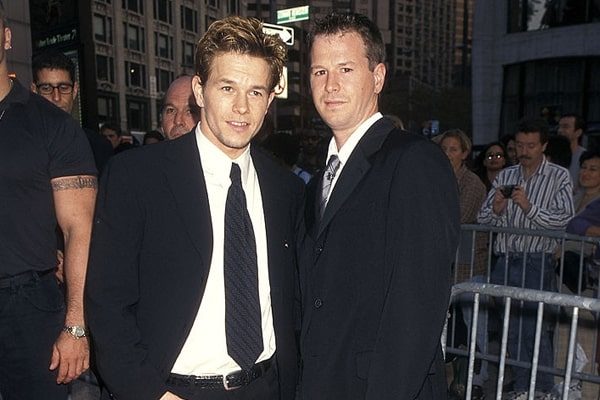 Mark Wahlberg's brother, Robert Wahlberg is also an actor. Image Source: Getty Images. 
Born in Dorchester neighborhood, Robert Wahlberg's other siblings are Arthur Wahlberg, Jim Wahlberg, Paul Wahlberg, Tracy Wahlberg, Michelle Wahlberg, and Debbie. Unfortunately, Debbie passed away in 2003. Furthermore, he also has three half-siblings named Donna, Scott, and Buddy, from his father's first marriage.
Robert Wahlberg's mother, Alma Elaine, was a bank clerk and nurse's aid while his father, Donald Edmond Wahlberg Sr. was a U.S. Army veteran of the Korean War. Robert, aka Bob's parents, divorced in 1982. His father was of Swedish and Irish descent, while his mother's ancestry is Irish, French-Canadian, and English. Sadly, Robert Wahlberg's father died on February 14, 2008.
Robert is sober and has introverted traits as he is more comfortable with confidentiality. He is not present in any form of social networking sites and is leading a quiet life unlike his brothers, film star, Mark Wahlberg, and singer, Donnie Wahlberg.
Let's hope Robert lives a comfortable life enjoying his work accompanied by his family.
Don't Miss To Follow SuperbHub For More Updates On Celebrity Entertainment, Biography, and News.