It takes a lot of courage for a person to recognize who they truly are and to come out to their family and relatives. Mind you; it's much harder when you are a celebrity and a transgender person at the same time. One automatically falls under the microscopic eyes of judgemental people amassing both positive and homophobic comments.
Similarly, actress Amy Yasbeck and John Ritter's daughter, Stella Dorothy, went through the same phase in 2016 and now goes by the name, Noah Lee Ritter. Let's get to know a few facts about the late actor, Ritter's transitioned son, and his journey.
Amy Yasbeck and John Ritter's Only Child
Problem Child star, John Ritter, and his co-star, Amy Yasbeck, first met at Dennis Dugan's house, who was directing the movie Problem Child. The couple appeared on several movies together and shared stages in reality shows before marriage.
John Ritter and Amy Yasbeck shared their vows on September 18, 1999, and gave birth to a baby girl, Stella Ritter, on September 11, 1998. She is the only child of the late actor Ritter and Amy. Unfortunately, Noah Ritter's mother, Amy Yasbeck, was left widowed with her husband Ritter's unexpected death. Another sad fact is that John Ritter died on Noah's fifth birthday. Terrible memory to have!
However, John Ritter is also a father to three other children, Jason Ritter, Carly Ritter, and Tyler Ritter from his previous marriage with Nancy Morgan.
John Ritter's Son Is An Actor and A Composer
John Ritter's son, Noah Lee Ritter, is an actor, and a composer known for his work in This Is My Friend, The Namazu, and Hannah Lost Her Smile. Under the birth name, Stella Ritter, Noah Lee Ritter's IMDb page credits him for animated works. Noah shares his voice with the characters.
Noah Ritter is a talented young man who decided to make his father proud, following his passion along with half-siblings. Let's hope Noah succeeds in his career as a composer and an actor.
The Transition Started At The Age Of 18
Recognizing who your true self is, it's a whole lot of struggle. But the empowerment and confidence that brings after knowing who your true self is, is unbelievable and unstoppable. A similar case happened in late actor John Ritter's daughter by birth, Stella Ritter.
Stella Ritter now lives by the name, Noah Lee Ritter. The young lad realized that he was born in the wrong body and decided that he was a transgender male. Now, this is tricky for a teen to understand the feeling of where do I belong. But Noah seemed clear of who he truly is. Therefore, he decided to go through the procedure of change while he was still in high school.
According to Radar, Noah Lee Ritter's journey from a female to a male began in September 2016 at 18. He is fully backed up with the support of his mother, Amy Yasbeck, and his half-brothers, Jason Ritter and Tyler Ritter.  Furthermore, as he underwent the procedure, he changed his name from Stella to Noah. Likewise, he also grew facial hair, which honestly looks pretty good on him.
Let's cheer the young lad on his journey and hope to see more from him in the future.
Leading A Private Life
John Ritter's kid Noah Lee Ritter is leading his life wholly private and away from the public's eye since his father's death by aortic dissection. It is very little we know of the young man, as his social accounts are all private. The very recent picture available is the one he uploaded in 2015.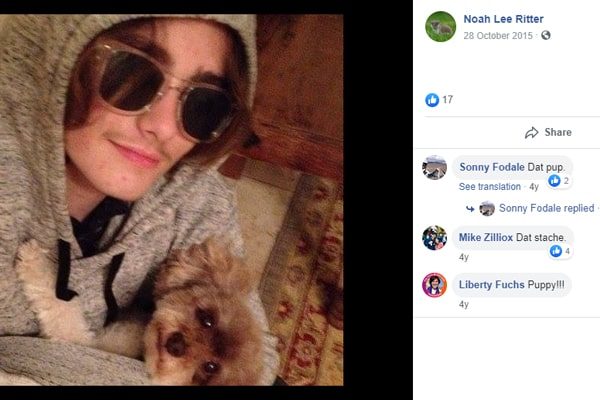 John Ritter's son, Noah Lee Ritter decided to protect his privacy from the world and has privatized all of his social media. Image Source: Noah Lee Ritter's Facebook. 
According to Heavy, the day Ritter's transition story broke out, he changed all the sites private to save his privacy. But it is understandable, and his courage is laudable. Let's hope Noah Lee Ritter is living his best life and hope to see him in new projects.
Don't Miss To Follow SuperbHub For More Updates On Celebrity Entertainment, Biography, and News.