Photo credit: wmagazine
Emily has been recently focusing on promoting her new Inamorata Swim line.Internet is flooded with Emily's swimsuit collection pictures.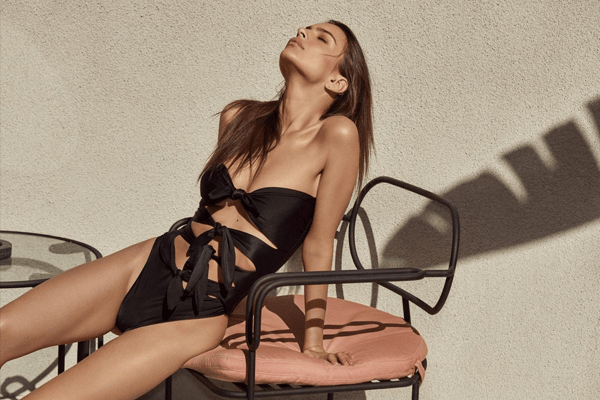 Photo credit: Evening standard
Emily was seen back to work as she was seen in an admirable figure in an Instagram story on Thursday. The model, now designer was seen in a one-piece Inamorata swimsuit while posing for the camera.
A few weeks ago, Emily was photo shooting for her own swimsuit collection, You might have just filled-in your wardrobe with winter coats right? That does not mean it's too early planning for upcoming summer. Emily Ratajkowsk, queen of seduction, queen of Instagram, queen of bikinis is finally here with her own set of swimsuit collection, called Inamorata. Looking at those swimsuit collections you would wish it were hot-and-sunny outside.
This American model and actress shared to her Instagram some topless photos to inform people about her new brand. She captioned, " @inamorataswim IS LIVE!" And put a link to her new swimsuit brand.
Over a wide collection of closely naked pictures, she has posed in a selection of two types of bikinis. One and two-piece types of swimsuit collection. These ranges from $75 to $16.
You would be amazed to see that many of the one-pieces in her swimsuit collection can work actually as clothes. Seems like Emily can be good in swimsuit business too. Her idea that has been put on clothing can work from both pool or beachside attire to more of lifestyle. "I had visited Majorca this summer, and I saw women in all shape and sizes, of different age ranges, flaunting in their swimsuits, cooking, laying out, eating and taking care of their children(in the swimsuit)", she said. "Soon after seeing this, I was like these are the kind of swimsuits I wanted to design and embody."
We wish all the best to this actor, turned designer to soon be a good businesswoman. Wish her all the best for new brand and swimsuit collection.