Looking at the recent affairs, it seems that a gentle love is budding between two hot people in Hollywood! Who could they be? According to recent rumors the Supergirl actress; Melissa Benoist is having a dating affair with her co-star Chris Wood! Is it true that they are dating? Let us find out!
Is Melissa Benoist in a dating affair with co-star Chris Wood?
Having an on-screen romance seems to have bought Melissa Benoist and Chris Wood together. The couple was seen hanging out together in the chilly Canadian weather, walking their dogs! At a point, Melissa was walking with her white pooch, Farley and also Wood's do Drift!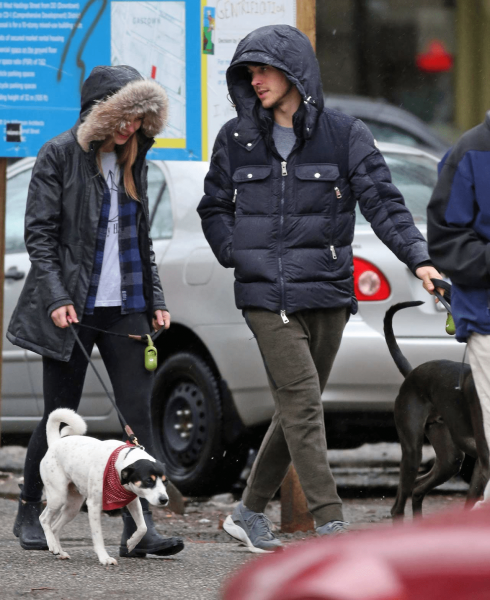 The couple had landed in Vancouver on Monday for their shoot. They were witnessed walking together and Melissa Benoist could not wipe the smile off her face! It can be said that superheroes fall too!
In 2015 Melissa was married to her Glee co-star Blake Jenner. However, things did not go well, thus the couple had a break up within a year in December 2016!  It now seems like the Supergirl Melissa Benoist is ready to move on.
Behind the scenes of the Supergirl and The Flash musical crossover Benoist and Wood looked absolutely comfortable with each other. Benoist revealed to ET that a lot of love would be seen between the characters of her and Wood in the second season.
While Benoist talked mostly about her character in Supergirl, Wood shared that Benoist and he had found a "nice pocket for the characters to live in" and also shared his thoughts on Melissa saying that she is "so generous as an actress" and that she keeps rolling which makes it easy. Smells like growing love?
Is it ok to assume that Chris Wood will be dating Melissa Benoist in reference to his previous dating affair with The Carrie Diaries' co-star and also the Vampire Diaries' co-star, Nina Dobrev? Both the couple seems to fall in love with their respective co-stars and now that they are together we could expect that!
Benoist and Wood seem to share common thoughts since they are often seen having endless talks and laughter off-screen. If the couple were to be in a relationship, the couple would look extremely cute together. We can confirm that although there have been no official statements regarding their affair but the love has definitely been brewing!
Read All Celebrity Entertainment News