06th Feb. 2018, 16:26 pm
Love is in the air for 13-year-old Danielle Cohn, a musical.ly star. Danielle has been in the news for having a boyfriend at a small age. Well, the list of Danielle Cohn's boyfriend is long but currently, Cohn is dating another musical.ly star, Sebastian Topete.
Danielle Cohn's boyfriend Sebastian
Sebastion Topete, 18, is a star from musical.ly, famous for his songs compilation on musical.ly. The young lovebirds are dating since October 2017.
Recently, Dani (Danielle) Cohn posted a picture with her boyfriend, Sebastian Topete possibly celebrating their four-month anniversary.
She captioned,
4 months with him❤️I love uuuu @sebastiantopete
In four months, the duo has been seen together often; going on vacations and outings. They recently went to Hawaii too. This picture is from Sebastian's Instagram post on January 27, 2018.
Their fans, followers, and friends have loved this photo and commented them as flipping cute couple.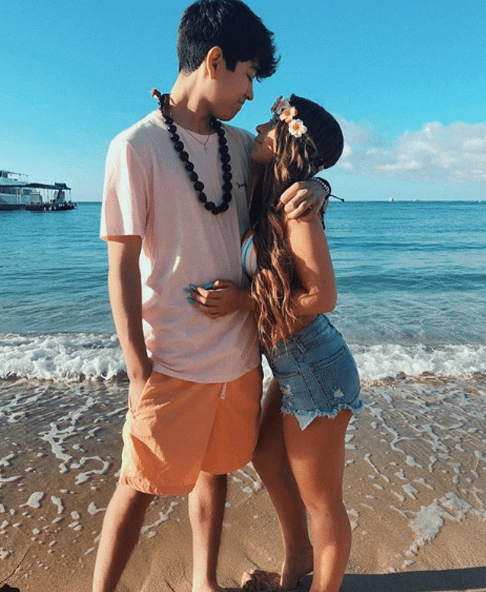 Danielle Cohn's boyfriend Sebastian being cozy with Dani in Hawaii Beach
Source: Sebastian's Instagram
They shop together and work together in their videos. Hope the lovey-dovey couple remain the same and enjoy a long-lasting relationship.
In case of Dani, she never fails to show her love to boyfriend Sebastian in her social media posts and videos. In one of her Instagram posts, she captioned,
In the end it's him and I ❤️

Undoubtedly, Danielle Cohn's boyfriend and Cohn are sharing quality time together.
The duo often appears in each other's video. And are openly public about each other's relationship. Sebastian also appeared as Dani's lover boy in her music video Fix Your Heart.
They are also going on a musical tour soon. The tour is named DIGITOUR ARTIC LIGHTS.
List of all Danielle Cohn's Boyfriends
Being Miss Florida Jr. Preteen, and nominated for a 2017 Teen Choice Award for Choice Muser, this young sensational beauty with brain would be the choice of many. Other than Sebastian Topete, list of Danielle Cohn's boyfriends is quite long. Danielle has dated 7 young boys since March 2016.
Richard Ortiz
Initially, Richard Ortiz emerged as Danielle Cohn's boyfriend. Cohn and Ortiz were looking a promising couple. But, the relationship didn't sustain long. This young couple dated from March to July 2016.
Jaydyn Price
Jaydyn Price was another young star, who dated with Danielle Cohn. Same as the previous relationship, these two got apart on December 2016 after starting to date on October.
Nelson Aguilar and Owen Bodnar
Then it was Nelson Aguilar as Danielle Cohn's boyfriend. They were together a couple from January 2016. But the date they became apart is yet to know. Afterwards, Cohn dated Owen Bodnar from February to April 2017. And Case Walker from May to June 2017.
Cole Galotti
After dating Case Walker, she was sharing romantic moments with Cole Galotti. According To Hollywood Life, Danielle Cohn and Cole Galotti were dating since July 22, 2017. There was a rumor of him, cheating on Danielle Cohn.
Later, he respectfully denied the rumors on Twitter. Their romance didn't last long as they broke up in August 2017.
Sebastian Bails
After dating six boys, Danielle Cohn was rumored to be dating Sebastian Bails. Even Though, the evidence of dating him is not present.  The pair were rumored to be dating in September 2017.
Here is the video compilation of all Danielle Cohn's boyfriends.

Quick Facts on Danielle Cohn's Boyfriend
Danielle Cohn is just 13 years old as of 2018. Till date, she has dated 7 boys including her current boyfriend, Sebastian Topete.
Sebastian Topete is also a musical.ly star.
Danielle Cohn blindly believes on Sebastian Topete as she posted on Instagram.
I'll go anywhere as long as it's with you❤️ remember to go shop at DOPE and use my code Cohn for 25% off🔥

Stay with us on SuperbHub for more entertainment news