The Spanish football star Cesc married his longtime Lebanese lover Daniella. The 43-year-old Semaan is 12 years older than her new husband, but that has not stopped their blossoming romance. The Chelsea midfielder Fabregas proposed Semaan in December 2017 and eventually walked down the aisle in May 2018. However, Cesc and Semaan waited for over a month to have their star-studded post-wedding party in Ibiza.
The pair is parents to five children- Maria, Leonardo, Lia, Capri, and Joseph. However, the eldest daughter, Maria was the one not in the snaps of the party. Furthermore, Semaan has a son and a daughter from her previous marriage with the property tycoon, Elie Taktouk.
Daniella Relationship with Husband Cesc Fabregas
The stunning Daniella Semaan has met her Chelsea football star husband, Cesc Fabregas over seven years back. Eventually, the chemistry between the lovebirds flourished. Eventually, after dating for over seven years, Daniella and Cesc exchanged their vows in a lavish ceremony at Cliveden House, Berkshire.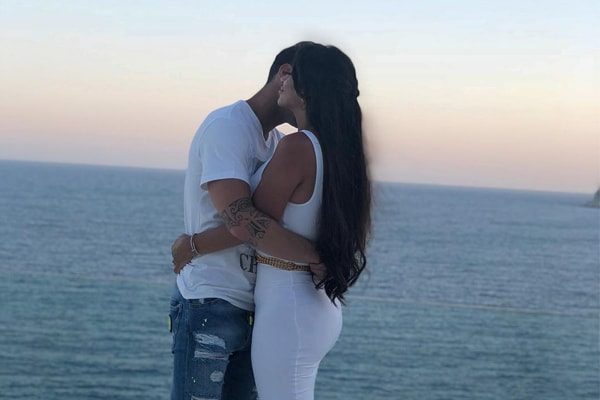 The adorable pair, Daniella and Cesc, are together for over eight years now.
Image source: Daniella Semaan/Instagram
The newlyweds celebrated a blissful ceremony with their family, friends and young children despite the age difference. The couple share five children, three from Cesc- Lia, Capri, and Leonardo as well as Maria and Joseph from Daniella. The family has a strong and intimate bond with one another. Furthermore, the family jetted over to Greece's Mykonos before arriving in Ibiza for the celebration.
Marriage and Post-Wedding Celebration
Daniella Semaan and her husband Cesc Fabregas tied their knot in May. However, the soulmates waited until the height of summer and after the league season for their wedding bash. The lovers were joined by four of their five children- Leonardo, Lia, Capri, and Joseph.
View this post on Instagram
The post-wedding party took place on the Balearic island and was the perfect destination for any football fan to catch a glimpse of some of the game's biggest names. The glamorous bash was attended by a host of Arsenal Chelsea and Barcelona legends in Ibiza including John Terry and his wife Tony and Lionel Messi and his wife, Antonella Roccuzzo.
The glamorous Danielle flaunted a bridal-inspired look in a bead-encrusted gown with a dazzling necklace and skyscraper platform heels. Likewise, Fabregas was twinning with his wife wearing stunning jeweled white outfits for the event. Daniella and Cesc, looked in the throes of love as they embraced and kissed publicly on the red carpet.
Superbhub for News and Entertainment.