A famous actress and mathematics writer, Danica Mckellar is included in New York Times children's bestseller list for six times. She also appeared in movies including a Sci-Fi Channel's movie Heatstroke alongside D.B. Sweeney with movie budget of $2,500,000. Thus, earning from acting career and bookselling makes Danica Mckellar's net worth around $6 million.
Danica McKellar Net Worth: Earnings from her career
Danica was interested in acting since her childhood. She was just seven when she joined acting classes at the Lee Strasberg Institute in Los Angeles.
Before being famous as an actress, Danica has done several commercials. She appeared in Volkswagen commercial in 1986. Furthermore, she also became the part of Secret Bear Commercial alongside Tiffany Brissette during 80s.
The Wonder Years girl has grown with fame since her debut in the TV series when she was just 13. Since then, she has appeared in various Advertisements, interviews, and Shows.
According to Hollywood Reporter, a TV actor can make around $30,000- $90,000 an episode and it purely depends on skill and popularity. While working on movies help the stars earn $65,000- $20 million.
Danica Mckellar's Net Worth includes her earnings from bookselling too. As mentioned earlier, six of her books are on the list of New York Times Best Seller.  The list includes Goodnight Numbers, Kiss My Math: Showing Pre-Algebra,  Girls Get Curves: Geometry Takes Shape, Ten Magic Butterflies, Do not Open this Math Book, and Bathtime Mathtime.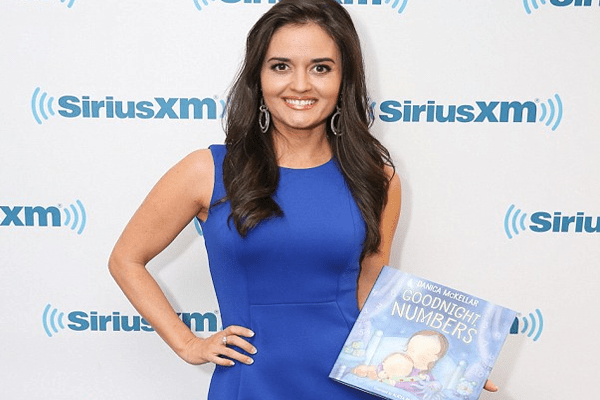 Danica Mckellar net worth includes royalties from her books. Danica, posing with her book, Goodnight Numbers.
Image Source– Daily Mail
Known for the Chayes-McKellar-Winn theorem, till date, Danica Mckellar's 50,000 copies of math books have been sold. Here is the list of math books written by Danica and their cost according to Amazon.
| Name of Book | Price on Kindle | Price for Paperback | Price for Library Binding |
| --- | --- | --- | --- |
| The Magic Butterflies | $10.99 | $12.32 (hardcover) | |
| Math Doesn't Suck: How to Survive Middle School Math Without Losing Your Mind or Breaking a Nail | $10.88 | $11.45 | $28.20 |
| Goodnight, Numbers | $7.42 | $6.55 | |
| Kiss My Math: Showing Pre-Algebra Who's Boss | | $12.38 | $28.20 |
| Hot X: Algebra Exposed! | | $12.72 | $29.40 |
| Girls Get Curves: Geometry Takes Shape | | $11.23 | $29.40 |
| Bathtime Mathtime | $8.99 | | |
| Do Not Open This Math Book: Addition + Subtraction | $10.99 | $15.46 | |
Moreover, the exact earnings from bookselling are not revealed, but she might have collected a fair amount of money.  To be exact, the royalties of authors depend on the bookselling. Meanwhile, an average author in New York makes median earnings of $72,760 and can range from $40,190 to $ 139,690 per year.
Apart from her writing, she has written, directed and produced two short movies Speechless and Broken. For that,  Danica was awarded by  Hollywood Underground Film Festival in 2012 for the Best First Time Director. Her revenue as a director certainly adds to Danica Mckellar net worth.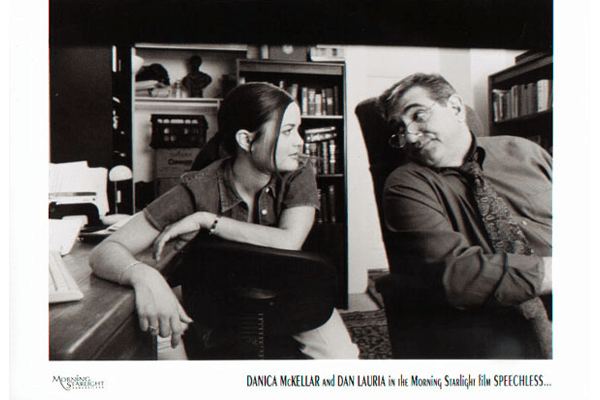 Danica Mckellar in her directorial short movie, Speechless alongside Dan Lauria.
Image Source– IMDb
In a telephonic interview of Los Angeles she said, she has spent 25% in acting and 75% in math books throughout her life according to Newsday.
Summing up the earning from acting and writing career Danica Mckellar's net worth is approximately $6 million.
Danica's Personal Life
Danica is a daughter of Christopher Mckellar, a building contractor and Mahalia Mckellar, a housewife. Danica has three siblings Crystal Mckellar, Chris Junior and Connor Mckellar. Danica is a fluent speaker of the French language. She completed Ph.D in mathematics from University of Chicago.
She was married to her boyfriend, Mike Verta on March 22, 2009, after the long affair of about eight years. Just after a year of marriage, she gave birth to a baby boy named  Draco in 2010. The relationship didn't last long as they divorced on June 1, 2012. Danica was the one who filed for a divorce.
Later, Danica tied the knot with a lawyer, Scott Sveslosky on 15th November 2014. They had a beautiful sunrise wedding which she explained in the video below:

Earlier, Danica announced her engagement with Scott via Twitter and Facebook. In the picture, she was pointing to the precious engagement where she showed her precious diamond engagement ring.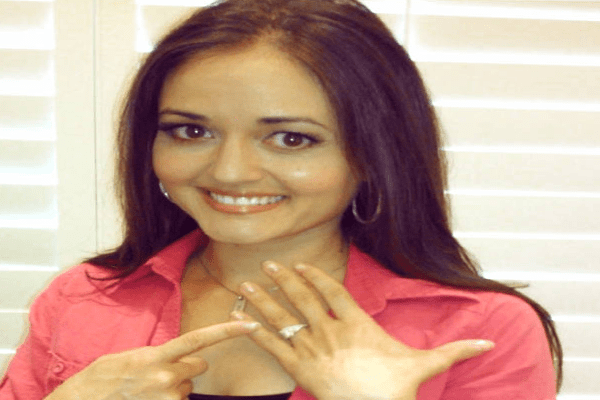 Danica Mckellar announced engagement via Twitter and Facebook.
Image Source- Eonline
Danica is a sweetheart and loves to sing as well. It doesn't matter to her where she is or what she is doing if she wants to sing. She tweeted on May 2017, that she was singing I am Moanna while driving her car at the top of her lungs.
Be with SuperbHub for more exciting facts about Celebrities.