Dan Abrams is a renowned TV show host and news correspondent. Having worked for NBC and ABC, he is best known for covering the O.J. Simpson trial. Despite being a successful journalist, his life hasn't been easy as he has had a well documented battle with testicular cancer.
Dan, who serves as the current legal affairs anchor for ABC News, was diagnosed with testicular cancer back in 2003. Testicular cancer can be very fatal and it affects almost 8,000 men in the US. One of those unfortunate victims of this illness turned out to be Dan Abrams.
Details on Dan's testicular cancer
In June 2003, while Dan was on a vacation in Mexico, he suspected that he might be suffering from testicular cancer when he saw a comedy show where the character with testicular cancer had the same symptoms as he did. He went to a doctor named George Lombardi who checked his testicles who told him that he might have testicular cancer.
After conducting ultrasound and CAT scan, it was confirmed that he had testicular cancer. The revelation left Dan shocked and he started crying.

After finding about his cancer, Dan started seeing cancer specialist Dr. Joel Sheinfeld. The doctor performed a surgery on July 7th and removed the cancer. But, unfortunately the tumor had spread to the lymph nodes.
Dan performed a second surgery to remove all the lymph nodes affected by the tumor. A total of 59 lymph nodes were removed from his body in six hours. His lymph nodes were then cancer free and he was released from the hospital on the fifth day.
The aftermath of the surgery
After his successful surgery, Dan continued his work as a TV host just as usual. He missed only 31/2 weeks of work during his treatment. he is very healthy right now and shows no signs of the disorder.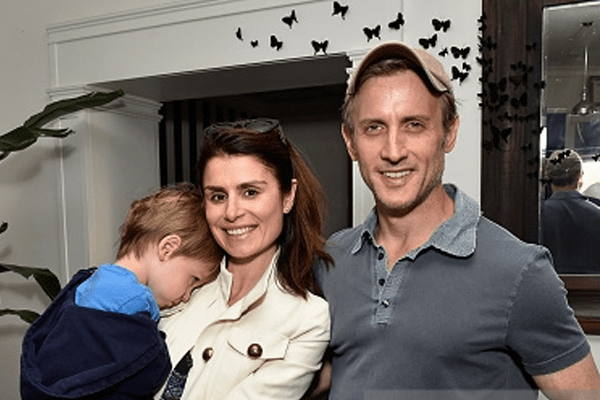 Dan Abrams Family. Dan with his wife Florinka Pesenti and Son Everett.
Dan lives a very good life at the moment. He has a son named Everett Floyd Adams with his longtime girlfriend Florinka Pesenti. Florinka gave birth to Everett back in 2012.
Dan also owns a lovely restaurant named White Street which is located in the Tribeca neighborhood of Manhattan.
Messenger for young people
After his life-altering feud with testicular cancer, Dan vowed to help and educate young people suffering from cancer. He has used his talk shows as a way to help people know about cancer and it's hazards.
With his life becoming better after his struggles with cancer, he is a role model and inspiration for youth who have suffered from cancer.
For more news and entertainment, visit Superbhub.