Damien Chazelle and Olivia Hamilton tied the knot on September 22, 2018. He had previously married Jasmine McGlade on June 26, 2010, and ended the relationship in 2014.
French-American director, film producer, and screenwriter, Damien Chazelle has married twice in his life.
Damien Chazelle's Wife Olivia Hamilton
Director Damien Chazelle married Olivia Hamilton on September 22, 2018.  Damien and his longtime girlfriend had an extravagant wedding in Malibu's Point Dume.
The couple was engaged in October 2017 in Malibu's Point Dume. Damien Chazelle's wife Olivia announced their engagement through a selfie. It showed off her unique wrap-around ring from Monique Pean and an adorable kiss between the two.
View this post on Instagram
Olivia Hamilton is an actress and writer. Olivia has appeared in movies including La La Land, Don't Worry, He Won't Get Far on Foot and First Man.  The  First Man actress enjoys various extravagant destinations and luxurious items.
It looks like the lovely couple of Damien and Olivia seem to enjoy each other's company.
Damien Chazelle And His Ex-Wife Jasmine McGlade
American filmmaker and writer Jasmine McGlade married Damien Chazelle on June 26, 2010.  Jasmine also graduated from Harvard where she began her creative collaboration with Damien Chazelle.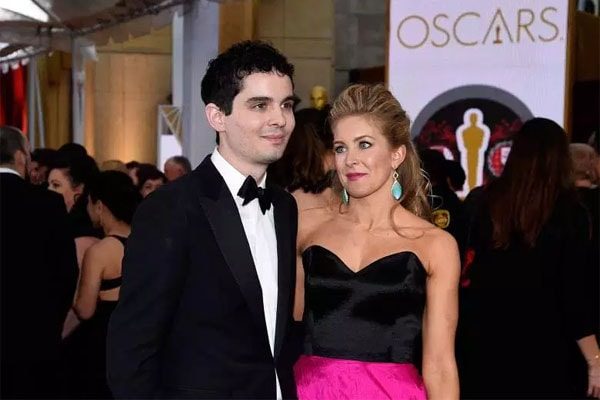 Damien Chazelle and his ex-wife Jasmine McGlade. Image Source: Heavy.
Damien Chazelle and his ex-wife met while studying at Harvard. Jasmine and Damien moved to L.A. after they were married. Chazelle used to work on his so-called failed scripts.
The record-holding director Damien Chazelle stated that there was nothing else he had planned. He said that the tendency of people giving up enables him to grab the opportunities.
The pair went through thick and thin, eventually calling quits in 2014. However, Damien Chazelle stated that he still has a strong bond with his ex-wife. He also claimed that they are still like a family.
Damien Chazelle's ex-wife Jasmine McGlade is the producer of Guy and Madeline on a Park Bench. Damien Chazelle is the director of Guy and Madeline on a Park Bench. The outcome of the movie was a crucial figure in the development and production of Academy Award-winning film Whiplash.

McGlade was also the executive producer of La La Land. Her feature film debut as a director is Maria My Love which she also wrote and produced. However, Jasmine McGlade and Damien Chazelle don't have any children together. Jasmine has a child with her current partner.
For more Celebrity News, and gossips visit SuperbHub.