American actor and stuntman Cody Walker and his beautiful wife Felicia Knox were married on August 15, 2015, in Oregon. Cody and Felicia were in a relationship for more than seven years before marriage.
After three years of their wedding, they welcomed their first child on December 1, 2017, according to In Touch.
Felicia Knox Pregnancy
Cody and Felicia have shared lots of photos during her pregnancy in social media for their fans. They also shared that November 30 is the delivery date of the baby. However, they never disclosed the gender, they might have wanted to keep that a secret.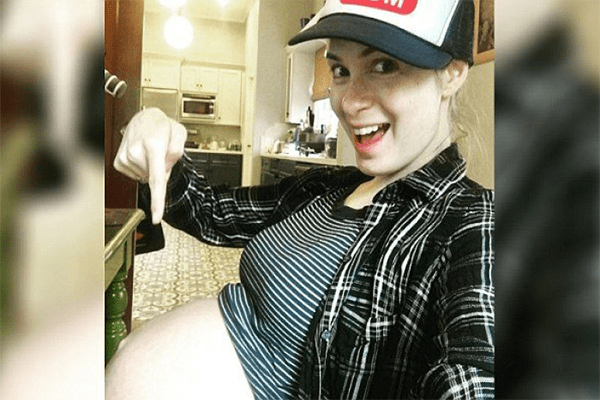 Cody walker's wife Felicia showing her baby bump just three weeks before delivery. 
Image source: Mogaz News 
The to be parents, Walker Couple also made every preparation for setting their baby's room, clothes, bed, toys and shared pictures on the social media with the caption;
All we need is a baby now!
Cody and Felicia welcome their baby
After the delivery of their child on December 1, 2017, Cody Walker announced the good news to the public by sharing their daughter's picture on Instagram. Many fans congratulated him on the arrival of a new member, a cute baby girl in the Walker family.
Their Baby has a French name
Cody Walker's wife together with her husband gave a unique name to their daughter. They named her Remi Rogue. Remi is a French name which adds the meaning of Rower(a person who rows a boat). The family is complete with the arrival of a daughter and the Walker couple couldn't be happier.
Cody Walker's daughter is 3 months now
Yes, the little girl Remi is all grown up giggling, smiling and making her parents happy.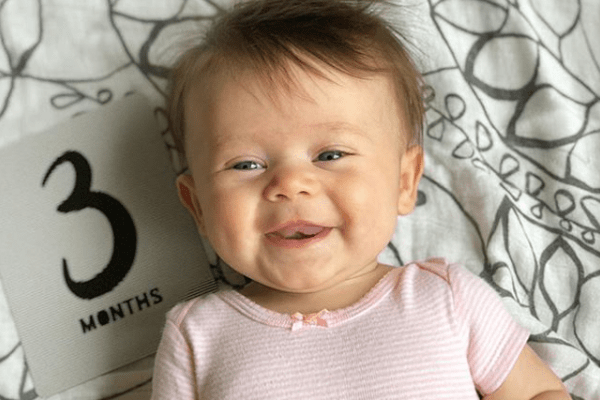 Cody Walker's daughter Remi Rogue is 3 months old.
Source: Cody Walker's wife Felicia's Instagram
Cody Walker's wife Felicia gave the details of her baby girl through social media that she weighs 10.1 lbs and sleeps well for 8-10 hours per night. Remi also loves taking bath. She makes faces, kicks, grasps toys and smiles for her mommy and daddy. Her mommy Felicia loves her precious giggles. Though she hates food time, she is able to roll all over whenever she gets mad.
Hard Wedding day for Cody and Felicia without Paul
After seven years of togetherness, the lovebirds finally decided to take their relationship to next level. Just before their wedding, Cody walker's love Felicia shared a photo on her Instagram with a caption;
Today is this day! #letsdothis #walkerdowntheaisle
Wearing a silk robe with word Bride at her back, the to be bride shared the pre-wedding picture and so did Cody.  He tweeted;
Today is the day people. I'm getting married.
Their marriage ceremony was attended by close friends and family in Oregon on August 15, 2015.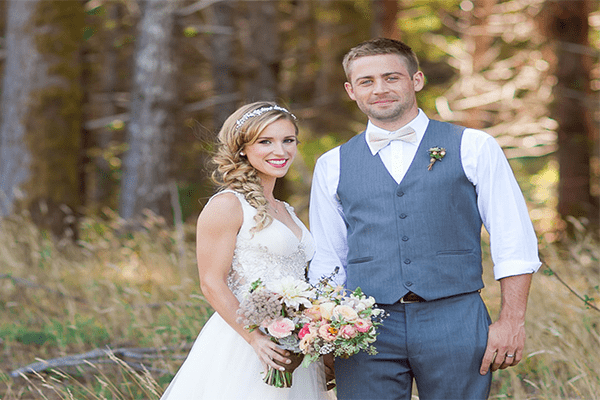 Cody Walker's love Felicia Knox looked beautiful in her bridal gown holding her groom's hand on their wedding day.
Image source: Zanotti
Cody and Felicia tied the knot 89 weeks after the demise of Cody's brother Paul Walker. As Cody and Felicia were dating for more than seven years, Felicia was very close to Paul. Cody's brother Paul used to treat her like a sister. The wedding day was thus really tough for the couple without the presence of Paul.
Paul Walker was an American actor, famous for his role Brian O'Conner in The Fast and Furious film series. On November 30, 2013, Paul with his friend  Roger Rodas was returning back from their charity Reach Out Worldwide. And he had a tragic death in a car crash in Santa Clarita, California. The cause of his death was multiple traumas and burns.
As the death of Paul was in the mid of shoot The Fast and Furious 7, Cody and his another brother Caleb helped the team to finish Paul scene for the movie. The song See you again was dedicated to Paul Walker in the series of  The Fast and Furious.
Cody and Felicia are looking after the charity of Paul
Cody Walker's wife Felicia is an engineer, and currently, is active as a social worker. The couple together have been looking after Reach Out Worldwide (ROWW), the charity of brother Paul. Fulfilling the unmet Needs is the slogan for Paul's charity Reach Out Worldwide.