Dude Perfect has become one of the most successful and subscribed channels in YouTube's history, garnering 55 million and additional viewers. Welp, the young dreams of five boys, including the Cotton twins, Coby and Cory Cotton, finally came true.
What else for Coby? He also enjoys a very blissful marital life with his wife, Aubrey Ellett Cotton. The couple exchanged vows in 2017 and are still together, sharing nothing but love.
We know and have ample time to learn more about Dude Perfect's Coby, but we have very little detail about his beautiful partner. Therefore, here is everything about Coby Cotton's wife, Aubrey Cotton, aka Aubrey Ellett.
Coby Cotton's Wife, Aubrey Ellett, Is A Private Person
Privacy becomes a myth when one ties a knot or keeps a romantic relationship with reputed/famous names. However, it is not the case with Coby Cotton's partner, Aubrey Cotton. She is adamant about keeping her whereabouts and personal life confidential.
Thus, Aubrey's Instagram is private, with only 400+ followers with only 27 posts. Furthermore, her Facebook remains dormant since 2017, and the last post that stays public in her account is her family.
Furthermore, Aubrey Cotton's parents, Taz Ellett and Theana Afendis Ellett are very proud of their daughter's graduation from Texas A&M University in 2015.
Likewise, Coby Cotton's spouse, Aubrey, grew up with her siblings, Grayson Ellett, Emily Kay Pybus, and one of her brothers staying away from social media.
According to Aubrey Cotton's Facebook, she previously worked at Kanakuk Kamps, studied at Oklahoma State University, and went to DS.K. Rider High School.
The Texas native lives in Stillwater, Oklahoma, with her family, Coby Cotton.
"Good Thing You Did Not Marry Me For All My Wins," Says Coby
Being a television/internet personality does not mean one owes their life to their fans. Thus, Dude Perfect's Coby Cotton refrained from sharing details about his love story with beau Aubrey Cotton.
Coby introduced his sweetheart in mid-2017 via Instagram.  Likewise, after a couple of months of introducing his partner, he proposed to Aubrey on 6 August 2017.
Furthermore, Aubrey's boyfriend at the time announced their engagement with an affectionate caption, "I've been praying for my future wife since I was a little kid, and God answered those prayers in the most incredible way." He continued, " you are a treasure, and I love you so so much!"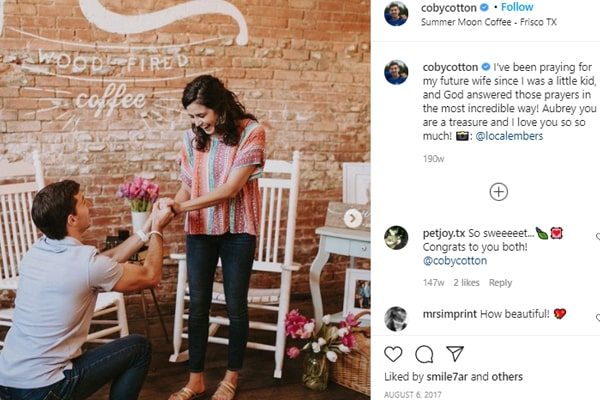 Coby proposed to his wife, Aubrey in August 2017 and exchanged vows in December. Image Source: Coby's Instagram.         
Coby later updated his fans about their wedding and shared excitement about marrying Aubrey.
The Cotton couple finally exchanged vows in December 2017. Aubrey Cotton's husband, Coby, shared a picture of themselves the first thing in January 2018.
Coby further claimed the highlight of 2017 was to marry his partner, Aubrey, and wrote, "2018, let's do this!" Unfortunately, Coby Cotton's wife, Aubrey Cotton's Instagram, is private, but her display picture is of their wedding day.
Coby further wishes his wife on their anniversary, and once he humored his post captioning, "happy anniversary, aubz! good thing you didn't marry me for all my battle wins."
Well, the Cotton couple still manages to find ways to share their undying love for one another.
Baby On The Way
After a couple of years in marriage, Coby Cotton's wife, Aubrey Cotton, is finally pregnant. Coby announced the pregnancy via Instagram on December 2020.
Coby uploaded a picture of themselves in costume and wrote, "This picture may be funny, but it's not a joke. We're pregnant."
View this post on Instagram
Unfortunately, Coby has been inactive since December 2020 and probably decided to raise his baby away from social media.
Unlike Coby and his partner, Aubrey, his twin brother, Cory Cotton, is a father of three kids, and all of his Dude Perfect's crew are fathers.
Technically, Coby and Aubrey are parents of a fur baby, but they would soon welcome their own baby.
The bottom line is, Coby Cotton's wife, Aubrey Cotton is a soon-to-be mother and deserves rest from the world. Furthermore, she probably chose to keep her life confidential.
Thus, let's hope to see and hear of the growing Cotton family in the future.
Don't Miss To Follow SuperbHub For More Updates On Celebrity Entertainment, Biography, and News.