Will Smith is an American Hollywood actor famed as a rapper as well. Smith was named as the most powerful actor in Hollywood by Newsweek in April 2007. Will Smith, who has been nominated for five Golden Globe Awards and two Academy Awards, has won four Grammy Awards, married to Jada Koren Pinkett in 1997.
Will and Jada together have two kids, Jaden Christopher Syre Smith and Willow Camille Reign Smith. Will Smith was previously married to Sheree Zampino in 1992, with whom he has a son named Willard Carroll "Trey" Smith III. The couple divorced in 1995.
Will Smith's Relationship With His Children
Will Smith's children seem to have paved their own paths in life. Will together has three children with two different wives. Will Smith is currently happily married with Jada Koren Pinkett. He was married to Sheree Zampino in 1992 and got divorced in 1995.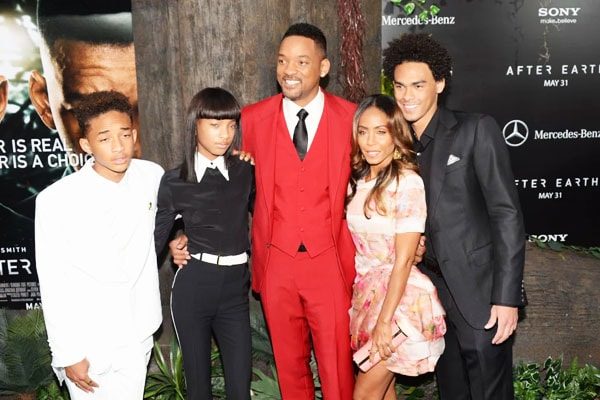 The Smith family are seen on the premiere of After Earth to support Will Smith and Jaden Smith. Image Source: Pinterest
Trey Smith
Trey Smith is the eldest son of Will Smith. Trey was born on November 11, 1992, with Will Smith's ex-wife, Sheree Zampino. Trey Smith appeared in his father, Will Smith's music video for the single, Just The Two Of Us, released in 1998. Trey has also acted in two episodes of All Of Us. He has also appeared on The Oprah Winfrey Show and David Blaine: Real or Magic TV.
View this post on Instagram
Will Smith has a very special relationship with Trey. As Trey is the son from Will's ex-wife, Will Smith needs to put effort into making him comfortable in the family and with other children. Will Smith and his brother, Harry posses Treyball Development Inc., which is a Beverly Hills-based company. The company is named after Trey.
Jaden Smith
Born on July 8, 19998, Jaden Smith is the second son of Will Smith. Jaden Smith has played many movies, and he is a singer too. Jaden Smith's debut role was as the co-star with his father, Will Smith in the film, The Pursuit of Happyness.
Jaden Smith is a matured and responsible boy. Although he is a young guy, he has taken significant steps in life knowing what is right or wrong for his life. Jaden moved out of his parents home at the early age of 15. Jaden is now 20 years of age and has a beautiful relation with Will Smith.
Will Smith, on the other hand, does not hesitate to show his love for the son. Will carried his 20-years-old son, Jaden on his shoulder at the launch of #PiggyBackChallenge.

Will Smith has been a role model for his children. Jaden Smith, likewise, has followed his father's footsteps and learning from him to be a successful and humble person in life.
Willow Smith
Willow Smith, born on October 31, 2000, is the youngest child of Will Smith. Willow was on the spotlight from a very young age being a daughter of famous parents. She gave a strong response to the world by releasing a single Whip My Hair at the age of ten in 2010.
Willow Smith does not step back on making her father happy and proud. On Will's 50th birthday, Willow posted a cute smiling shot with her father, wishing him happy birthday.
View this post on Instagram
Will Smith admits that he is happy on the paths his children have chosen. He is always there for his children and ready to support them anywhere in life.
For more News and Entertainment: SuperbHub