Chester Bennington's son Jaime Bennington was born on May 12, 1996, in Phoenix, Arizona. He is the eldest son of Chester and his ex-partner Elka Brand. Plus just like his father, Jaime is also a singer. And furthermore, he is also a director. Since, his father's passing, he has been quite active as a singer and has performed in some live concerts.
It was really a shock to the music industry when Linkin Park's lead vocalist Chester Bennington lost his will to live. As, on July 20, 2017, Jaime's father took his own life. The world is still grieving over the loss of an icon. But the fans were happy to know that his son is following the footsteps of his father and continuing the legacy that his dad started.
To The Path Of Success
Jaime has also started following his father's footsteps. Recently he had his first live performance and according to him, it was quite an experience. So, knowing that he has started his career as a singer we can only expect what he has installed next for his fans.
Well, Jaime had recorded his vocals with his father's early band Grey Daze. And according to the band, he sounded a lot like his father and even stated that if Chester was here then he would have been very much proud.
Jaime Bennington recorded his first song with his father's former band members. Image source: Grey Daze's Facebook.
Furthermore, Chester Bennington's son Jaime has also got a SoundCloud account. You can also listen to his song and see for yourself how good of a musician he is.
Chester Bennington's son Jaime Bennington lives in Arizona, and recently has graduated college. He finished his college-level education and is now interested in making movies. Jaime is also a screenwriter and a director. He has also got a self-titled YouTube channel where he uploads his works.
Some of his other works include a project named  A Chant, where he is the director.  By this, we can clearly assume how much of a talent Jaime is and how proud Chester would have been if he was here.
Furthermore, Jaime is quite interested in books mainly Sci-Fi thrillers and horror stories. He is mainly into Stars Wars and Stephen King's novel.
Family & Siblings
Jaime Bennington's father Chester and his mother Elka Brand never got married. Besides that, Chester got married to Samantha Marie Olit in that very year he was born. Moreover, Chester adopted Brand's second son Isaiah and gave him his name. So, we can say that besides whatever happened between Chester and Elka they remained goods of a friend till the end.
Jaime Bennington's brother Isaiah Bennington are half-siblings. Isaiah was born to Elka and her later boyfriend. It was back in 2006 when Chester decided to adopt him and raise him as his own.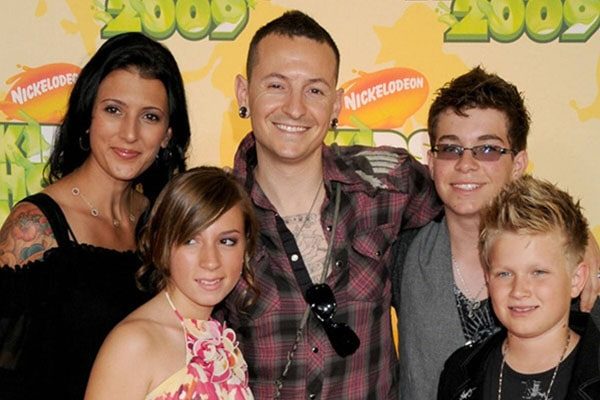 After Chester and Elka separated they remained good friends and raised their children together. Image source: Gregg DeGuire/FilmMagic
Besides Isaiah, Jaime has four other half-siblings from his father's side. Brother Draven Sebastian Bennington is from his step-mother Samantha Marie Olit's side. And he has two half-sisters and one-half brother from his step-mom Talinda Bennington. His three half-younger siblings are, sisters; Lila Bennington and Lily Bennington and brother Tyler Lee Bennington.
Sad Departure of his Dad
On July 20, 2017, Jaime's father Chester passed away. He committed suicide after hanging himself to death from the ceiling of his apartment in Palos Verdes Estates, California. It was believed that he had been battling depression for quite a long time. The sudden departure of Bennington shocked his wife and kids a lot.
Jaime Bennington and his dad Chester Bennington were quite close to each other. Image Source: AXS.
His wife, Talinda when asked said that she never knew what her husband was going through. All she knew was Chester had a mild mental sickness but she never knew he was fighting depression. Jaime was also very devastated by the tragic loss of his father.
For more updates on News, Articles, Entertainment, and Biography visit SuperbHub