Not many people know that Indiana mayor Pete Buttigieg has a husband named Chasten Glezman. Pete married his longtime partner Glezman at a beautiful ceremony in 2018. It's no news that Buttigieg himself is an openly gay man who is running for president in the 2020 US Presidential election.
Let's shed some light into the recently married gay candidate's dashing husband.
Who Is Chasten Glezman? Did You Know That He Is A Teacher?
Pete Buttigieg's husband Chasten Glezman is known only by association with his famous husband. However, with further digging, we found interesting information regarding his personal and professional life. In an announcement post of their wedding in the New York Times, it is mentioned that Chasten Glezman is a high school teacher in Mishawaka, Indiana.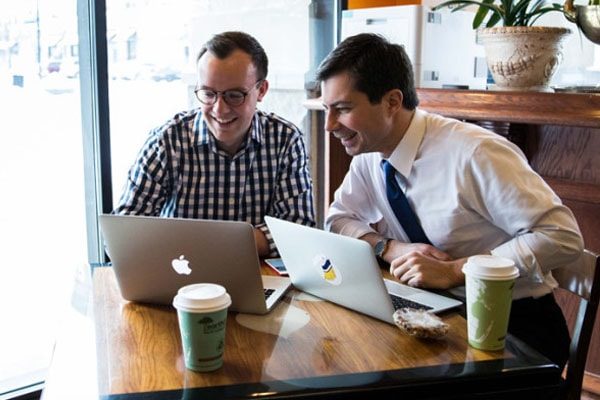 Glezman and Buttigieg spotted chilling in a cafe. Image Source: Politico

He teaches drama and humanities to junior Montessori kids during the day. The newlywed Glezman graduated with a Master's degree in Education from DePaul University after completing his BA from the University of Wisconsin. He is a well-educated man and loved by his students at the school.
Chasten Glezman And Pete Buttigieg's Lavish Wedding
The gay politician Pete Buttigieg married his longtime boyfriend in June 2018. They tied the knot at the Cathedral of Saint James Episcopal church. The celebrity gay couple hosted a lavish wedding attended by 200 people.  Both Glezman and Buttigieg are vocal members of the LGBT community in the United States.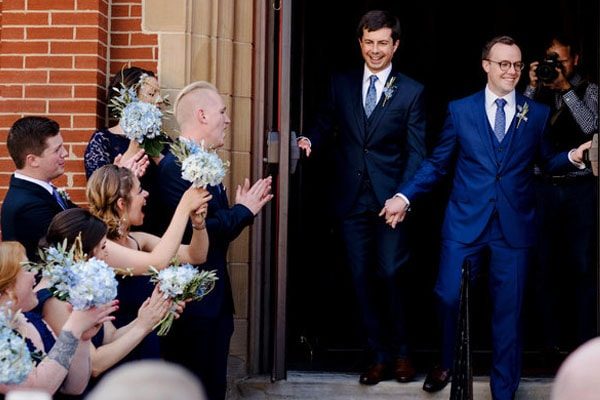 Gay couple Chasten Glezman and Pete Buttigieg waving at guests at their 2018 wedding. Image Source: New York Times
The LGBT duo decided to finally tie the wedding knot after remaining boyfriends for 4 years. Social media posts by Glezman show that he truly loves his politician husband Pete. Let us hope that they maintain a good relationship with each other and enjoy a successful married life.
Here's How Chasten Glezman Met His Future Husband
Chasten Glezman first met his romantic partner Pete Buttigieg online. Soon, the couple started chatting face-to-face on the FaceTime app.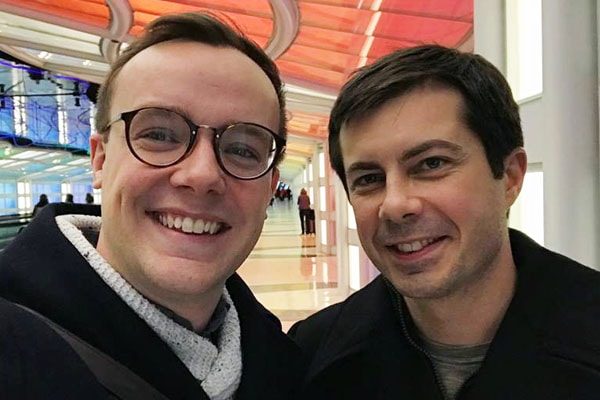 Gay couple Chaston Glezman and Pete Buttigieg. Image Source: Pete Buttigieg, Facebook.
The two dated online for months and realized that they share similar interests and political views. Not long after, the charming gay couple set up their first real-life date in 2015 at a South Bends Cubs game.
Glezman and Pete both love baseball, so the beautiful couple clearly had a great time together and fell in love with each other. Three years later, the couple is now married and living an enjoyable lifestyle together.
SuperbHub for more Biography, News and Entertainment