Chantelle Connelly is a Geordie Shore star. Chantelle was a new cast member who appeared in one series and left the show in 2016.
The reality star, Chantelle Connelly is a  social media star. The  English reality star has more than5,73,000 followers on Instagram. She has more than 190,000 followers on Twitter as of January 2019.  Chantelle is now in news for her pregnancy.
Chantelle Connelly's Pregnancy
Geordie Shore's Chantelle Connelly's boyfriend, Lee Blackburn is a criminal who has spent years in prison for over a £1million cocaine plot. The crime boss was charged a seven-year sentence for a £1million drug plot. Lee is Connelly's baby daddy.
The former reality TV star met Lee at the gym. They felt the attraction towards each other instantly.  Chantelle Connelly is trying to hide her boyfriend's identity an he is a drug dealer.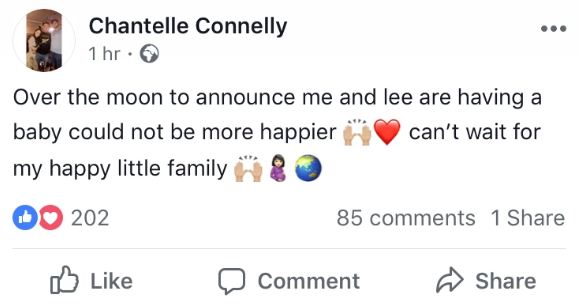 Chantelle Connelly's pregnancy announcement on social media. Image Source: Facebook
Chantelle Connelly announced her pregnancy in social media. Her fans were excited and congratulated her. Connelly seemed very happy while she announced that she is pregnant.
Chantelle Connelly claims that Lee Blackburn is the father. The star has only revealed the former drug baron's first name to her fans. Chantelle Connelly's pregnancy news came out instantly after she started dating Lee.
Almost five months pregnant Chantelle is excited about her pregnancy and keeps her fans updated about it on her social media.
Connelly's Boyfriend: Father of three kids with three exes
Connelly's boyfriend already has three kids with three different women. The reality star met her beau ten months ago.  It has been claimed that Lee has not seen his seven-year-old daughter since he met Chantelle Connelly.
Chantelle Connelly's pregnancy is a  part of a controversy. Although the star claims to have a happy family she cannot trust the former drug dealer. The fact that Lee already has three children from three different women is bothering fans to a certain extent.
On top of that, Newcastle Crown Court ordered Lee to pay back £145,000 after in-depth inquiry. The former drug dealer has to pay back the amount before the deadline. If Lee cannot do so, he will face further penalties.
Connelly's Past Relationships
Chantelle Connelly was in a relationship with Tommy Sayers. She got a tattoo on her neck spelling, Tommy. The social media sensation began dating Kane Mousah in 2016. Chantelle Connelly was dating Clark Crawford before she dated Lee Blackburn.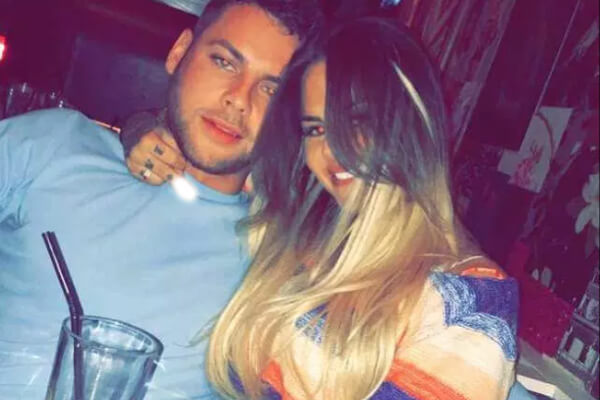 Chantelle Connelly with ex-boyfriend Clark Crawford. Source: Crawford's Facebook
Chantelle in April 2018, accused her ex-boyfriend Crawford for physically abusing her. She claimed that Clark knocked her teeth, pulled out her hair and cracked her ribs. There is no evidence of her reporting these claims to the Police and there was no response from Clark either. Chantelle had posted the allegations in her Facebook.
For updated celebrity news, entertainment and articles, be with SuperbHub.