Cesar Millan, a famous dog behaviorist, and host of Emmy- nominated television series, Dog Whisperer with Cesar Millan, is a widely known personality. Through his show, he has earned name, fame, and enough money. Cesar Millan net worth is approximately $45 million as of 2012.
However, as of 2018, it is estimated to be $6 million according to Muzul.
Cesar Millan is a self-made man. He ran from his hometown with just $100 with him. With his hard work and dog training skill, he began working in TV series aired on National Geographic Channel in 2004, Whisperer with Cesar Milan. After that, there's no looking back for Millan.
Cesar Millan Net Worth: He Pays Monthly $33000 to Ilusion
In 2012, Cesar finalized divorce to his Ex-wife Ilusion Wilson after she filed for divorce in 2010. Having lived 16 years together, the ex-couple has two kids, Andre and Calvin Millan. With the death of his dog, Daddy due to cancer and his wife filing for divorce, Cesar attempted a suicide due to depression as mentioned in Huffington Post.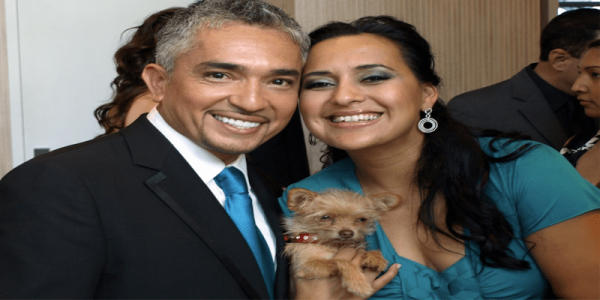 Cesar Millan with Ex-wife, Ilusion
Image Source– DTR World Home Design Ideas
According to Yahoo Entertainment, Cesar had to pay some percentage of his earnings to his Ex-Wife. In fact, Cesar paid a one-time amount of $400,000. Moreover, he had to pay $23,000 for a monthly spousal payment and another $10, 000 for monthly child support.
At that time, the filed divorced document showed that Milan makes a monthly earning of $170,000, that is  $2,040,000 per year. So, Cesar had to pay $396,000 per year including spousal payment and child support amount. And this amount is 19.41% of Cesar's yearly income.
At the same time, Cesar Millan net worth was estimated to be $45 million in 2012. Also, his show Dog Whisperer with Cesar Millan was airing on Nat Geo Wild and was on the 9th season. The show was watched in over 80 countries worldwide.
Earning from YouTube Channel
YouTube Channel, Cesar Millan that presents the technique to handle dogs also contributes Cesar Millan net worth of $6 million.
In fact, his YouTube Channel, Cesar Millan has 326,398 subscribers and have 17,833,878 views as of Feb 2, 2018. This YouTube Channel makes estimated monthly earnings of $146- $2.3 k and yearly earnings of $1.8k-$28.1k.
Apart from his YouTube channel, all three Cesar Millan's books including Cesar's way were the New York Times Bestsellers.
He has written numerous books including Cesar's Rules that costs $66.60 for Hardcover. His Cesar's way costs $10.82 for Paperback. A Member Of The Family that costs $11.75, and How to Raise the Perfect Dog: Through Puppyhood and Beyond that costs 10.87 for Paperback and much more.
Cars and House
Cesar Millan, the dog behaviorist, and Television Personality is an owner a house that is worth $2.783 million. In 2017, Millan bought a house in the San Fernando Valley in a leafy Encino neighborhood. Initially, the house was on sale for $2.895 million. This high-value property definitely adds to Cesar Milan net worth.
This Los Angeles situated home covers  5,400 square feet of the ground. Also, it has a living room with a fireplace, a formal dining hall, a den, centered kitchen and an office. Additionally, a pass-through that connects the kitchen and the dining room.
Before shifting to the new home, Cesar was living in the house located in Studio City. The Studio city house was on sale with a sale value of $1.8 million. In fact, the sale value was $1,799,999.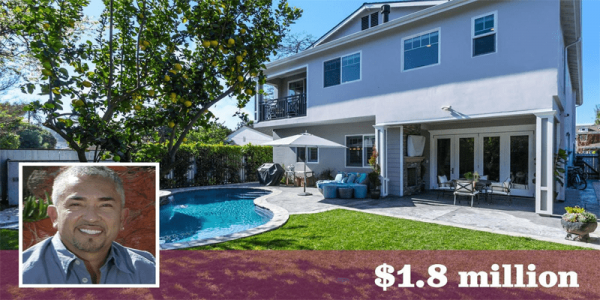 Cesar Millan net worth includes sale money from his Studio city house at $1.8 million.
Image source- Los Angeles Time
Cesar bought this house in 2012, for $1.625 million.
This house consists living room with a fireplace, five bedrooms, a coffered- ceiling dining room 4.25 bathrooms.
Millan does not leave any lacks in dogs care. Frequently, he goes on vacation with dogs. Here is the Instagram Picture, where Ceaser and his dog are sitting on the bonnet of his car. Importantly, ready for the vacation.
Quick Facts on Ceasar Millan
Millan ran out of his country, Mexico with just $100 in his pocket.
He began the TV series Whisperer with Cesar Millan in 2004, that aired on National Geographic Channel.
With his ex-wife, he founded Millan Foundation, later renamed Cesar Millan Foundation. And currently, called the Cesar Millan PACK Project.
Ceasar got engaged to his longtime girlfriend, Jahira Dar in April 2016 and announced via Instagram.
Stay with us for more entertainment news.