Laura Allison Wasser is a renowned name among celebrity couple, especially for those who are trying to bring their relationship to an end smoothly. Known as the go-to-divorce lawyer in Tinseltown, how is her married life going on? And who is Laura Wasser's husband?
Known as Celebrity Attorney, Laura has solved a lot of divorce cases of renowned celebrities. Some of them among many are Ryan Reynolds, Christina Aguilera, Britney Spears, Kate Walsh, Jimmy Iovine, Johny Knoxville, Heidi Klum, Kim Kardashian, and Angelina Jolie. Now, let's know more about Laura's relationship.
Laura Wasser handled her own divorce case
It's definite that Laura can handle each and every marital problem. However, divorce queen Laura couldn't save her relationship. But the good thing is, she handled the split professionally.
Laura told to CNN Entertainment that everybody has to marry once, she was 25 years when she was married to a man from Spain in 1993. Laura Wasser's husband's name is not disclosed. However, she met her ex-husband when she was a student at Loyola Law School.
She failed to continue togetherness with her husband and her marriage lasted only for a year. The first divorce case solved by Laura was of her own which inspired her to become an attorney.
There were no financial issues with Laura Wasser's husband during her divorce, it was quite simple. Laura is sure that she is not going to have her own divorce case in the future as she won't get married to any.
in 2013, according to the Telegraph, Laura said;
" I haven't found anyone who could or can give me a good reason to get married again."
Children from different Relationships
Laura has had three relationships in the past. She married one and dated two men. Laura has two sons named Luke and Jack. Both sons were born from her relationships with two different men.
And, she doesn't have children with the man whom she married. Laura is very successful in her professional career and has quite an impressive Net Worth. Apart from that, she is much successful in parenting her kids being a single mother.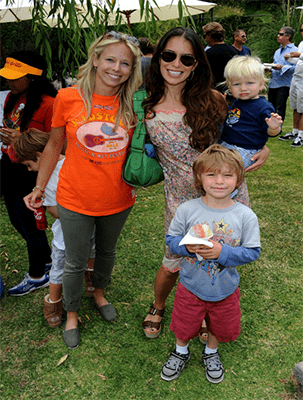 Laura with her two sons, Luke and Jack from different fathers.
Image source: Zimbio
Currently, Laura is living with her sons in Los Angeles. She has not been involved in any relationship after the birth of her second son. And she is not showing any hint of possible affairs recently.
However, after her own experience in marriage and relationship, along with handling many separation cases, Divorce lawyer, Laura has a great advice on what's important for marriage.

According to her, communication is the most important for a successful marriage. Both the partners must determine each other's expectation and like every relationship, marriage is also a contract.
Before entering into it and even after, both the husband and wife need to discuss matters like, Do we want to have kids?, What religion our family is going to be?, Are we going to a family vacation every year? If my mother is unwell, can she come and live with us? And also the financial matters.
Along with being romantic, one needs to be clear with all the matters and also be in terms to re-negotiate. So, ultimately, to save a relationship, you need good communication.
Personal Life and Career
Born on May 23, 1968, in Los Angeles, Laura Allison Wasser is a lawyer by a profession. She was born to the family of Lawyers.
According to Laura, she was conceived at the night when her father, Dennis Wasser passed the exam which allowed him to practice law in California. In 2010, Laura told to CNN Entertainment that her mother wanted to name her as Rebecca. Later, she was named Laura by her father, and she says her named speaks it Laura Allison Wasser (L.A.W).
In 1995, Laura was graduated from Loyola Law School at the age of 26. She is also the partner of her father law firm Wasser, Cooperman and Mandle in Los Angeles which was established by her father in 1976.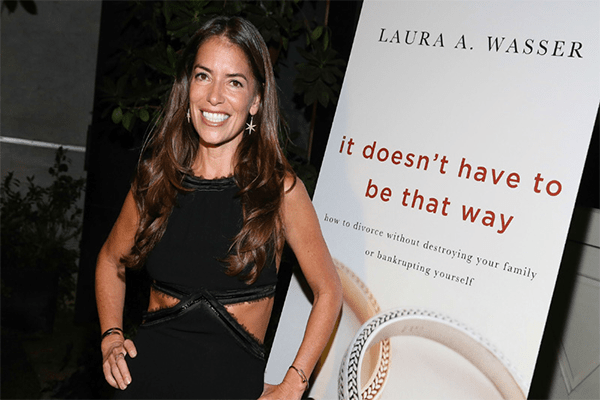 Laura on the launch day of her book, 'It doesn't have to be that way.' 
Image source: News
Wasser has also written a book on divorce named 'It Doesn't Have to Be That Way: How to Divorce Without Destroying Your Family or Bankrupting Yourself'. The book was released in 2013. Laura owns her online divorce company, It's Over Easy which launched their website in 2017. You do all the procedures online and be ready for the final divorce settlement making the overall divorce easy.
Laura has achieved Brady Centre Advocate Award in her career. In 2011, she was also awarded Century City Chamber of Commerce Women of Achievement.
For more Entertainment, stay tuned with SuperbHub.