Born on Mar 25, 1981, YouTube sensation, Casey Neistat, is one of the richest and well-known vloggers in the vlogging world. The American director, producer, and YouTube personality Casey Neistat's net worth is $16 million.
Furthermore, Casey Neistat is by far one of the most passionate Youtubers to date. The excellent quality and extra-ordinary editing is the key to his success. Today, Casey is living his life in luxury with wife Candice Pool and his three children.
Let's dig deeper into Casey Neistat's net worth.
Casey Neistat's Journey To Multi-Million
Who would have imagined, a teen dad, living in a trailer park with his son, Casey Neistat's net worth would raise such drastically. However, success happened to build Neistat's fortune to be $16 million.
The "King of Vlogs," Casey Neistat's primary source of income is his YouTube channels and vlogs. Former dish-washer worked many odd jobs such as a bike messenger to make his ends meet. However, it is said that a person has their initiation at one point in their life, and Casey Neistat's started in 2003.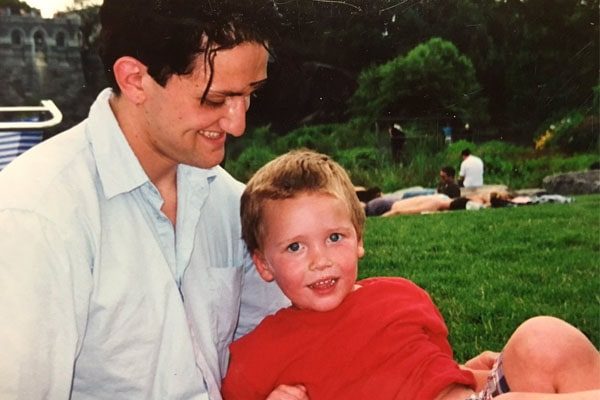 Neistat never gave up on what he was supposed to be and worked hard, making him a multi-millionaire. Image Source: Casey's Twitter. 
Neistat's short film, "iPod's Dirty Secret," blew up the social media and news world within a few weeks of its release. Following the success, he teamed up with his brother, Van Neistat, and developed their very own series called Science Experiments. Moreover, the success followed Neistat's brother and, in 2008, struck eight-episode TV series deal with HBO that premiered in 2010.
Casey Neistat's Fortune From YouTube & Merchendises
Casey Neistat is one of the most successful YouTubers until today as his vlogs radiate excellent energy. Furthermore, it's a feast for the viewers' eyes to witness such detail-oriented vlogs.
Neistat's channel, CaseyNeistat, started in February 2010 and has amassed 11.9 million subscribers and viewed by billions.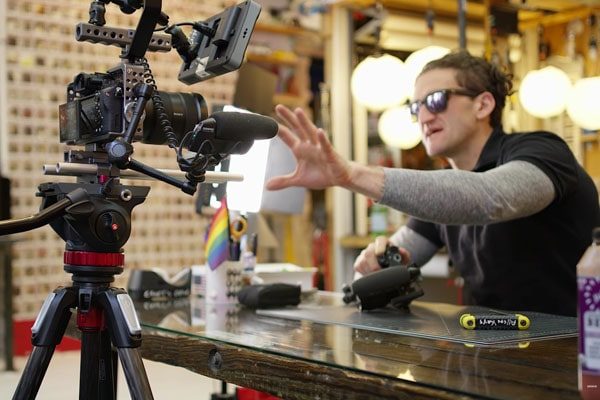 Casey Neistat proved his diligence, authenticity, and love of filmography through his work which made him one of the most successful directors and YouTubers. Image Source: Pinterest. 
According to SocialBlade, Casey Neistat's earning from his main channel is estimated somewhere between $44.1K – $704.8K per year. The veteran vlogger started his daily vlog since 2015 and gave it quality, which it was sorely missing. However, Casey decided to quit his daily vlogging as he describes it as "not so challenging."
Although active in the industry since 2010, Neistat's merch was a myth until 2017. In a partnership with Fanjoy, Casey finally launched a collection of t-shirts and hoodies. Earnings from the merch also aid to his multi-million dollar fortune.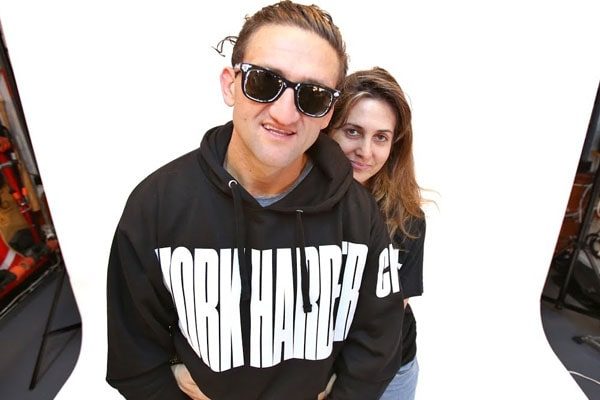 After 7 years into YouTube, Casey Neistat's merchandise finally came out in 2017. Image Source: Pinterest. 
About the merch, Casey Neistat's friend, Roi Elfassy, volunteered to create the designs while another YouTube star, David Dobrik, introduced him to the Fanjoy team. David himself is a client, including Jake Paul, Zane Hijazi, and many more.
Some of Neistat's merch are listed below, along with their respective prices.
Work Harder Hoodie: $44.95
Flag Hoodie: $44.95
 Crewneck: $40.00
2018 Tee: $25.00
2017 Tee: $26.95
368 Hoodie: $65
Long Sleeve T-shirt: $40
Made Headlines After CNN Bought Neistat's Company
CNN and Casey Neistat's partnership was once digital, most hyped collaboration. CNN bought Neistat's company named "Beme" for a whopping $25 million. Creators of the app, Matt Hackett and Casey Neistat, released the app on July 17, 2015, for iOS, and in 2016, the android version was released. CNN and Casey made headlines following the colossal purchase.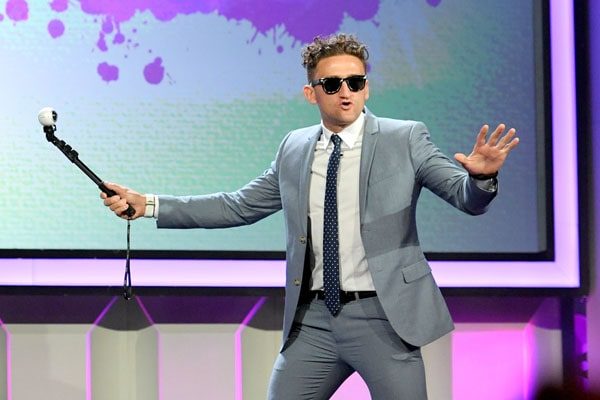 Casey Neistat and CNN made headlines after purchasing the Beme app. Image Source: Getty Images. 
Unfortunately, the app was removed from the iOS App Store and Google Play Store on January 31, 2017, as it failed to compete with many popular apps such as Snapchat. CNN gave up on Beme and let go off of its two co-founders since 2018.
Casey Neistat's Lavish House
Casey Neistat's hard work and dedication toward his work have made him capable of shifting his life from a trailer park to a multi-million house with a jaw-breaking view. Moreover, Casey kissed his New York apartment goodbye and made a massive purchase in LA in 2019.
View this post on Instagram
Casey bought a house in Venice, Los Angeles, California, and is currently residing in the property. Neistat purchased the home for $3.7 million in 2019. The 3,414 square feet Property has four beds and 3.5 bathrooms. Moreover, Mr. and Mrs. Neistat's tidy kitchen and exotic hardwood floors, walk-in closet, spa surrounded by a wood deck scream luxury.
Moreover, the meticulous vlogger wanted his wife, Candice, and children to remain close to his family, and thus decided to give up on his LA residential.
Before giving up on his home in NY, Casey Neistat's apartment was featured in Architectural Digest. During the interview, he showed his lavish apartment and talked about the interior designs. The Connecticut native lived in NYC for almost 20 years and shared the luxurious apartment worth $5.5 million in Manhatten with his wife, Candice Pool.
Moreover, Mr. and Mrs. Naistat teamed up with Daun Curry to renovate their space after purchasing it in 2017. The serene atmosphere and dynamic feature have inspired the couple to become creative. Similarly, Neistat adds how comfortable he feels, and after almost 20 years of living as a New Yorker, this apartment felt like home.
Charity Works
As a man, one needs to have the feeling of giving away from what he acquired from the universe. Such kind is Casey Neistat's heart and knows the value of giving people and helping them in need.
Casey Neistat's charity works are beyond ordinary. He has been involved in various campaigns since 2016. In partnership with Charity: Water, the ultimate Youtuber, raised donations from 932 donors within a short period. Moreover, he's been involved in raising funds for victims in Los Vegas attacks along with other social-media stars.
Earning and giving away makes such a prosperous balance, Casey Neistat has hence proven. Let's hope Casey continues to earns even more reputation along with cash in the coming days.
Don't Miss To Follow SuperbHub For More Updates On Celebrity News, Entertainment, and Biography.